If there's anything the African youth ecosystem is renowned for, it is an astounding capacity to rise out of the dust into brilliance. This resilience and ingenuity is particularly evident in the education space, where the continent's young minds have gone above and beyond to leverage the power of education to create monumental impacts. In doing so, they have spearheaded transformative changes in diverse sectors while leaving an indelible mark on the lives of others.
To acknowledge and celebrate these game-changers, we have curated an inspiring list of the top 25 personalities who are not only building thriving and immensely appealing careers in the field of education, but are instrumental in empowering countless others to establish their own paths to greatness.
Vive Africa presents Face of Education Africa 2023 -- those leading the vanguard in Africa's education sector – in no particular order.
------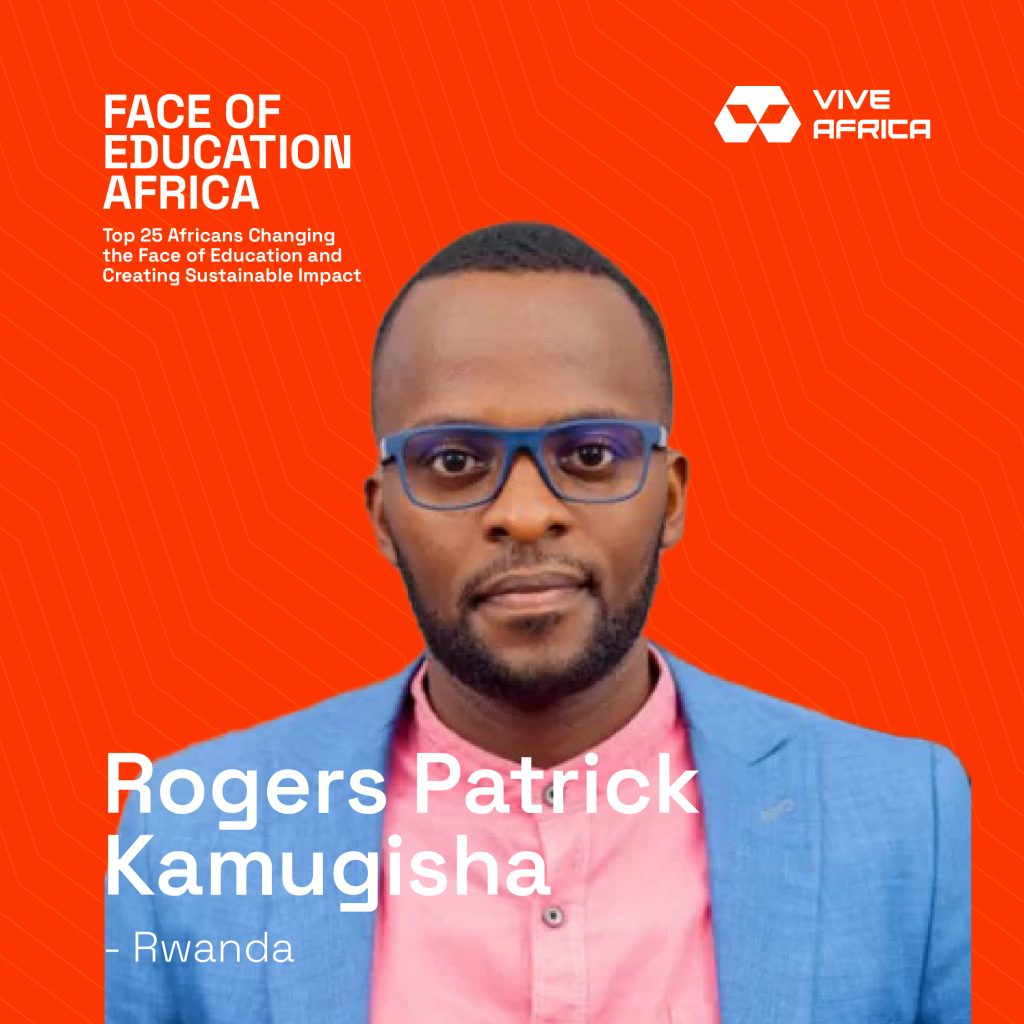 Rogers Patrick Kamugisha - Rwanda
Rogers Patrick, is the on-time National Education Program Manager, now Country Director, utilising his decade long experience to develop and manage essential government relationships for Educate! Rwanda — a platform created to equip young people with skills to become economic drivers and global leaders. As Country Director, he oversees a dynamic, high-performing team of 50 people that implement different programs in the 30 districts of Rwanda.
Not stopping in his home country, Rogers has also successfully pioneered educational programs in Tanzania, forging impactful partnerships with Ministries of Education and affiliated agencies. What truly sets him apart is his resilient belief system in the future of well-equipped youth. For him, the right support and mentorship will birth entrepreneurs and leaders for any economy, hence, he actively works with young individuals with the aim of creating leaders out of them. His journey has seen him personally mentor and guide more than 500 teachers in adopting best practices for competency-based curriculum.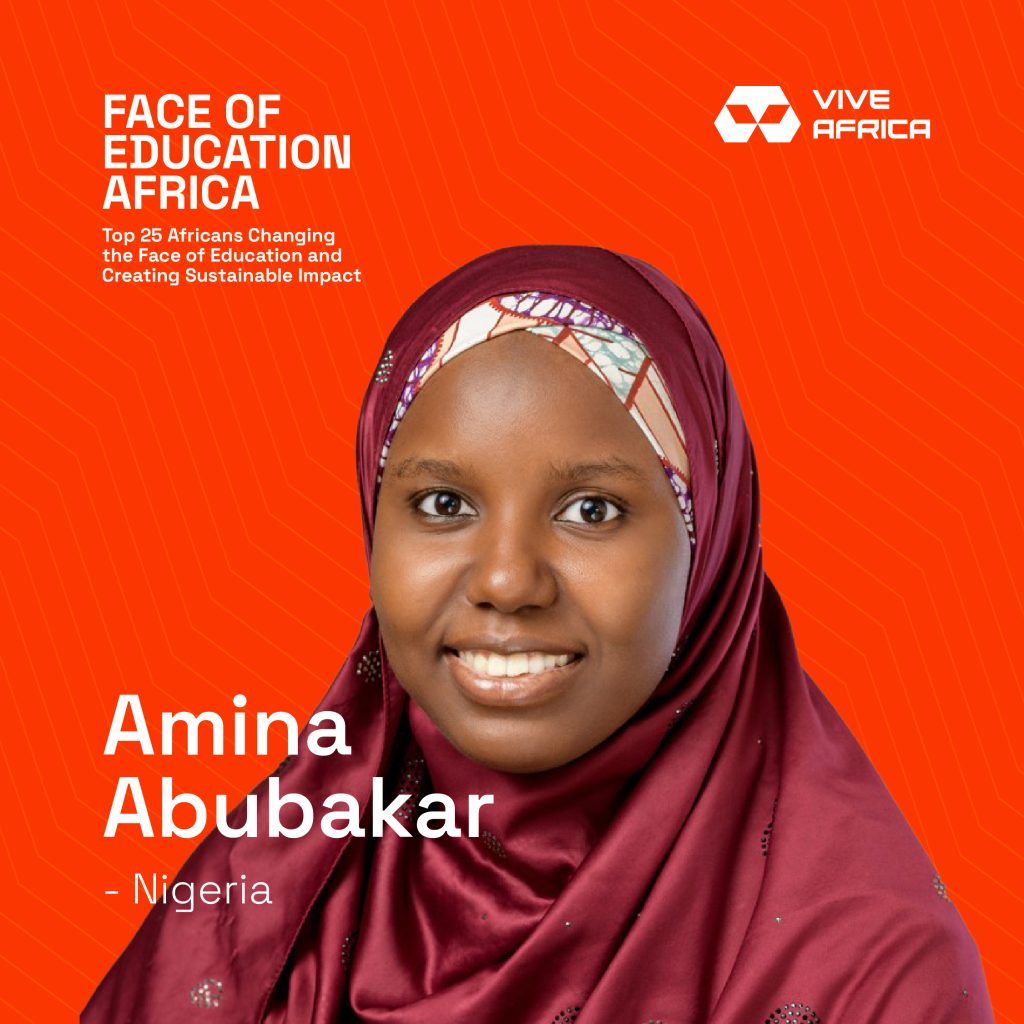 Amina Abubakar - Nigeria
If there's anything Amina Abubakar, the Executive Director of FlexisAF Foundation, a not-for-profit organisation focused on providing 21st century skills and educational opportunities to out-of-school children in underserved areas in Africa, excels at, it's giving African children a chance to dream. With a vision to reduce the number of out of school children in Nigeria by identifying and equipping them with quality education (which includes guidance and counselling), Amina has empowered over 5,000 children with access to quality education, especially the girl-child.
She also doubles as a development consultant, recognised for her expertise in education policy formulation, school related gender based violence, alternative education programs and youth capacity building. Her work has been recognised by the British Broadcasting Corporation, Voice of America, Africa Independent Television, amongst others.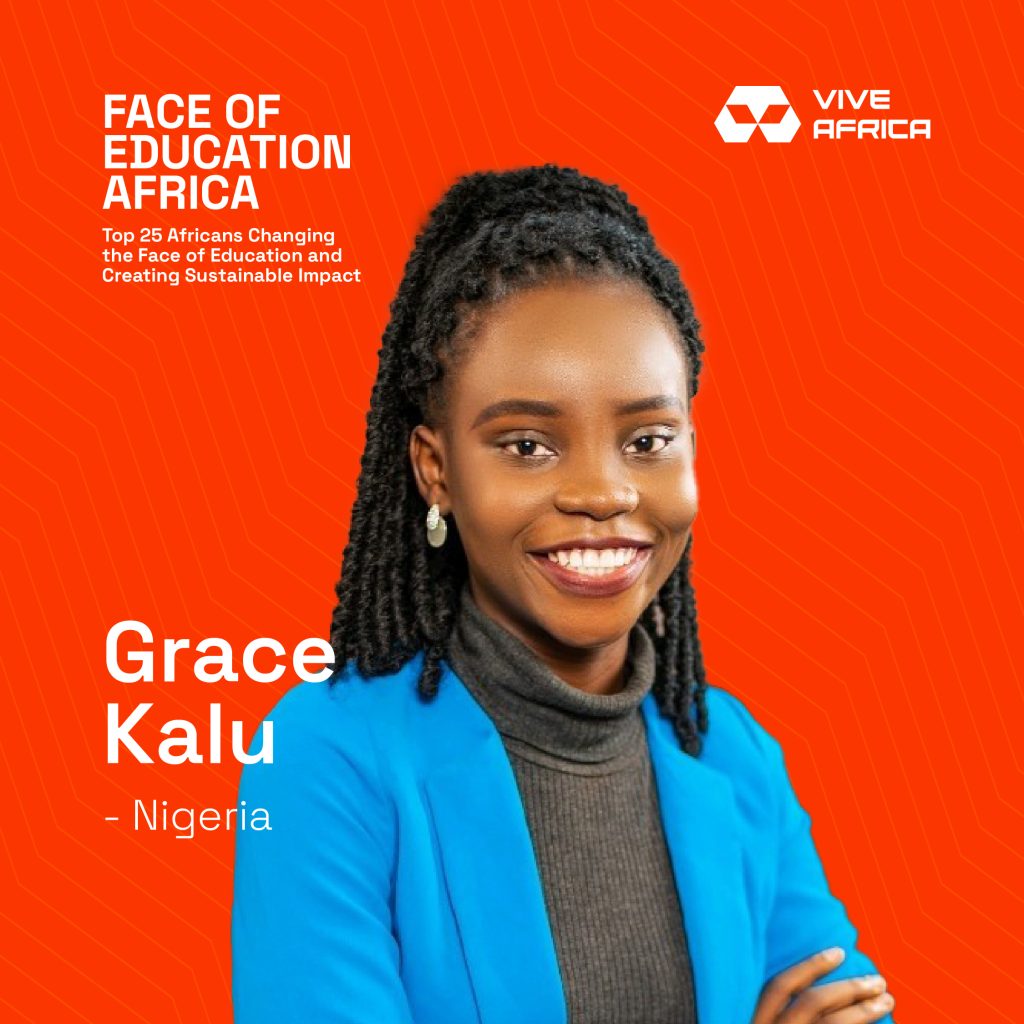 Grace Kalu - Nigeria
If you spend enough time around the Nigerian Law School campuses, you'll quickly become familiar with the name 'Grace Kalu.' When it comes to training and mentoring Young Lawyers in Nigeria, she is a prominent name. The founder of NLS Mind-Check, a foremost mentorship hub for law students in Nigeria with a strong presence in 7 states, Grace has impacted over 5,000 students since the inception of the mentorship platform in 2020.
In recognition of her efforts towards mentoring and educating law students, Grace has garnered recognition as one of the Top 15 Under 40 lawyers in Nigeria (2021), and as one of the 50 leading female lawyers in Nigeria (2022). She believes that anyone can be an excellent student and she has demonstrated commitment to raising students who have recorded distinctions in the Law School and are now in top-tier law firms in Nigeria.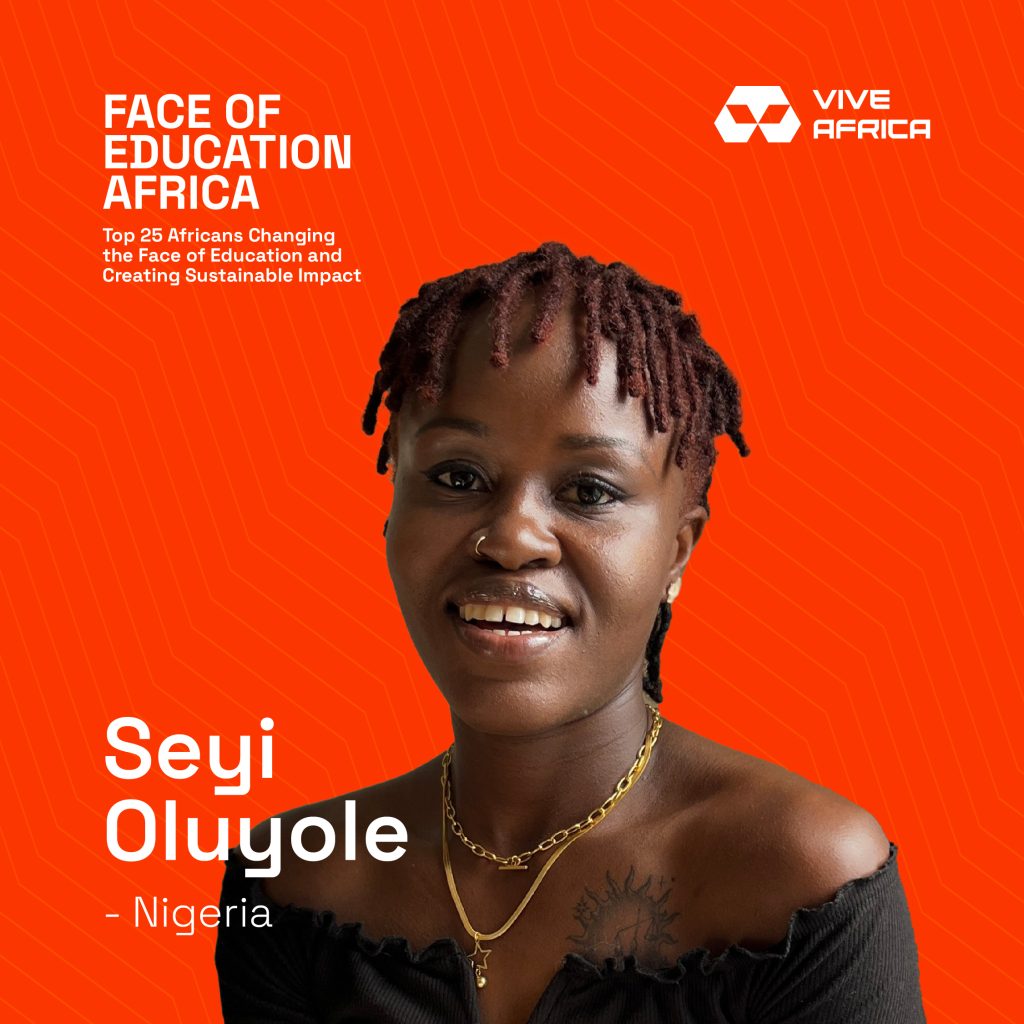 Seyi Oluyole - Nigeria
It's not everyday you find a 27 year old woman leaving the potential for a brighter future in the United States to pursue a dream dear to her heart back in Africa. This is exactly what Seyi Oluyole did despite the backlash and hardships that came along with it.
Suffering a financial crisis along with her family as a child, Seyi had to move to the slums as the only place they could afford rent. Little did the community know, though she was just a child, a helper had been sent to the community. From there, a passion began to grow in this little woman, to change the status quo for the kids in the slum who never seemed to be able to complete their education.
Few years into the future, Seyi got to tap into the potential the United States offered to build a future for herself, yet her heart was still in the slums of Africa, strategizing how best to fulfil her dreams for indigent kids.
Coming back to Nigeria, she started the Dream Nurture Foundation, a registered NGO that provides educational opportunities for despondent kids. Seyi invited these kids into her home one at a time, starting from her parents' backyard. Gradually, the numbers grew as she took each child's story and nurtured it into a respectable future. She also provides summer classes to kids for free, providing them with back to school materials for new sessions. Seyi is our power woman on this list and so far she has impacted well over 1,000 kids, helping them go back to school and resolve to do better for themselves!
She has also founded the Dream Catchers Dance Academy, an initiative that teaches kids how to dance. Her dream is to see her kids dance on the stages of global artists the likes of Beyonce, Rihanna and Janet Jackson and for renowned events such as Coachella and the Grammys. Gradually, Seyi Oluyole is changing the lives of kids in the slums of Nigeria, giving them hope for a better future with some of the kids she started with already doing well in the university today.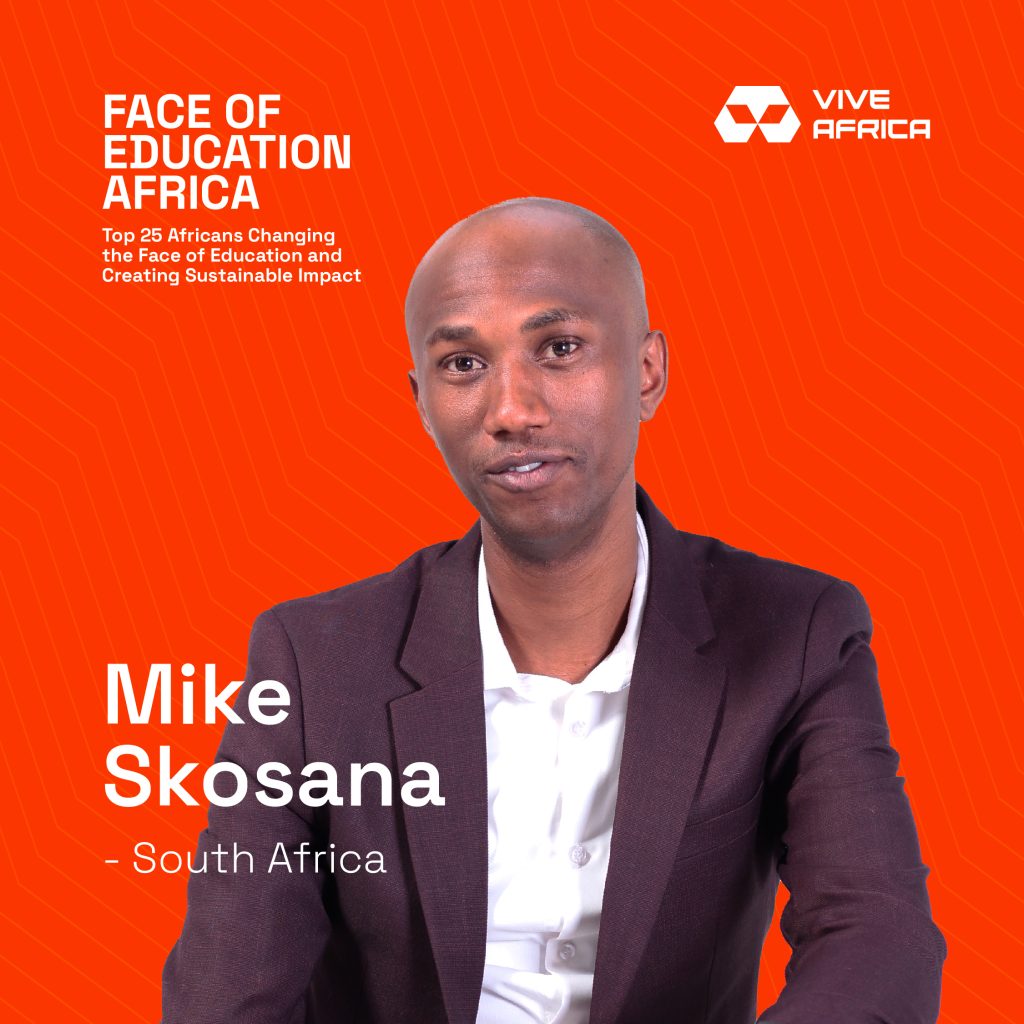 Mike Skosana - South Africa
With tech being the new wave rippling across the continent, Mike Skosana is working to bring technical education to the streets of South Africa. As co-founder of Crystal MG Trading, Mike provides digital classes to children at the early childhood development level. Through this project, he aims to enhance traditional Early Childhood Development educational methodologies to integrate computer science as part of a comprehensive educational offering in partnership with owners of licenced ECD centres.
Additionally, his work at Manaleni Achievement Centre (MAC) has seen him develop future leaders like himself by providing leadership skills, mentorship, computer programs, food and after-school support to underprivileged children in the community. He is a former facilitator for Google digital skills for Africa.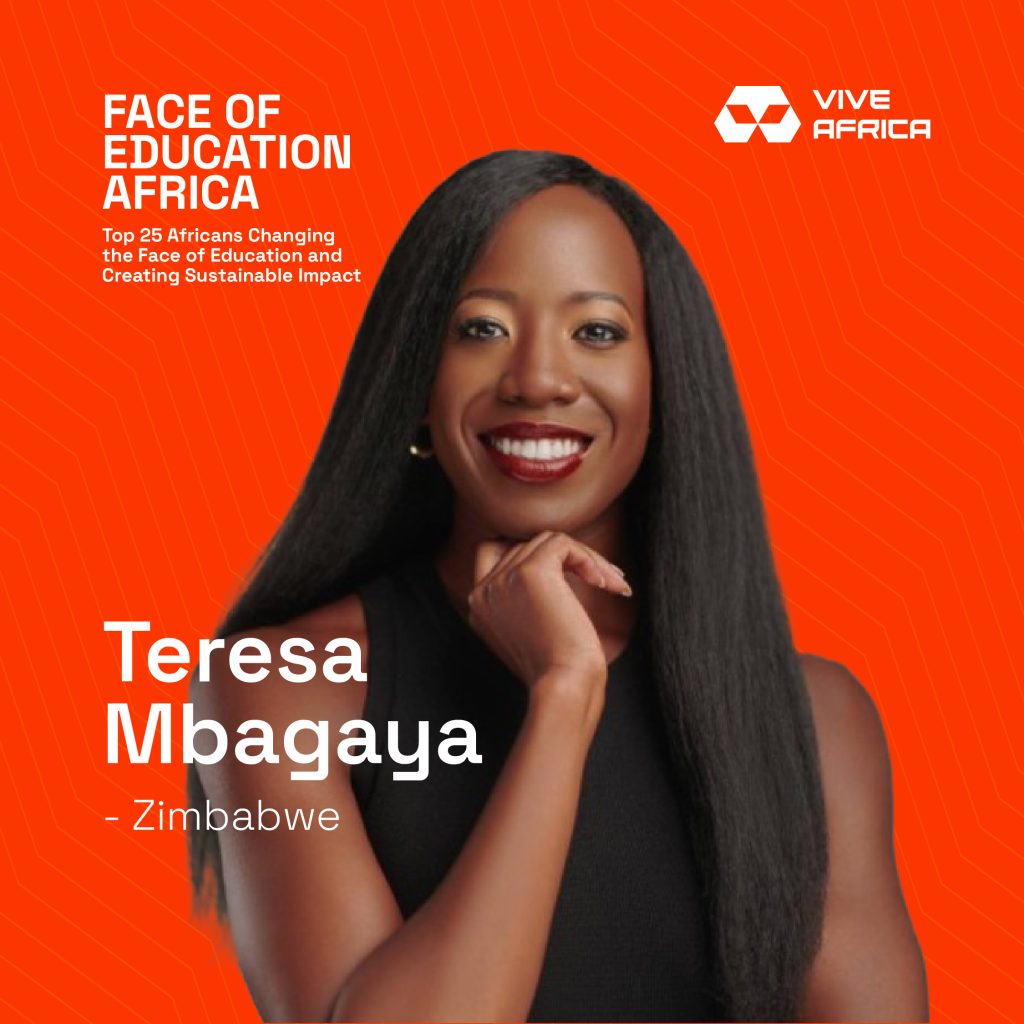 Teresa Mbagaya - Zimbabwe
Teresa is a force of nature in the field of education. Teresa, who was Microsoft Education Lead for East and South Africa, has steered regional teams in executing learning solutions across 10 countries. Her initiatives, focused on digital education transformation and youth skills development, have reached millions of individuals. In her role as the Head of Econet Education, Teresa spearheaded the creation of Zimbabwe's inaugural digital education platform. This innovative business offers supplementary educational services, catering to a vast audience of over 5 million subscribers in Zimbabwe..
Her distinguished honours include being named a Desmond Tutu Associate in 2020 and a 2019 Obama Foundation Africa Leader. Teresa's outstanding contributions have also earned her a spot on Forbes' list of the 30 Most Promising Young Entrepreneurs in Africa. Notably, she has served as an Advisory Member on the Global Education Platform under the UN Special Envoy for Global Education.
Additionally, Teresa is the Co-founder of the Bidii Children Foundation, a not-for-profit organisation that provides tuition support to more than 900 students in western Kenya. Her academic journey includes attending the London School of Economics and Political Science, where she further honed her expertise.
She's currently serving as the Principal of Imaginable Futures, a global philanthropic investment firm with partners across Brazil, Sub-Saharan Africa and the United States.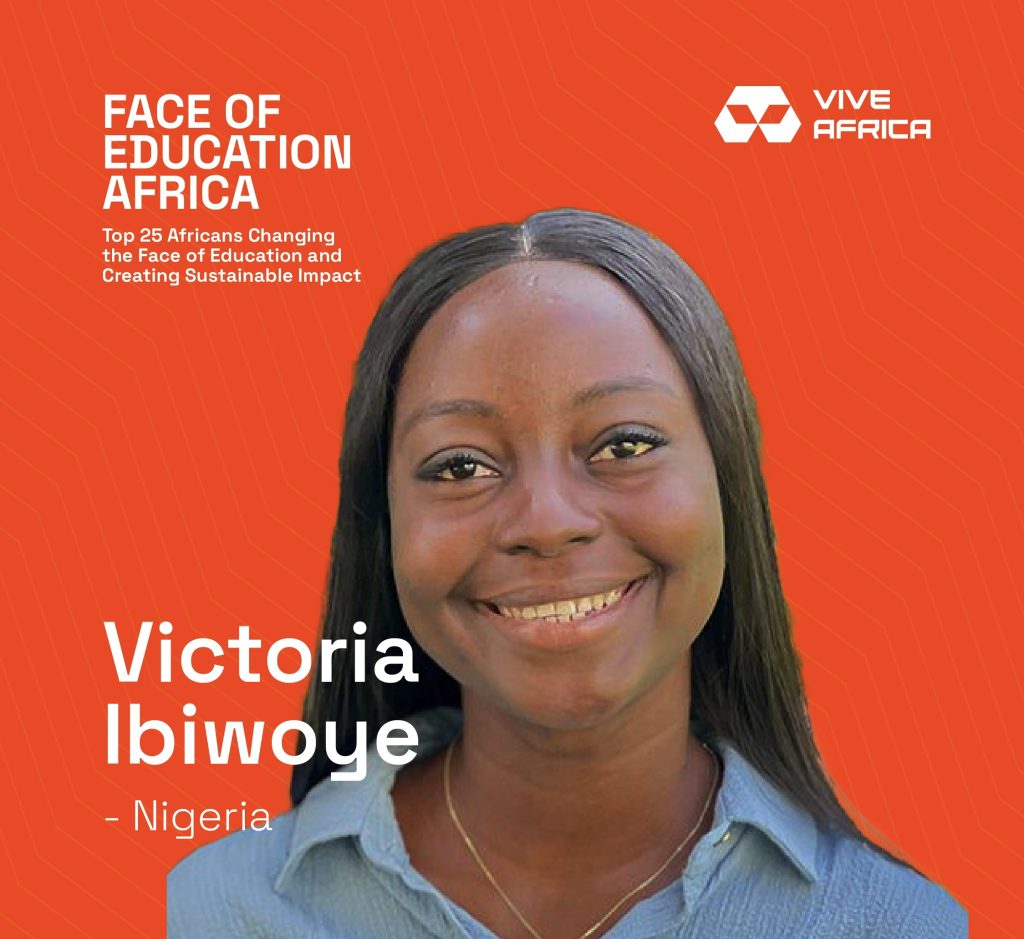 Victoria Ibiwoye - Nigeria
Victoria A.K.A. Mama Africa as she's fondly called, is one leader who has taken the issue of African education to the global stage. As Founder of One African Child Foundation for Creative Learning, Victoria leads a team of vibrant youths to empower children and young people in underserved communities in Nigeria to engage as global citizens and participate in peace education programs.
She has played a pivotal role in shaping high-level education policy discussions, collaborating with UNESCO and the World Bank. Her mission has been to advocate for policies that draw on the perspectives and real-life experiences of young people, ultimately leading to transformative changes in education systems.
Victoria's contributions have also been instrumental in launching innovative initiatives driven by youth, such as the SDG4Youth Network. She has actively participated in the Joint 'Youth Force' Programme, aimed at financing a green, inclusive, and sustainable recovery. This program is supported by the Office of the Secretary General's Envoy on Youth and the United Nations System Staff College, signifying her commitment to driving positive change on a global scale.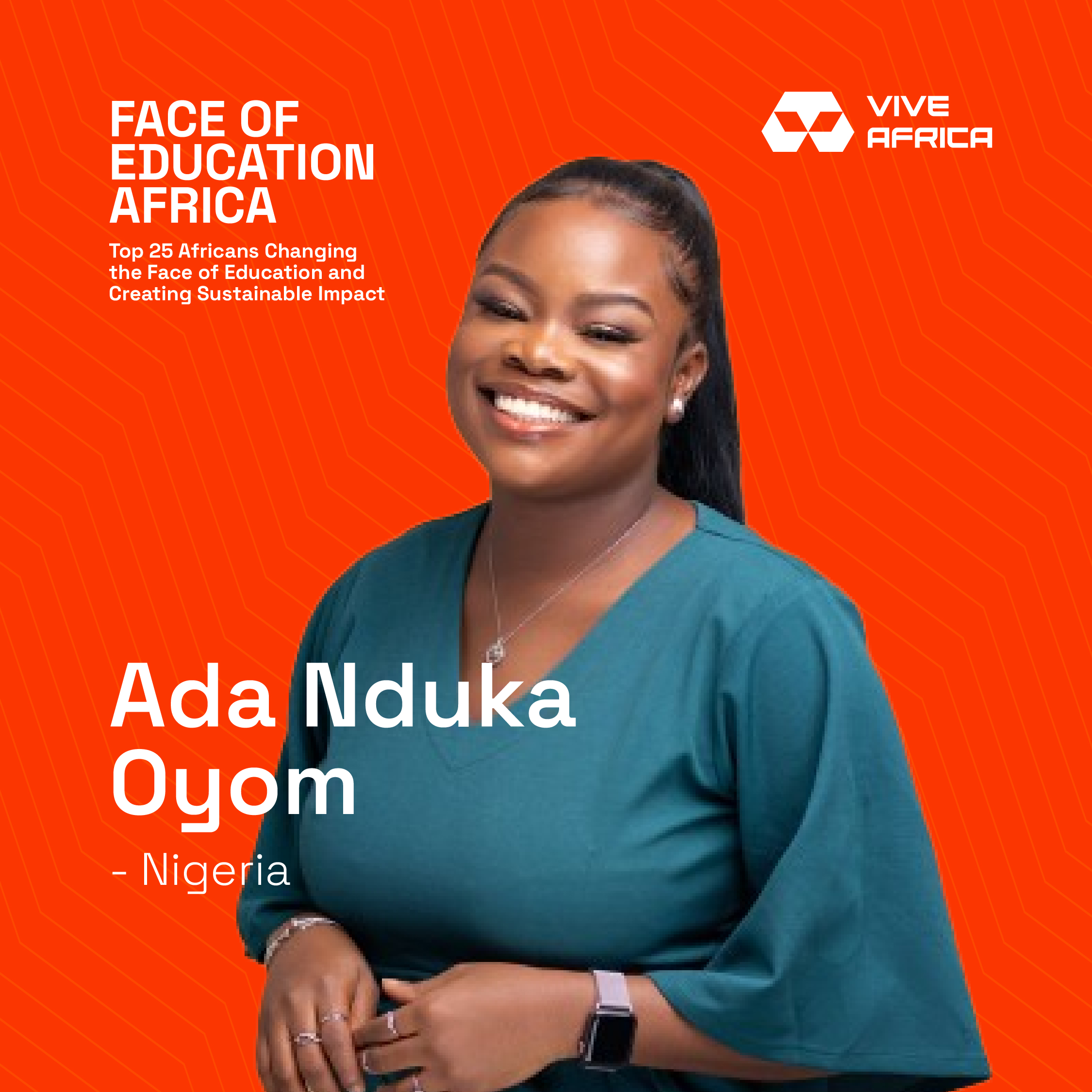 Ada Nduka Oyom - Nigeria
Ada is a familiar face on the Nigerian tech scene. As Founder of She Code Africa (SCA), a not-for-profit organisation focused on empowering young girls and women in Africa through technical skills, Ada and her team have impacted 25,000 women across 20 African countries with her team, while leading the charge for gender diversity in the tech industry.
Starting out as a self taught Software Developer in the university, Ada has worked her way up to becoming a staunch advocate for developers within Africa. This has earned her roles in several top organisations globally including her current engagement as the Ecosystem Community Manager for Sub-saharan Africa with Google.
Ada is also a passionate advocate for open source initiatives in Africa and has co-founded the 'Open Source Community Africa.' This thriving community stands as one of the largest gatherings of open-source enthusiasts, advocates, and experts across the continent. Ada's substantial impact in the tech industry has earned her recognition and spotlights from esteemed global organisations and government bodies including the African Union, UNICEF Nigeria, Google, GitHub, and others.
Furthermore, she generously dedicates her time to volunteer as a technical and career mentor within various mentoring programs, tirelessly supporting individuals in their tech journey, fostering growth, and knowledge sharing.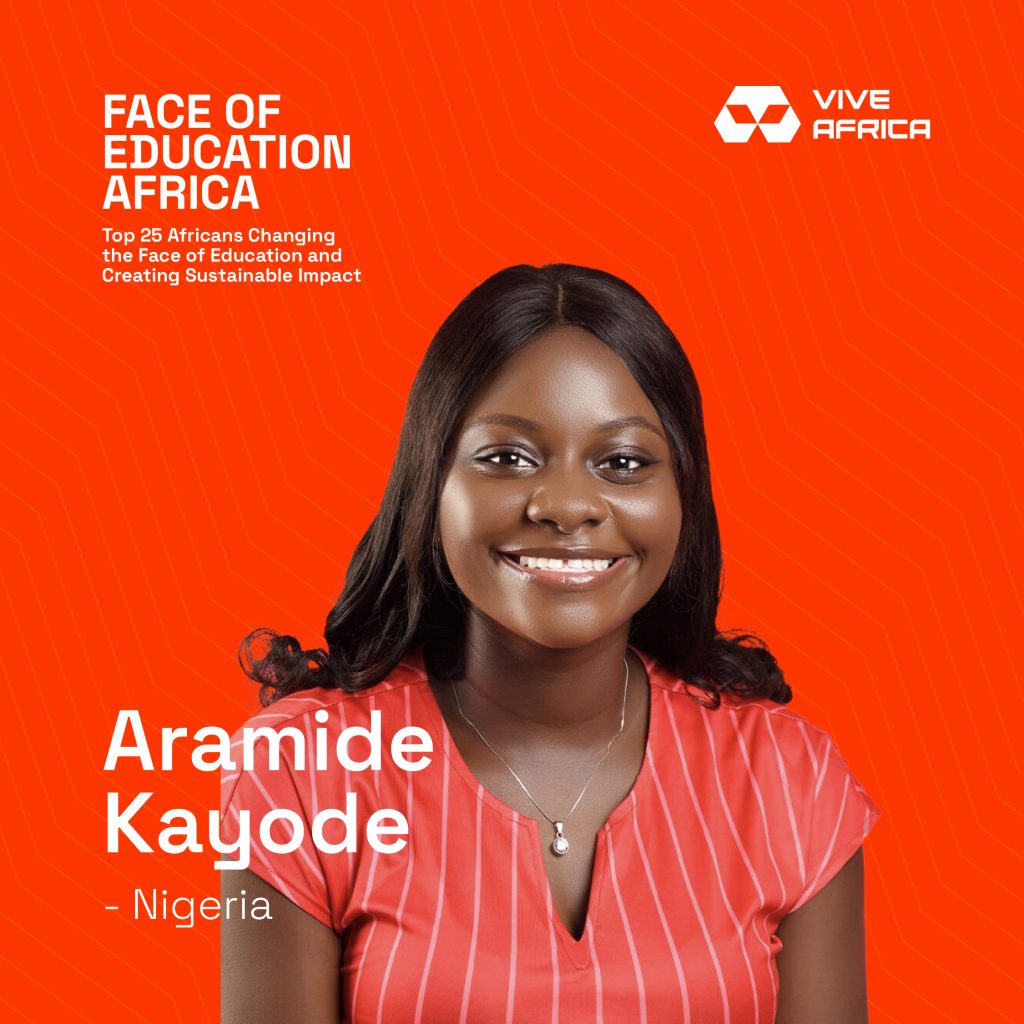 Aramide Kayode - Nigeria
You may remember the name 'Aramide' from a viral video circulating all over the internet a few years back on her journey to Harvard. Aramide Kayode is the founder of Talent Mine Academy, a not-for-profit organisation that provides access to quality education and better opportunities for kids in low-income communities. What's most interesting is that the Talent Mine Academy is 100% tuition-free. The dream for Talent Mine is clear: to provide 3,500 students with quality education by 2025. So far, it has provided quality education to students in the Ota Community of Ogun State.
Aramide's work in the education space has been featured on national and international platforms including Malala Fund, Global Partnership for Education (listed as one of the ten young people transforming education across the globe), CGTN Europe, Global Citizen, The Guardian, amongst others.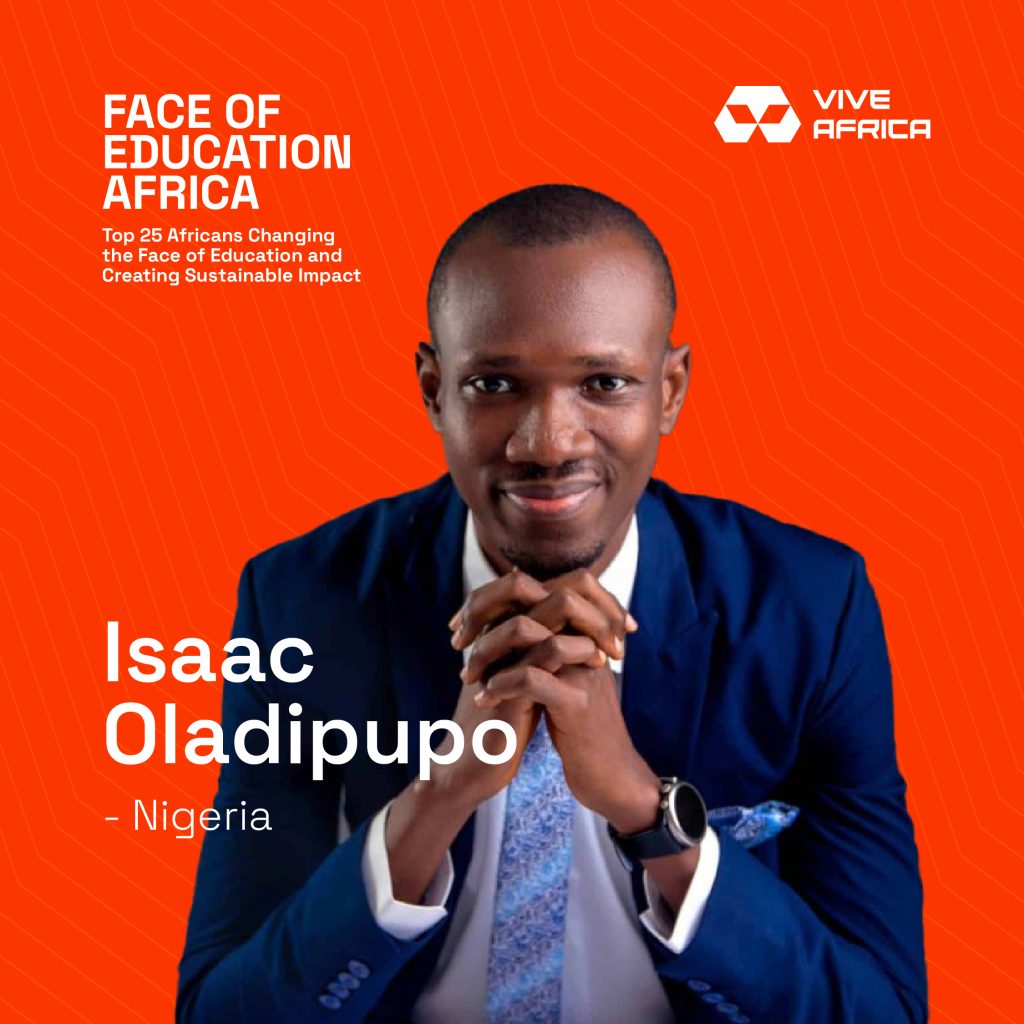 Isaac Oladipupo - Nigeria
Forming a merger between education and technology, Isaac Oladipupo, alongside his co-founder have built a remarkable edutech platform, Afrilearn. Afrilearn is an innovative platform that brings together talented tutors, animators, and developers to deliver affordable, world-class education accessible to Africans regardless of their location.
Afrilearn provides an extensive array of educational resources, such as captivating animated video lessons, pertinent class notes, interactive practice tests, live classes, and a personalised learning dashboard. These tools are designed to empower students between the ages of 6 and 18, especially those in primary and secondary school, enabling them to learn at their own pace, whether they are inside the classroom or studying independently. Afrilearn offers these services through various accessible platforms including the web, app, and data-free dongle subscription options. This ensures that students have flexible and convenient ways to access valuable educational content.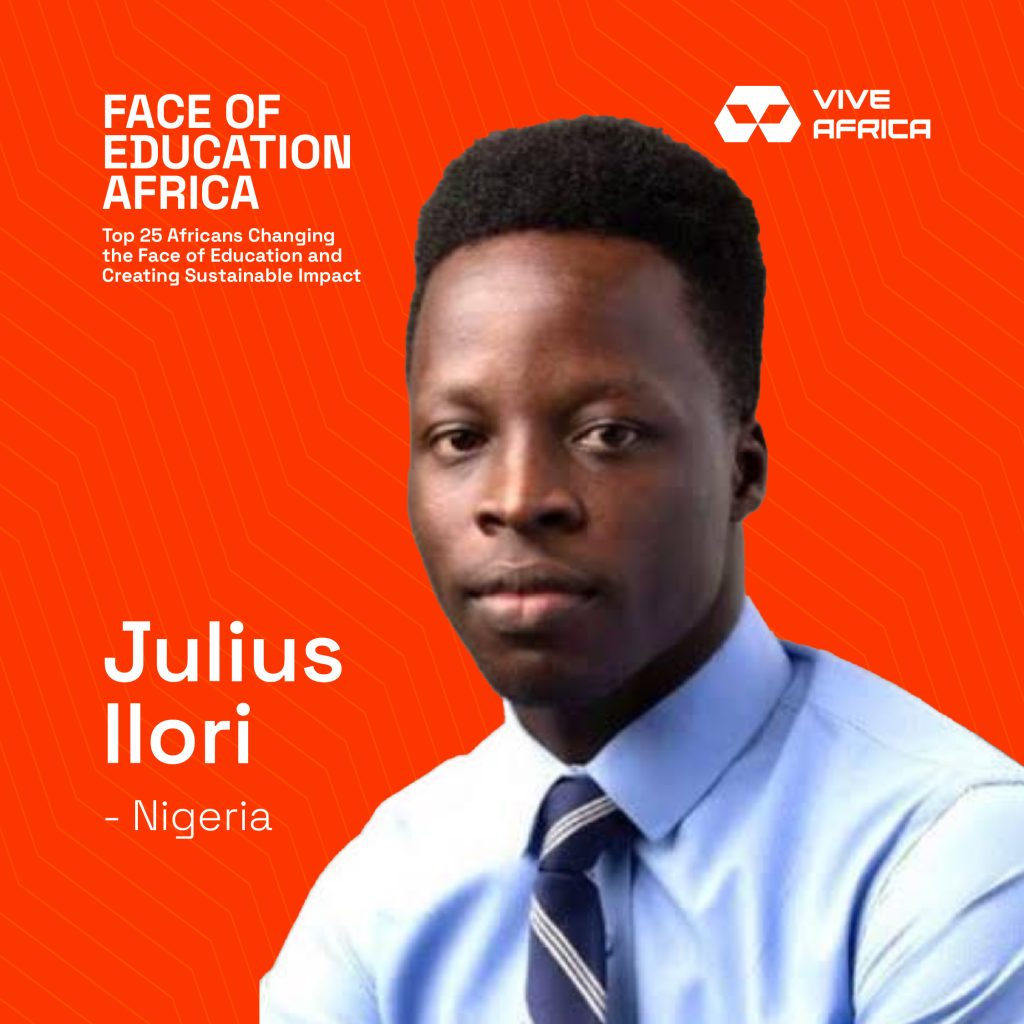 Julius Ilori - Nigeria
Julius' journey in the education sector started as he grew up in the suburbs of Lagos when he noticed the stark inequalities in education amongst Nigerian children. This spurred him to begin Learners Corner Technology Hub, the first Edu-tech hub in West Africa. So far, the hub has provided learning content to over 2,000 students across Nigeria. With a partnership in the works with the Lagos State Ministry of Education, Julius Ilori is making giant strides in Nigerian education.
Currently, he's the Technical Lead for the Safe School Lagos project, Consultant for the Lagos State Ministry of Education and the Lagos State Vocational and Technical Board. As a relentless advocate for quality education, Julius has spearheaded projects that promote education, healthcare, and sustainable development. His ability to forge strategic partnerships and inspire others has amplified his impact.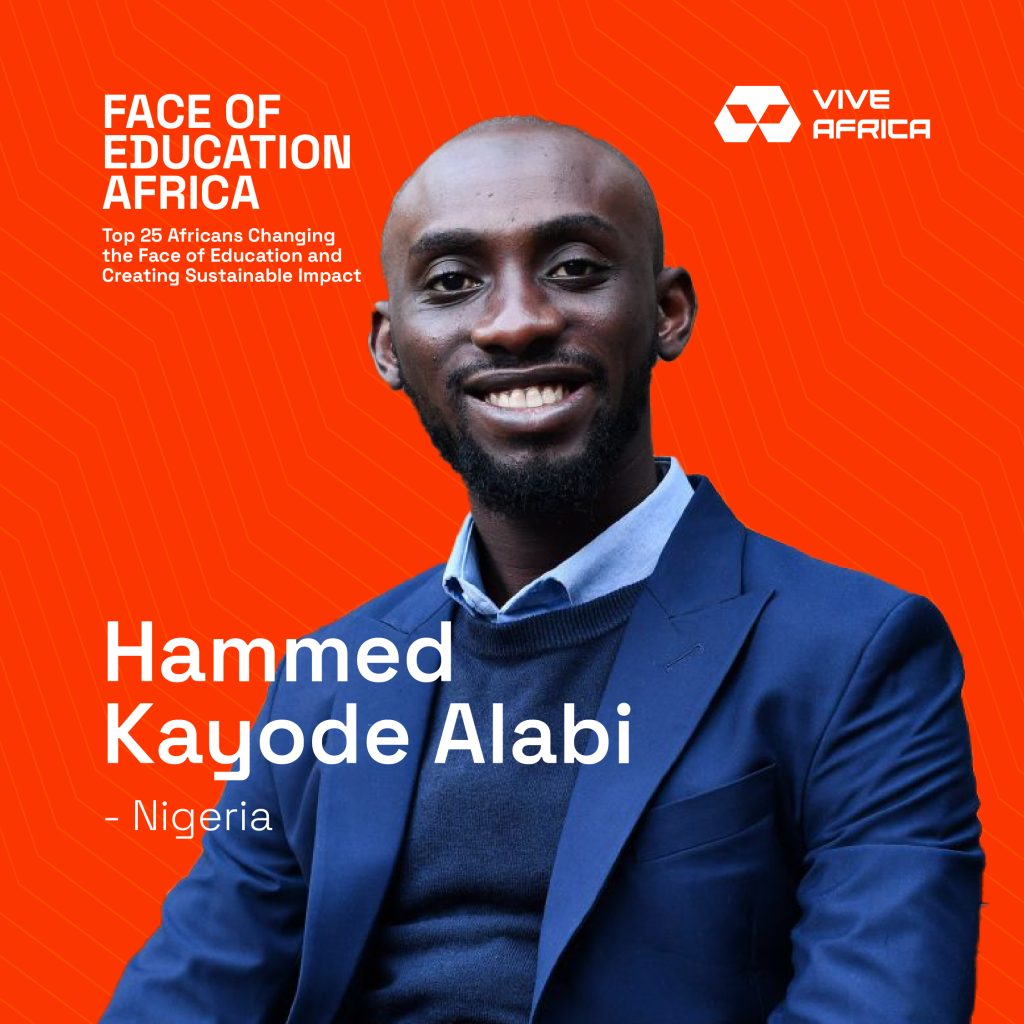 Hammed Kayode Alabi - Nigeria
Despite growing up in the challenging environment of Makoko and experiencing the loss of his mother at the tender age of 7, Hammed's determination to acquire an education and uplift others remained unwavering. In fact, these circumstances served as his source of motivation and inspiration. By the age of 15, he was already actively teaching in a basic rural school in Lagos. Later, he founded a not-for-profit organisation known as the Kayode Alabi Leadership and Career Initiative (KLCI). With the support of over 100 volunteers spread across 6 states in Nigeria, KLCI has successfully provided vital life skills, 21st-century education, leadership development, and career readiness training to over 6,500 secondary school students in disadvantaged rural communities across Nigeria.
He also started the Teachers-in-Training Fellowship, helping 70 student-teachers in Nigeria learn innovative teaching methods. Beyond his work with KLCI, he has served as a Regional Manager and Board Member at Peace First, supporting youth-led social innovation in over 150 countries.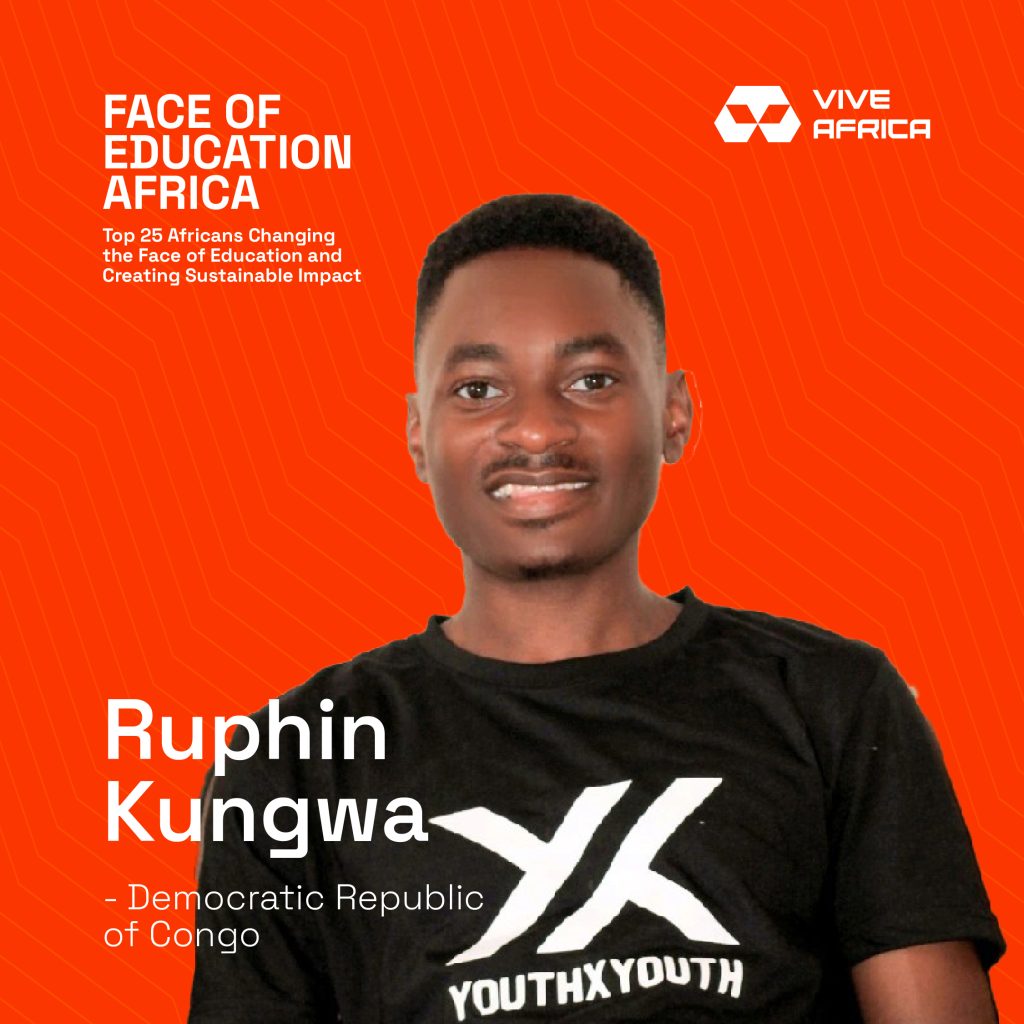 Ruphin Kungwa - Democratic Republic of Congo
Originally from Congo, Ruphin willingly moved to Nakivale Refugee Settlement in Uganda as three things; a refugee, a volunteer, and a peace activist. Hailing from the Democratic Republic of Congo, Ruphin made a conscious decision to relocate to Nakivale Refugee Settlement in Uganda, where he embraced a unique role as both a refugee and a volunteer, all the while championing peace activism. His unwavering passion for peace education has been a driving force in his life.
In 2022, Ruphin had the privilege of fully realising this passion when he joined the YouthxYouth initiative. Here, he served as a dedicated volunteer teacher and actively contributed to local organisations, investing his time and energy into this critical cause. Ruphin's journey is a testament to his enduring dreams. From a young age, he held a fervent aspiration to become a lawyer, motivated by his unyielding desire to be a voice for the voiceless and a champion for marginalised communities. This profound calling led him to pursue a law degree at the Official University of Bukavu in the DRC, from 2015 to 2018, recognizing law as a potent avenue for promoting justice.
Although his path took him towards the field of education, Ruphin's commitment to justice and the welfare of others remains unwavering. Through his dedicated work in peace education, he aspires to contribute to a world where conflicts find resolution through dialogue and understanding, and where the rights of every individual, regardless of their circumstances, are upheld.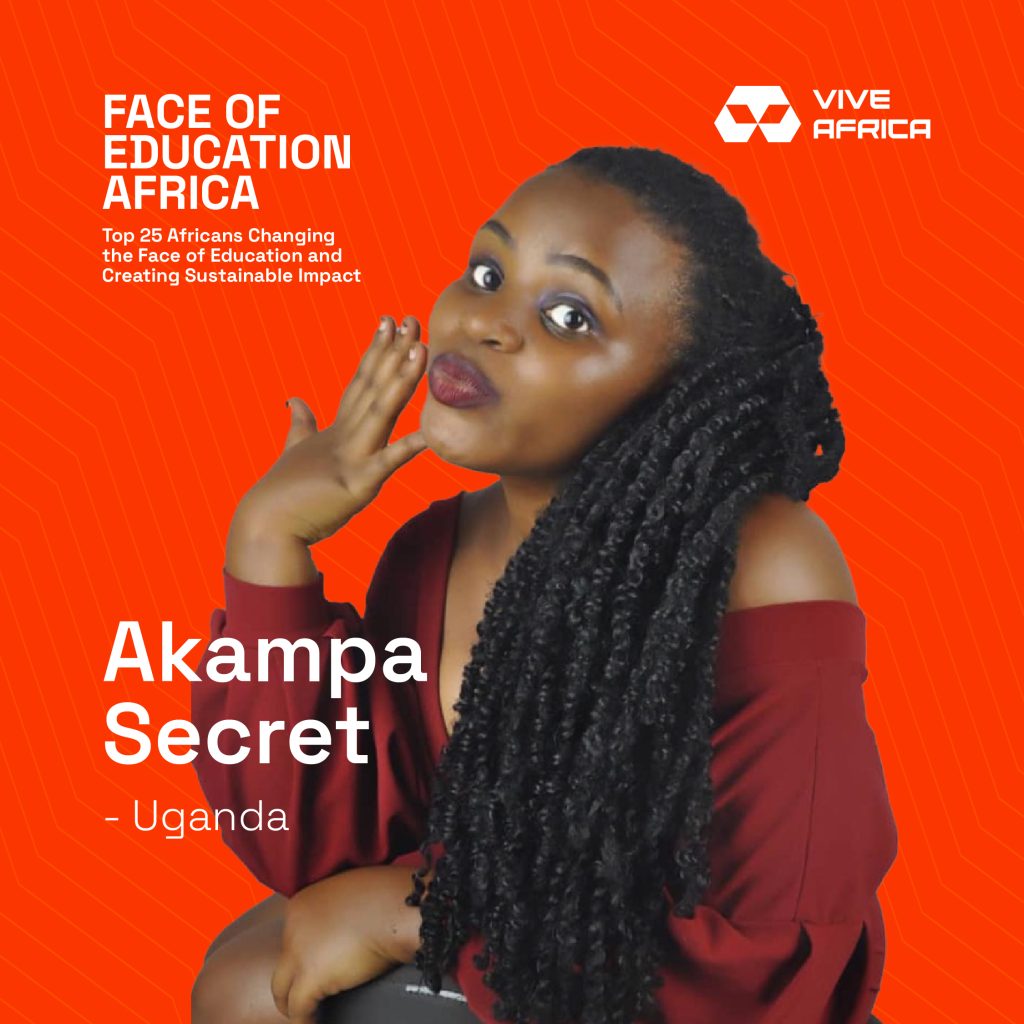 Akampa Secret - Uganda
Akampa is another major African voice for the girl child. Passionate about quality and inclusive education. Akampa is a firm believer that one day every child will acquire quality education regardless of their socio-economic background. Her love for children is matched only by her unwavering commitment to seeing them dream ambitiously and work hard in pursuit of those dreams. To this end, she challenges gender stereotypes in the workplace and advocates for gender equality.
Akampa is also at the forefront of efforts to break down the stigma surrounding menstruation and equip both girls and boys with essential knowledge and confidence. In 2023, she established a menstrual hygiene club that includes young individuals aged between 12 and 17, comprising both boys and girls. To date, the project has successfully trained 300 girls in the art of making reusable sanitary pads. Through this club, Akampa has created a platform for open discussions and educational activities, reducing misconceptions and taboos surrounding menstruation.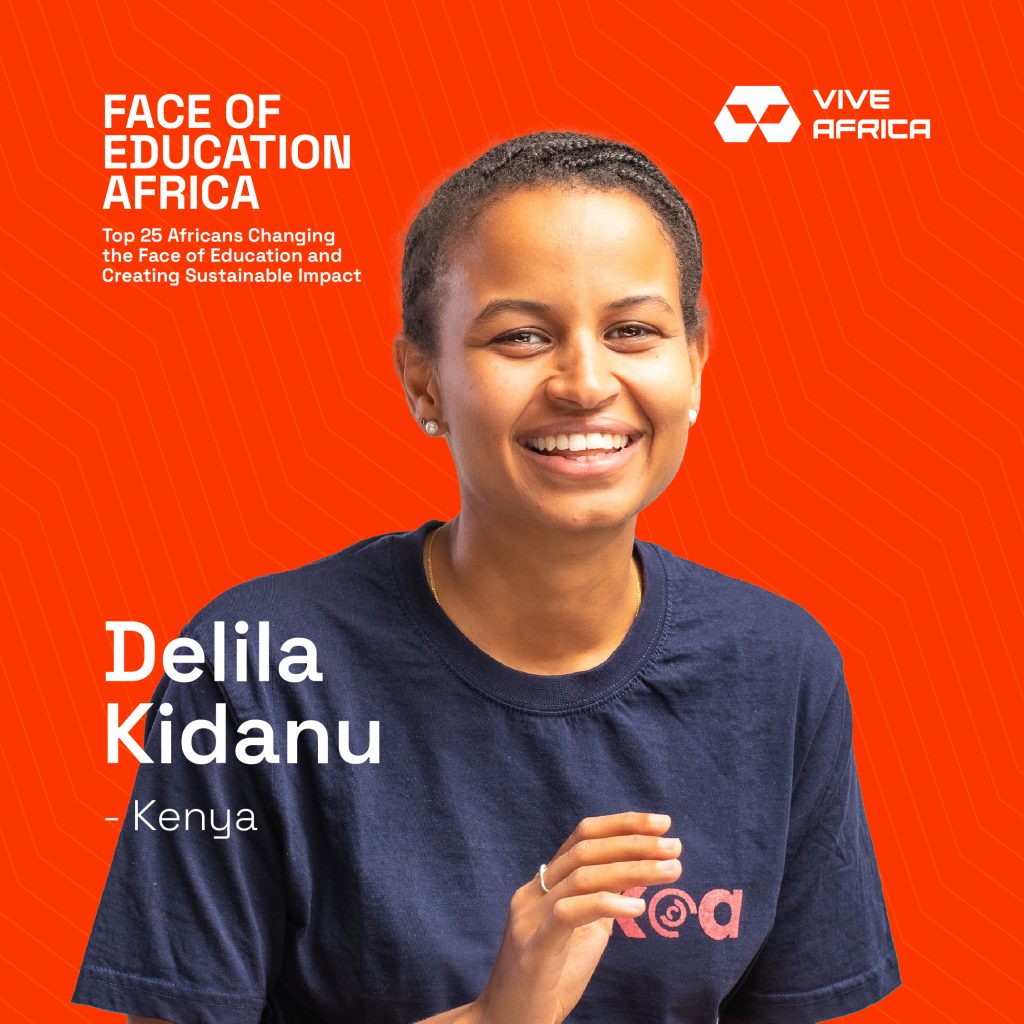 Delila Kidanu - Kenya
Holding several degrees and certifications from four of the world's most prestigious institutions, including Harvard University, Stockholm School of Entrepreneurship, KTH Royal Institute of Technology, and Aston University, Delila has indeed set the bar for every high achiever out there.
Passionate about business development, Delilah has gone on to use her wealth of knowledge to curate answers for youth across the continent. ThinkYoung, a youth focused think-tank was Delila's very first attempt towards helping policy makers create an enabling environment for youth to thrive. Focusing on youth capacity building and 21st Century skills, the initiative uses the power of research to curate non-formal educative programs for young people who have next to no access to quality education. As of today, the initiative partners with world renowned organisations such as Boeing to facilitate easy access to education across Africa. ThinkYoung has impacted over 800,000 students across the continent.
Delila has not stopped with the monumental impacts she has made through ThinkYoung as this young leader has gone on to co-found KOA, a financial startup that is helping thousands of Kenyans effectively manage their wealth.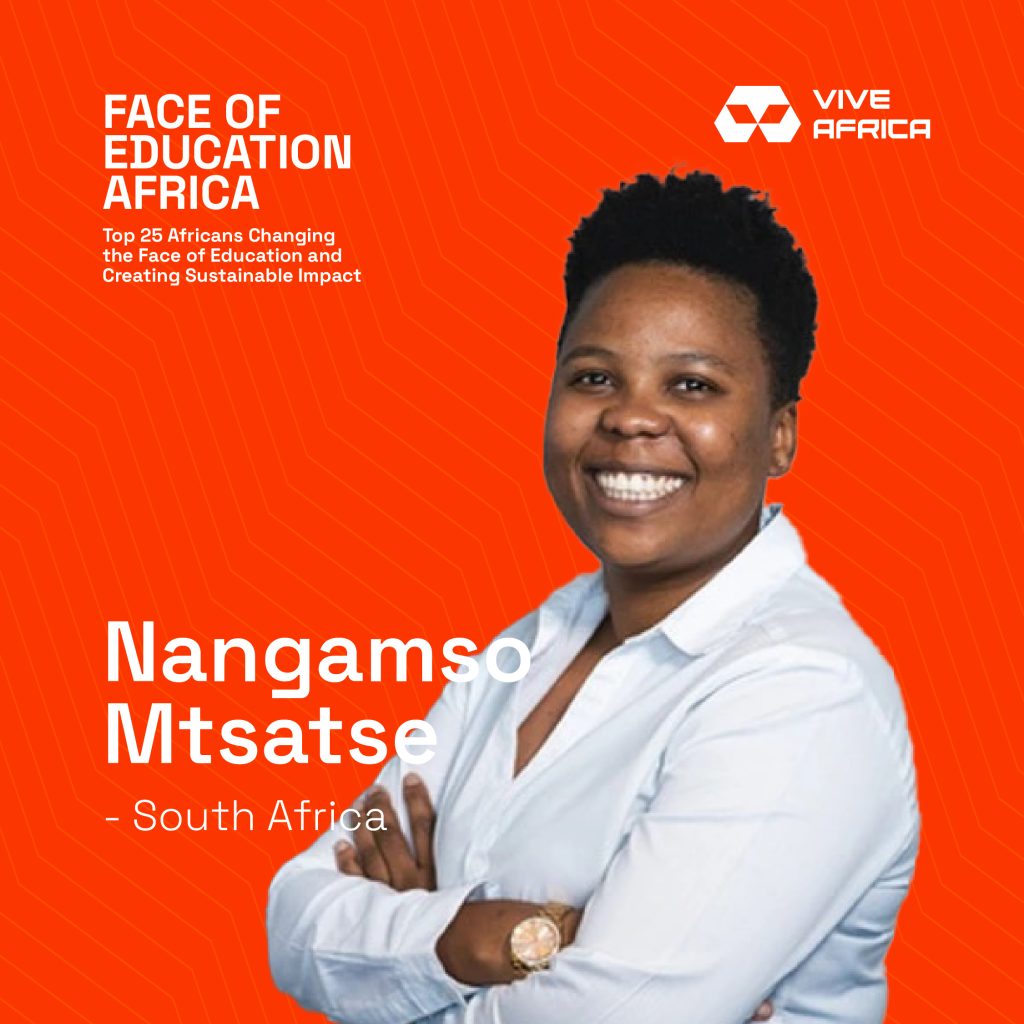 Nangamso Mtsatse - South Africa
Nangamso Mtsatse is creating an educational reform right from its roots. Renowned for her commendable contributions towards scaling early grade reading and providing sustainable solutions for foundational literacy and numeracy scalable models, she has made reckonable impacts in the South African literacy sphere.
Nangamso was the once CEO of Funda Wande, a not-for-profit organisation created to equip teachers with the necessary skills to impart knowledge efficiently to students. Our recognition of Nangamso is one of a myriad of recognitions she has garnered in the industry so far, a significant recognition being her selection as one of the Top 30 researchers worldwide by the International Literacy Association (ILA). Her passion for the industry recently prompted her to pursue a PhD in Education Policy at the prestigious Stellenbosch University. As Nangamso garners more knowledge, she remains steadfast to the cause of elevating educational experience across Africa.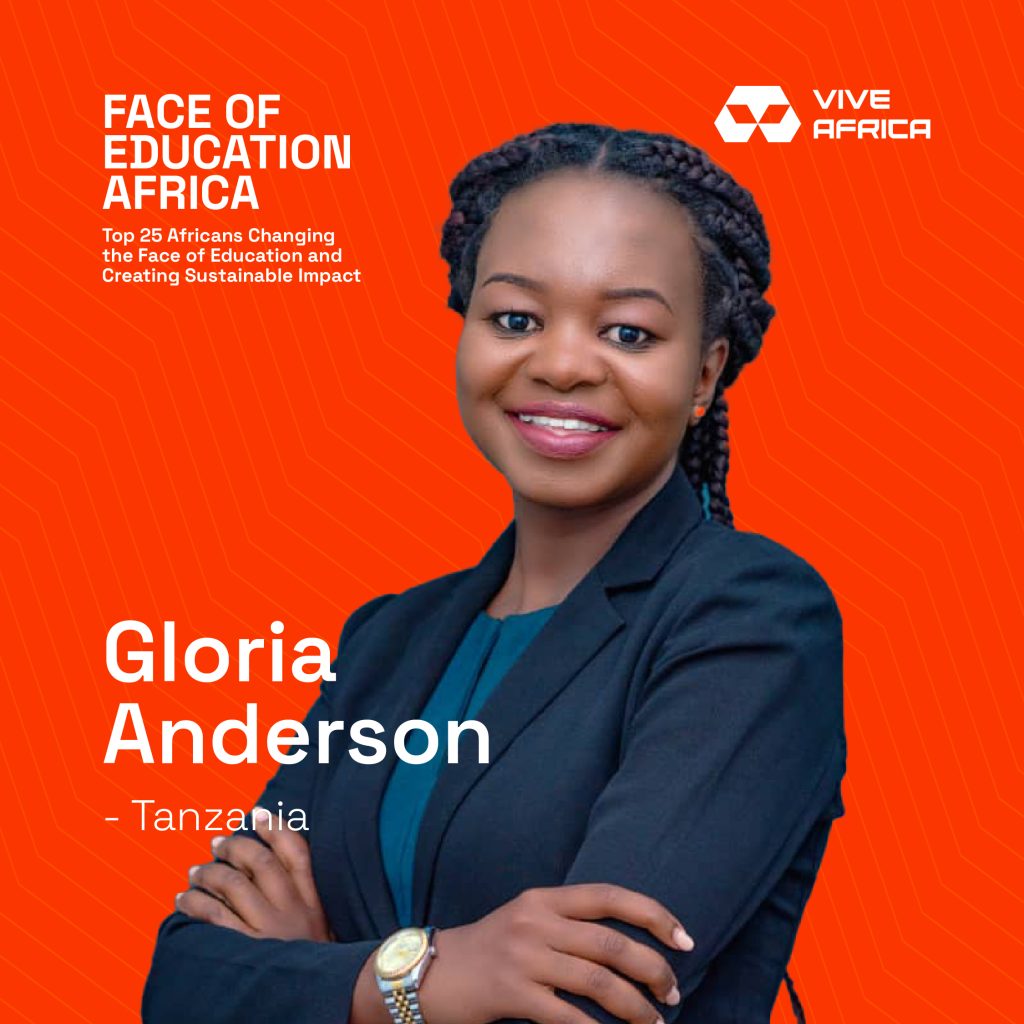 Gloria Anderson - Tanzania
When it comes to youth empowerment and women activism, then Gloria Anderson is the highlight of Tanzania. A results-driven young woman with over 6 years of experience in the development sector, she is bridging the gap between theory and practice utilising the power of educational programs, workshops, entrepreneurial skills, 21st Century employability skills and financial literacy to equip young people across all educational levels. This journey has led her to found one of the foremost not-for-profit organisations in Africa - TEDI Tanzania.
Gloria's firm belief in education and human capacity as the backbone of economies has led her to create an intriguing specialty in projects relating to education development, women empowerment and youth employability across Asia, Europe, Africa, and Latin America.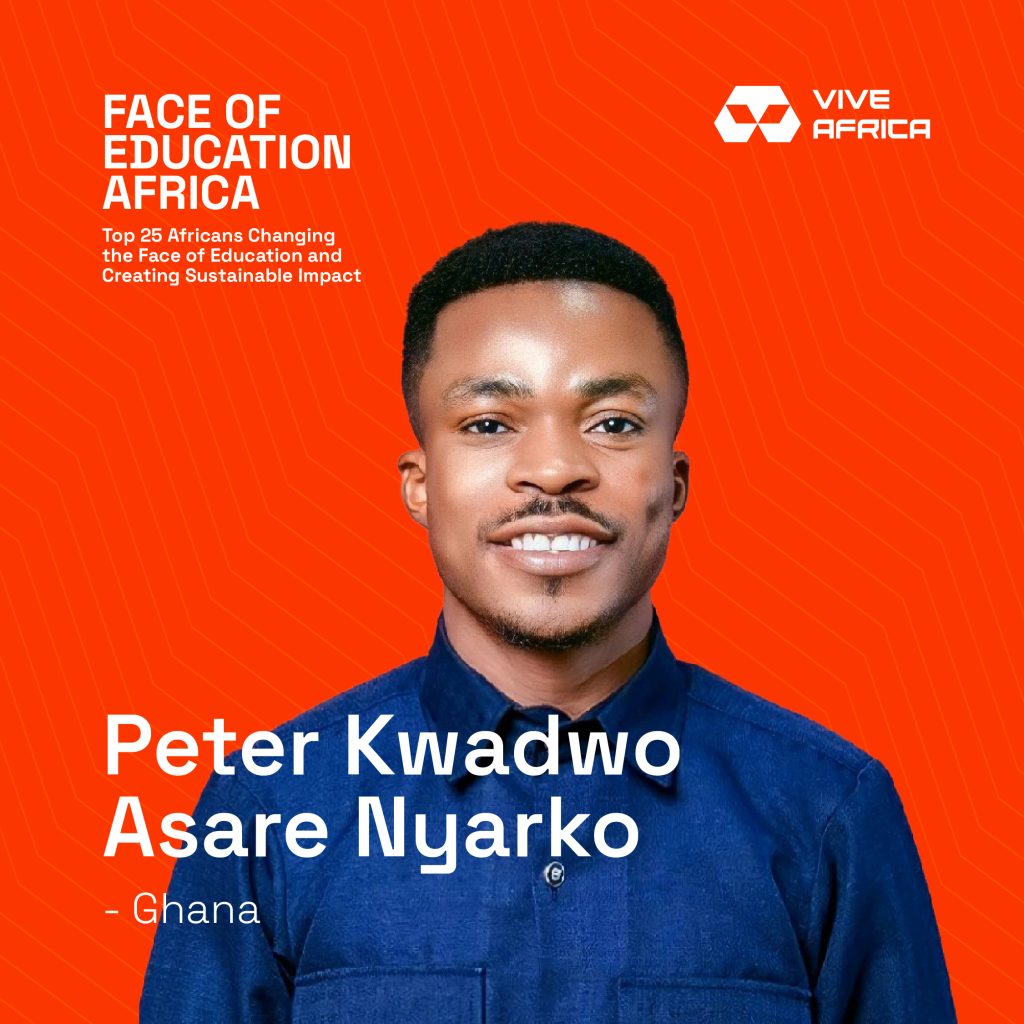 Peter Kwadwo Asare Nyarko - Ghana
We all know the struggles of growing up and facing adulthood with zero knowledge of financial management. Ghana's Peter Nyako, recognising how daunting this problem can be, was inspired to create the Centre for Financial Literacy Education, Africa, a not-for-profit founded to empower Africans to make sound financial decisions for themselves. Peter's organisation provides mentorship and guidance on saving, investing and planning for the future.
He is also the founder and CEO of PKAN Capital Consulting, a personal and business financial planning firm. Peter has gone on to publish several books on financial literacy, including Journey to Financial Freedom, Mastering Personal Finance, Dare To Be A Changemaker and a host of others.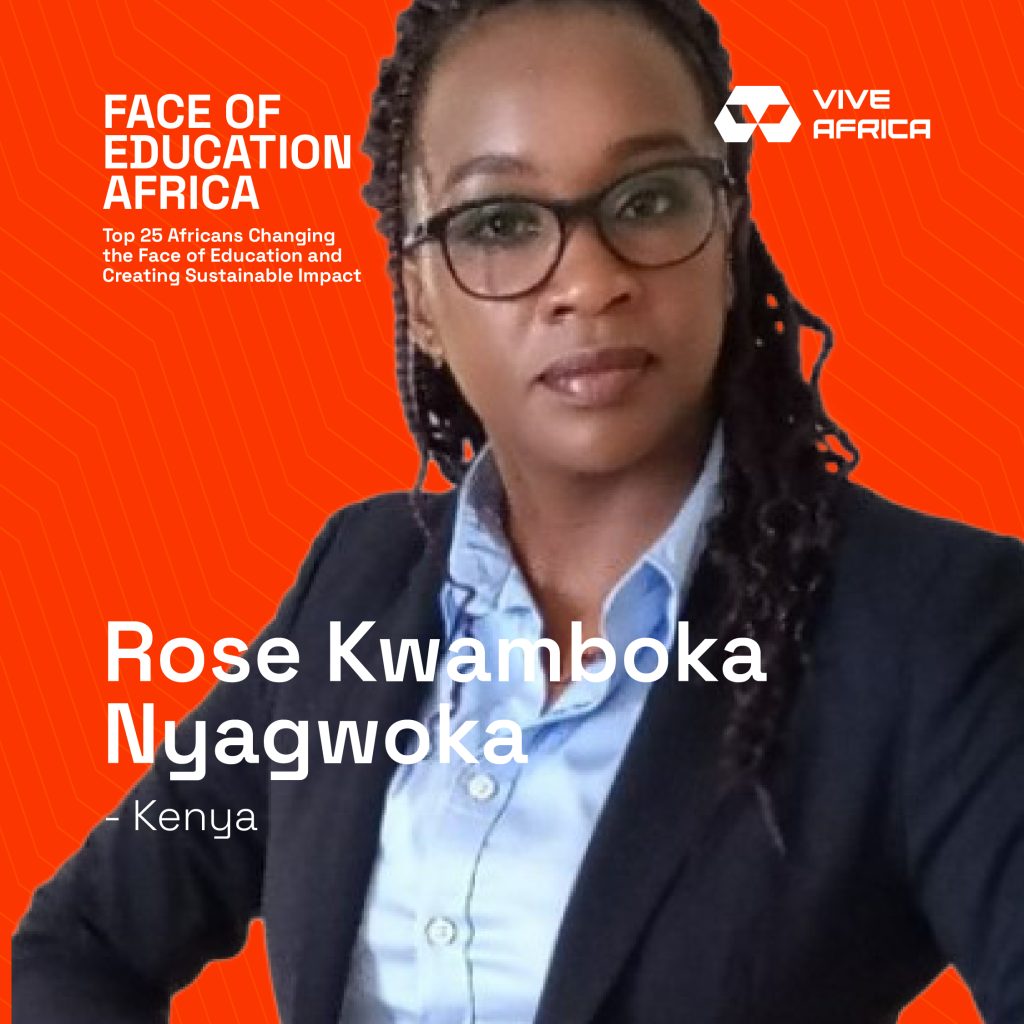 Rose Kwamboka Nyagwoka - Kenya
If there's anything Rose Nyagwoka has proven to the world, it is that disabilities offer no limitations. Rose is a challenge by herself to several others out there, achieving milestones others have not dared. Rose was one of the very few deaf women to be educated in Kenya, going on as far as acquiring a university degree. Understanding the limitations she faced, Rose took on an admirable determination to provide the necessary platform for the education of deaf children worldwide. Today, she holds the position of an Inclusion Advisor to deaf children worldwide.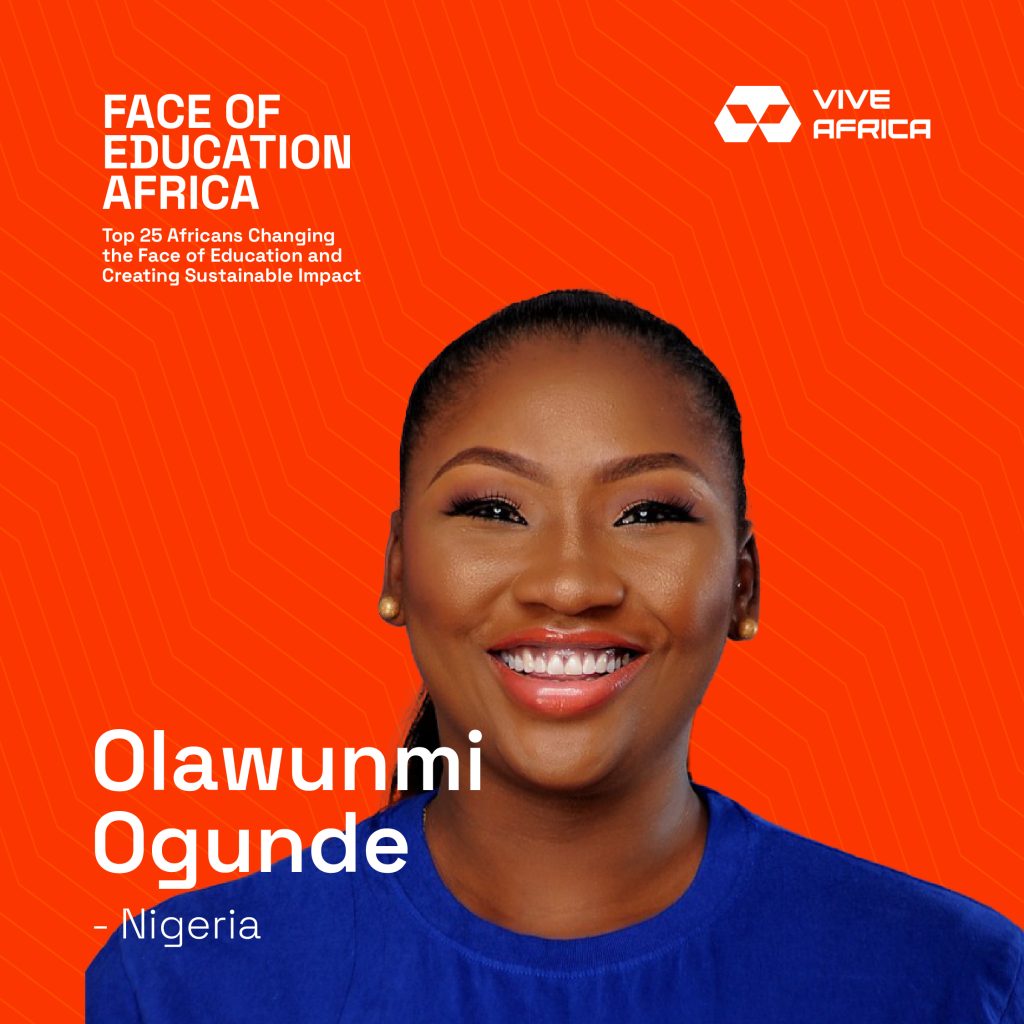 Olawunmi Ogunde - Nigeria
Sustainability may be a buzz word to most, but for Olawunmi, it is a lifestyle she has come to live, own, and dominate. Acquiring her first degree in Engineering from the University of Sheffield UK, and a Masters in the same field from the University of Warwick, Olawunmi caught an insight most would have brushed by - the need for the manufacturing and recycling process to enhance sustainability for the future. Running with this vision, she began to cultivate a learning ground, first applying to serve as an intern analyst in Warwick Manufacturing Group where she extensively researched on plastic packaging and recycling of solid waste materials and human behaviour. This passionate young woman has managed to garner over 12 years experience in this industry whilst currently pursuing a PhD Degree in environment sustainability and circular economy.
In the last decade, she has coupled her passion for people and knowledge with her years of experience in the industry to make monumental impact and build sustainable/reformative systems. One of such systems is Pakam technology, a software Co-founded by her to manage waste. She is also the Co-founder of Exoprune Africa, a social enterprise that provides recycling collection solutions incentivising recycling amongst citizens.
Olawunmi has convened and founded several other sustainability oriented initiatives geared towards educating and building. Amongst these are EMR Consult, a sustainability consultancy that helps businesses achieve their sustainability goals; POLCON, which connects stakeholders to innovate solutions to pollution; ECO-Digest, an environmental sustainability magazine; and WIRE (Women in Recycling and Energy) Seminar. Olawunmi is a mentor to young girls on the Invent Mentorship program for schools, and has been recognised by LEAP Africa for her development of youth in Africa.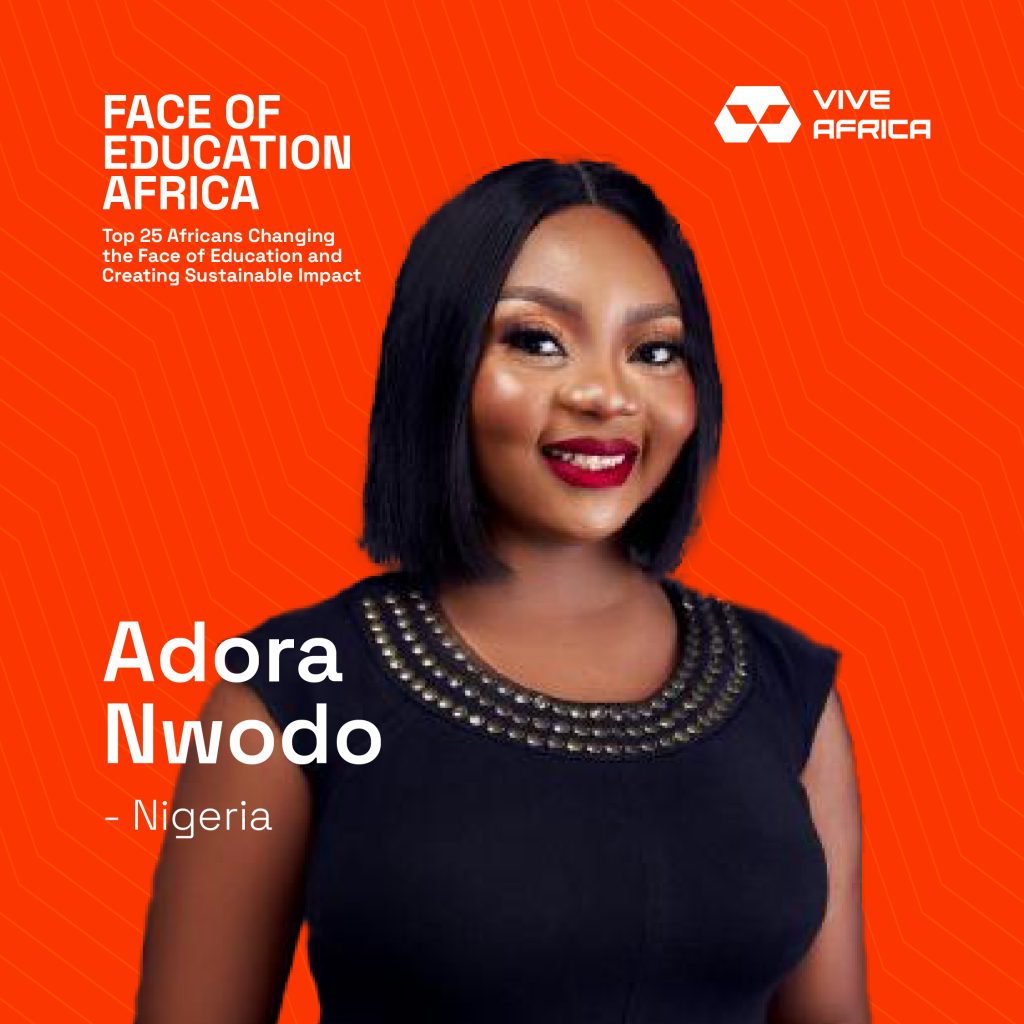 Adora Nwodo - Nigeria
Thousands of Africans in the past decade have found a career in tech but not many have found success with what Adora Nwodo now does with style — building and advocating for mixed reality technologies. With a first class Computer Science degree from the University of Lagos, Adora built her way from the scratch to become one of the leading ladies in Africa's tech world today.
Breaking glass ceilings all career long, Adora has won several awards, a significant testament to her contributions in the tech sector. Wherever she finds herself, she has used her skills and technological know-how to build sustainable communities of learning for eager minds. One of such is NexaScale. Adora founded this budding initiative in 2022, birthed first as AdoraHack Study Groups, a community of technology enthusiasts whom she helped build and scale their technology careers by providing resources and opportunities for project building. AdoraHack was later restructured to become NexaScale.
Recently, Adora partnered with Slum2School to launch the Adora Nwodo Education Scholarship Fund, a fund created for children in South Eastern Nigeria who are out of school. In recognition of the alarming statistics of over 20 million Nigerian kids being out of school, Adora set out to make an impact in her own way. Specifically concentrating on the South East, she hopes to partner with schools and NGOs domiciled in the East to fund these kids through primary and secondary education.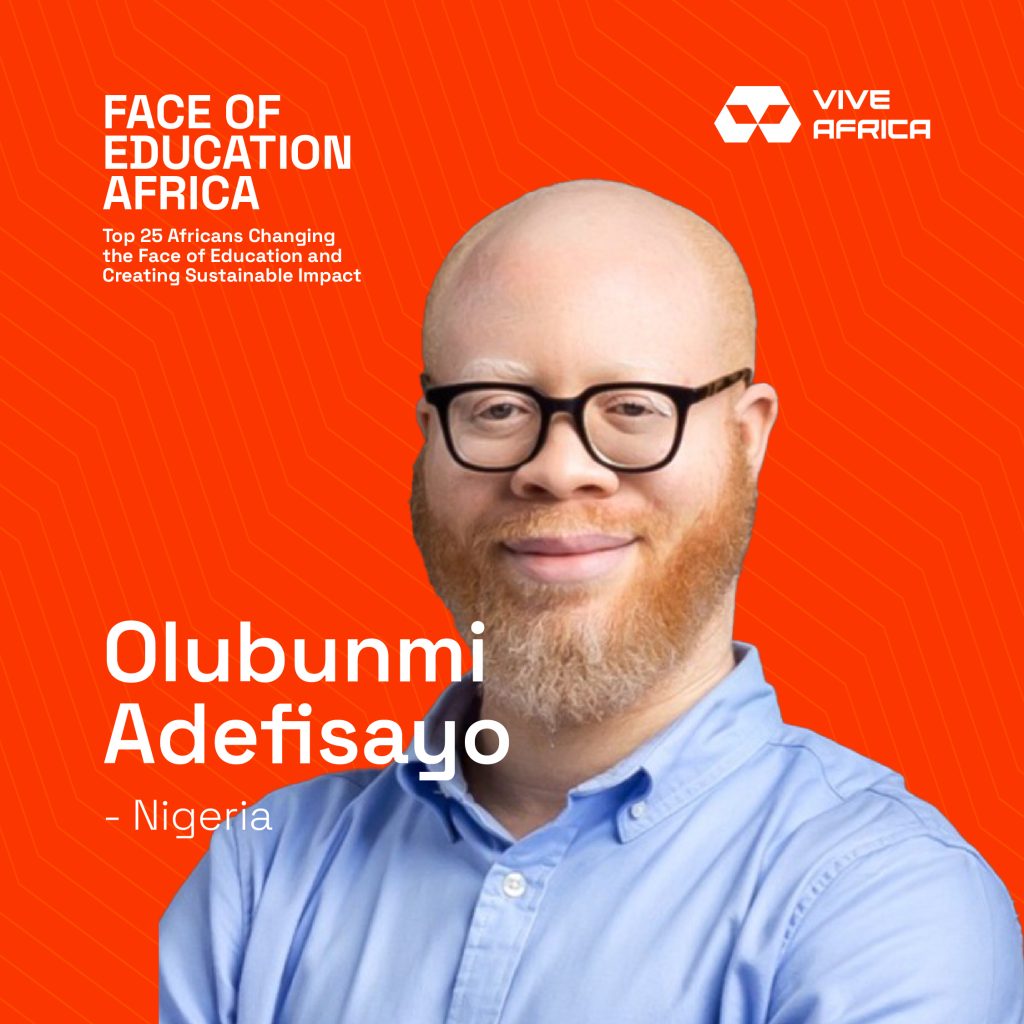 Olubunmi Adefisayo - Nigeria
Olubunmi Adefisayo's passion for education in an age where education has been pushed to the backwaters of development is commendable. Earning a first degree from the renowned Howard University in Economics, then a Master's in Finance from the prestigious University of Dundee, Olubunmi understood that to be an instrument of change, one has to embody the change with requisite knowledge and skills.
Hence, he took a dive into education proper, earning yet another Master's degree in International Educational Policy from the world acclaimed Harvard Graduate School of Education. With the knowledge this exceptional citadel of learning offered, Olubunmi was able to fully pursue his passion for adult development learning.
True to his vision, in 2022, he became the Regional Director, Academics of NewGlobe, an organisation that supports national and state governments in creating technology enabled education systems. Prior to this, Olubunmi had the privilege of holding the office of Head of Training, Curriculum and Leadership Development at Teach for Nigeria.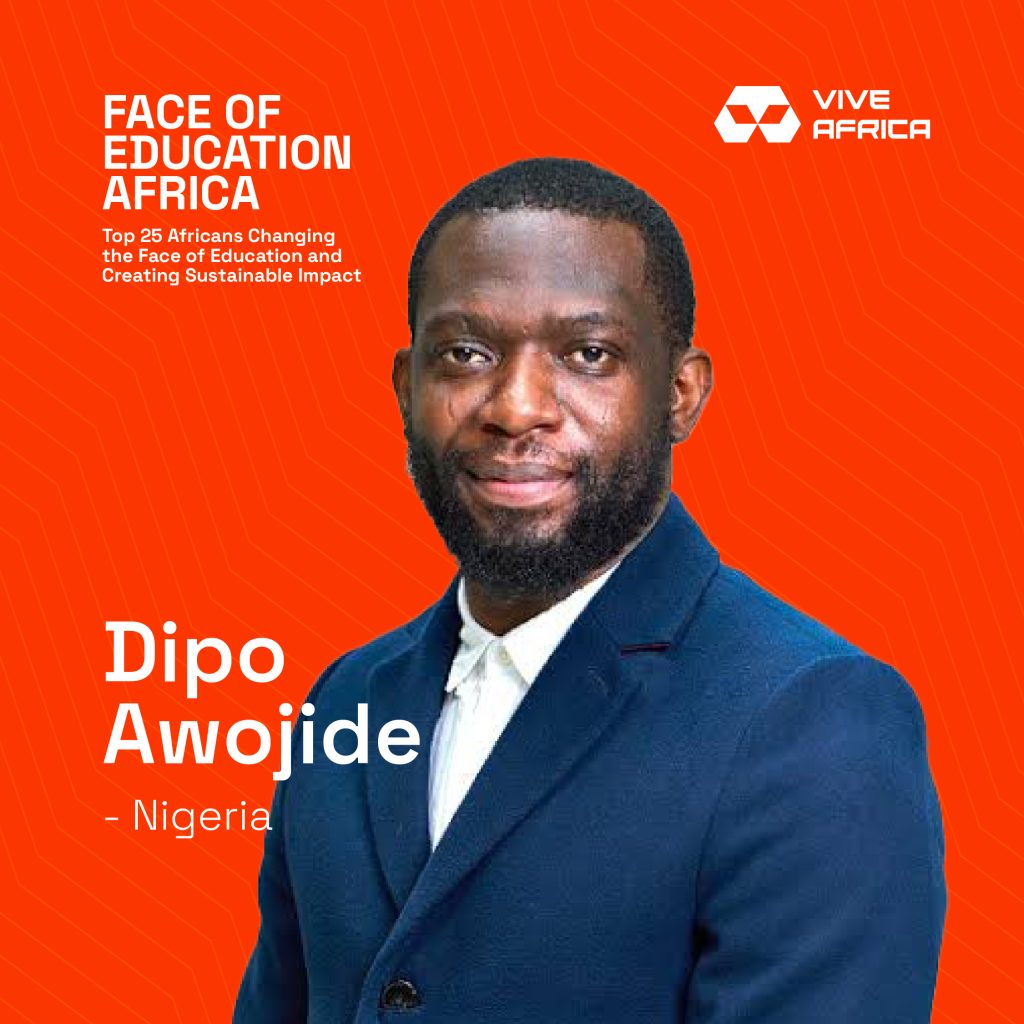 Dipo Awojide - Nigeria
Popularly known as Ogbeni Dipo, here we have a figure worth celebrating time and time again. Born and bred in Nigeria, Ogbeni Dipo has become a symbol of possibilities to many Nigerians. Earning a first degree in Accounting from the University of Abuja, to an MSc from Coventry University and finally, a PhD from Loughborough University, Dipo Awojide has broken all educational barriers imaginable.
Today, he is renowned for his significant impact across Africa as a personal and career development coach empowering youth with skills and opportunities. Dipo has recounted to many who would care to listen, the vast differences between the education in the United Kingdom which he got to experience himself and Nigeria. Hence, he set out to help as many people as possible experience the same.
This journey quickly grew into a large-scale business as he eventually founded the BTDT Hub, a human capital development company through which he empowers early and mid-career professionals in Africa. In 2019, BTDT Hub and its affiliate BTDT Home Tutors were listed as Top 20 LinkedIn Voice (UK), hence, Dipo became the first Nigerian to grace the LinkedIn Honourees list. BTDT has also had a commendable impact on nations, working with government bodies, tertiary institutions and corporate organisation to expand human capacity across all levels.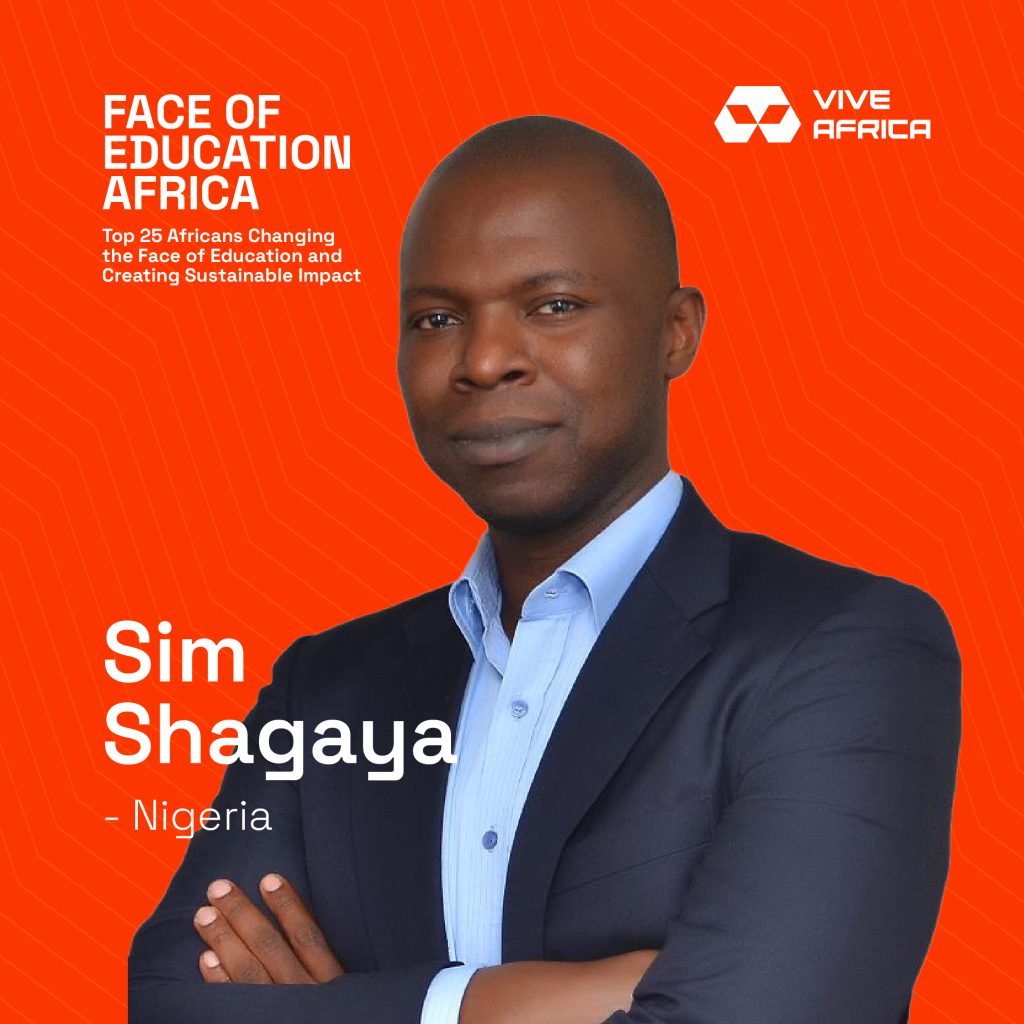 Sim Shagaya - Nigeria
We believe it is easy to dream, but having a dream that crosses the borders of fantasy into reality and indeed takes the world by storm, becoming a leading initiative is rare. One such dream is what Sim Shagaya had — a dream to make education available to learners across Africa.
As a result, Sim founded ULesson Africa, an app built for the sole purpose of bringing education to people. Prior to this, in case you did not know who this African changemaker is, Sim had founded and run West Africa's largest e-commerce website, Konga.com. He had also founded E-Motion Advertising, a notable media company which had eventually been acquired by Loadstad Media. In 2014, unsurprisingly, Sim Shagaya became recognised on Forbes' list of 10 Most Powerful Men in Africa.
By now, you can be certain Sim Shagaya is indeed a wave maker, with degrees from reputable institutions such as George Washington University, Dartmouth College, Harvard Business School and the Nigerian Military School.
More recently, he founded and launched the Miva Open University, an academic institution created to deliver an exceptional and innovative blended learning experience for Africa.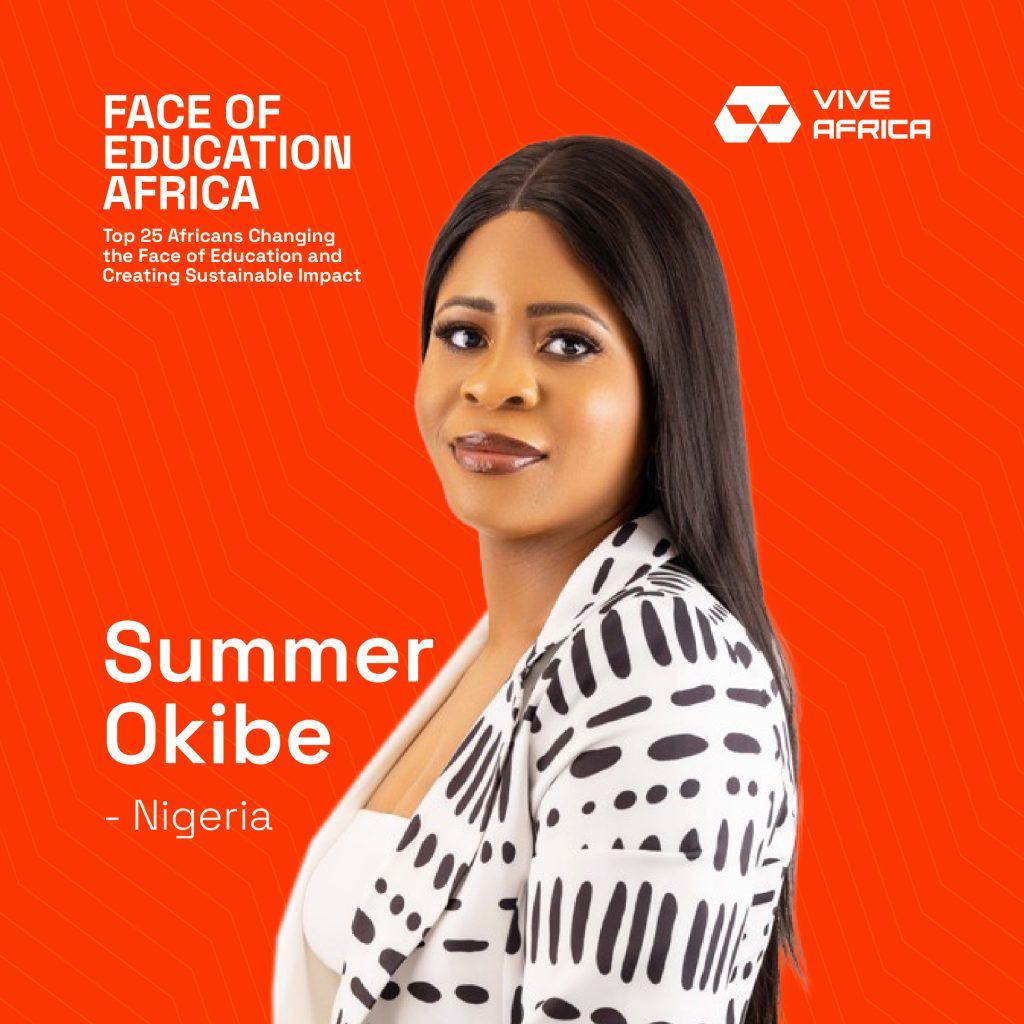 Summer Okibe - Nigeria
Summer Okibe is a Nigerian PhD student in Canada who has tapped into many foreign educational opportunities such as Graduate Fellowship Fund Grant Issued by Law Foundation of British Columbia, PEO International Scholarship, University of Victoria Scholarship, Dr. Peter Montgomery Graduate Scholarship and a host of others. Through personal achievements, she is showing over 36,000 Africans how to benefit from scholarship opportunities.
Beginning her journey with a degree acquired from Anambra State University, to gaining her Masters from the University of Victoria, Summer co-founded Spursome, an initiative that provides scholarships to qualified and vulnerable students through competitions, while using her YouTube, Instagram and Twitter Channels to provide educational information that has helped thousands of Africans.
She has also taken on various teaching roles during her career, including teaching children with special needs at the FCT centre for Children with Special Needs, as well as equipping kids with entrepreneurship education at Smart Kids Zone. Summer has also been privileged to speak on several informative educational panels on virtual platforms.
---
---
Selection modality: Face of Education Africa list was curated by an Independent Selection Committee based on a variety of criteria including - but not limited to - potential, social impact, scale, influence, and vision. None of the nominees were pre-informed before the official release of the list by Vive Africa.