Nigerians are phenomenal anywhere and everywhere, and the educational system is certainly no exception. Many solution carriers, thought leaders, and change makers across Nigeria have put in the work over the years to actively bridge the educational divide and invest in education independently while also enjoying what they do. Recognising that there's a sector that can be energised and going into it with full body, soul, and mind, determined to excel at it is indeed game-changing.
Considering the relative lack of attention that education sector players receive in comparison to others, Vive Africa is providing a platform to challenge the status quo by curating the definitive list of remarkable personalities who have successfully immersed themselves in this sector and are excelling at it. From Adetomi Soyinka to Dipo Awojide, every year we will bring to you the people making waves and leading the vanguard of accelerating Africa's development through education.
In no particular order, see below the 2023 list of Top 25 Nigerians Changing the Face of Education: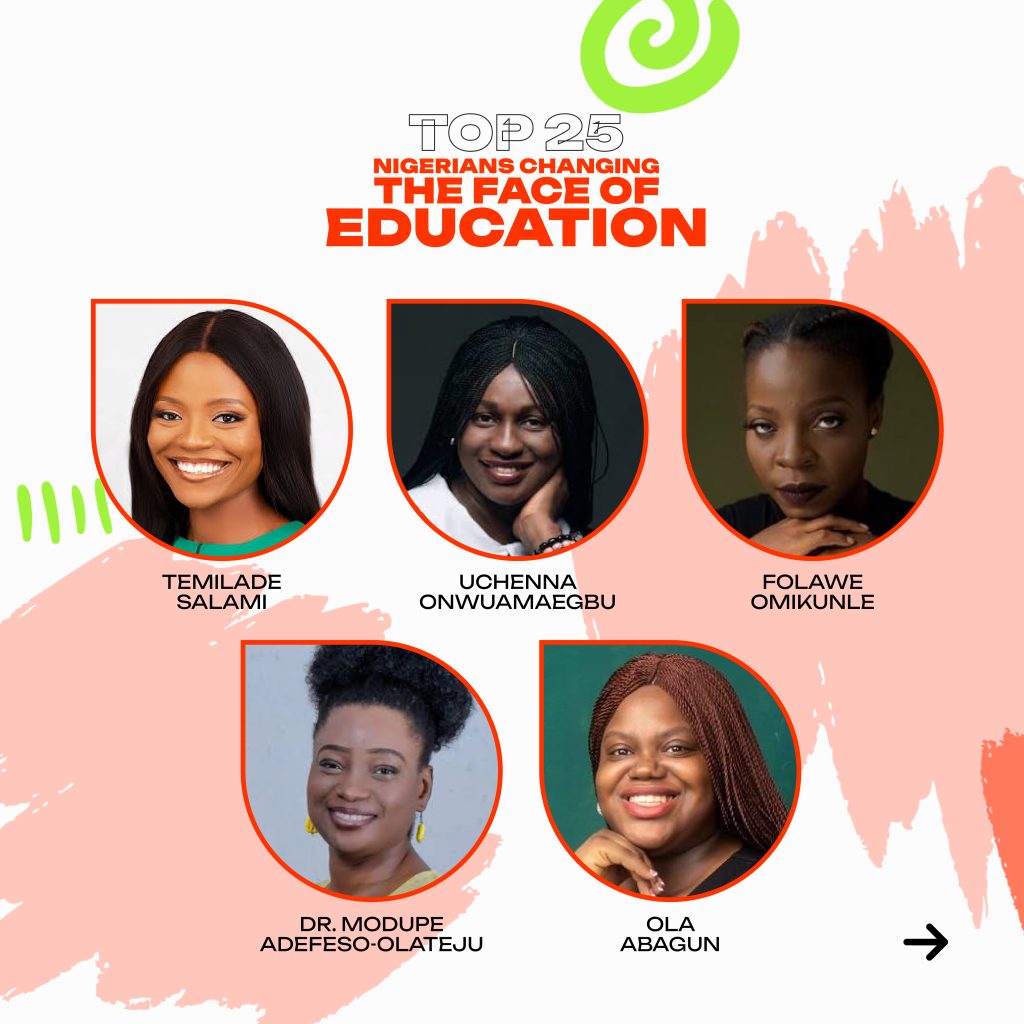 1. TEMILADE SALAMI
If there's a story worth telling, it is that of this young and vibrant woman who has taken hold of educating people on environmental sustainability. Finding herself on a career path she had no passion for, Temilade decided to find out just what it has to offer. We can tell you assuredly that she found it. Temilade Salami today, is a leading figure in starting and propelling various youth led initiatives across Africa. She founded one of the largest networks of young environmentalists and activists - Eco Champions. She has used this as a platform to develop multiple climate change projects across Africa. Temilade is an active advocate for the inclusion of climate education into the Nigerian curriculum and has successfully launched the Climate Education Leaders Fellowship earlier last year to educate the next generation of environmental activists.
2. UCHENNA ONWUAMAEGBU
A glance at Nigeria's educational system will give a summary of the determination and passion it must have taken Uchenna to take up the mantle of leadership in a bid to make dimensional shifts in the lives of Nigerian kids, especially the girl child. Not fazed by the seeming lack of standard and equal education, Uchenna has used Edufun Technik, an organisation she founded and heads, to create a momentum of learning, providing STEM education and resources to schools and students in Nigeria. Uchenna has been privileged to use her opportunities in programs such as the Mandela Washington Fellowship to mentor and touch the lives of over 800 students in Nigeria. She attended a hands-on STEM related event in Dubai which spurred her interests in bringing her new-found knowledge to her local community. Uche has been able to transform several students' lives including training five Nigerian girls in coding, that won the technovation world pitch in Silicon Valley, U.S.A.
3. FOLAWE OMIKUNLE
It is indeed rare to find such raw passion and talent for teaching as we have found in Folawe Omikunle. Folawe is a graduate of international law and diplomacy from Babcock University. Though unrelated to her chosen career path, this didn't stop her from going further to enrol at Modern Montessori International, London, for a diploma in Montessori Education.
Her passion was even more intrigued when Folawe became the administrator of a school and had a life-changing encounter with an orphan girl who couldn't quite afford to attend the school. There and then, she took up the mandate to reduce inequality in the education sector of Nigeria.
As the CEO of Teach for Nigeria, Folawe once led her team to partner with Kaduna State Government to place teachers in high-need primary schools across the state. They successfully enrolled over 80 qualified teachers in public schools across the state. Folawe is a member of the Association of Private Educators in Nigeria, and was named one of the Leading Ladies in Africa by Y!/YNaija. She also once won the women of year award in education by Her Network.
4. DR. MODUPE ADEFESO-OLATEJU
Yet another woman making waves in the Education sector is Modupe Adefeso-Olateju, the Managing Director of Education Partnership Centre. Modupe has successfully lead work on education related initiatives that were sponsored and supported by top international donors.
As an educational policy expert, she was opportune to write a section of the Federal Ministry of Education Strategic Plan on Education. Dr. Modupe is also a trustee of the Commonwealth Youth Exchange Council, United Kingdom. Modupe has been recognised by the President of Nigeria as one of the 100 Guardians of Nigeria's future.
5. OLA ABAGUN
Some individuals have found ways to utilise chosen career paths industriously to re-engineer the foundations of ideas they believe in. One of these is Ola Abagun, a lawyer and a gender and international development expert. She also is a qualified Equality Diversity and Inclusion Professional.
Ola is the executive director of ATHENA Network, a global feminist collective, working to promote gender equality and human rights. Her passion for feminism is demonstrated in her advocacy for the girl child's right to education, through the creation of the Girl Pride Circle initiative in 2014.
This woman riding the waves of constructive feminism was also a consultant for Gender Transformative Education, a project commissioned by UNICEF, UNGEI and Plan International. Ola was opportune to handle the project on a six-month contract basis. She also has designed and facilitated two global virtual consultations for about 20 grassroot youth advocates for gender equality and education.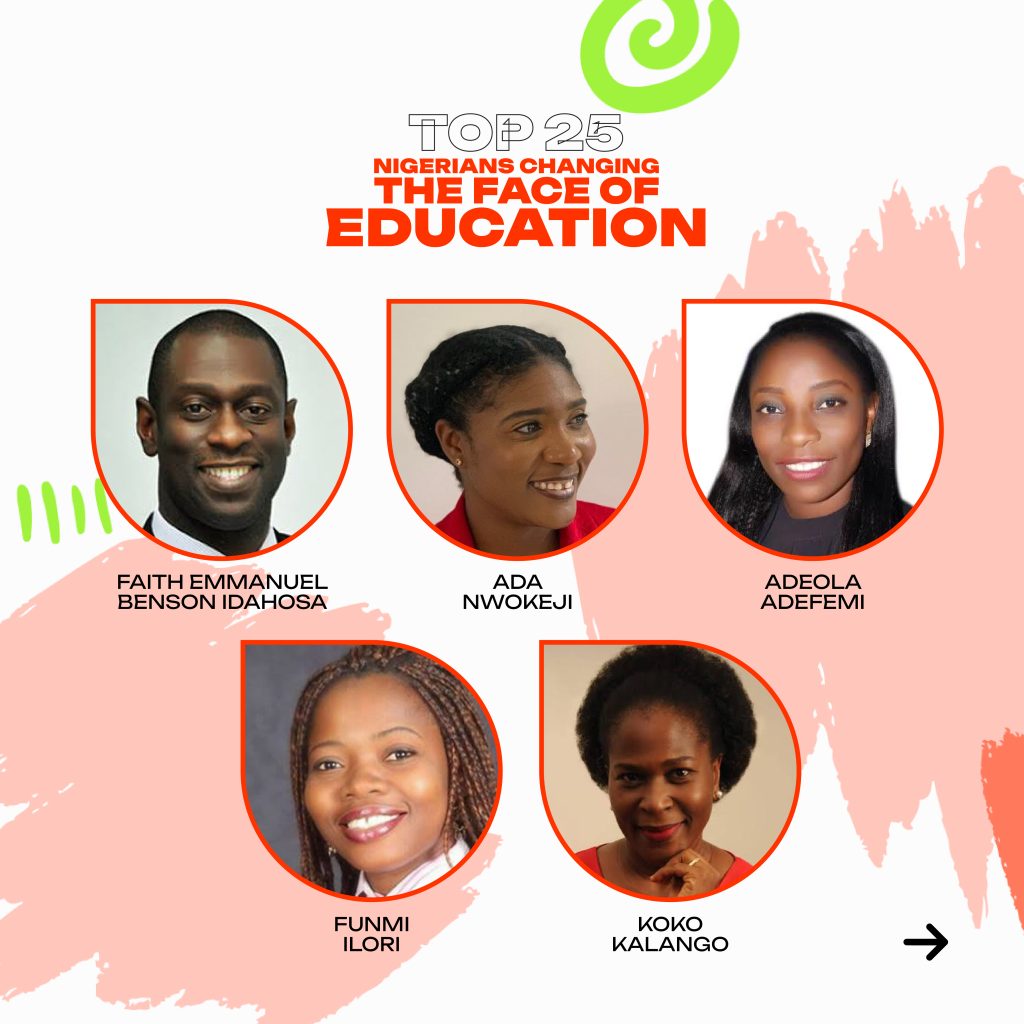 6. FAITH EMMANUEL BENSON IDAHOSA
Popularly known as FEB Idahosa, he is one of the few people that can be said to have been born into leadership. FEB acquired his Bachelor of Science degree in Biology and a Bachelor of arts degree in Business Administration from Oral Roberts University, Oklahoma, U.S.A. He is a current doctoral candidate for Educational Leadership at Oral Roberts University.
FEB can be considered an educational entrepreneur and one of the greatest trans-generational leaders ever born. With a passion to transform his country, he started the Leadership 300 program, intended to discover potential future leaders and give them the necessary mentorship they require.
Bishop FEB Idahosa has been in the education field and has been the President of Benson Idahosa University since 1998. He has helped cultivate the leadership potential of students from the university through intentional approaches and strategically orchestrated programs. FEB has been the recipient of several honorary awards in the educational sector, ranging from the Oral Roberts University Academic Peer Advisor program award in 1994 to the more recent Grand Fellowship Award by the Institute of Strategic Management, Nigeria.
7. ADA NWOKEJI
Drums Study Abroad and Student chat jobs are educational resources directed by Ada Nwokeji, a young, resourceful education influencer, passionate about young people's education in Nigeria. Ada has successfully used these platforms to get hundreds of international students, dependents and graduates connected with amazing job opportunities. Her 17 years of versatile experience has been used to educate people on where and how to find the right opportunities suitable to their needs.
8. ADEOLA ADEFEMI
Transforming a supposedly low performing school within two years to winning multiple international and local competitions, Adeola Adefemi is gaining ground in the education sector. Her passion and use of her intellect is unmatched. For Adeola, no child is a dullard, it is the right approach that is lacking.
Adeola Adefemi is an award winning and certified innovative educator, currently teaching at Oke-Ado Senior High School, Alimosho. Passionate about promoting quality education especially for marginalised children, she has won the African Top School Award for exceptional academic performance.
Adeola launched Every Child Counts, a club-based society channelled to recognize the different interests of kids. Through this, she has completely reformed learning for the kids that pass through her tutelage.During her 9 years career, she has helped train young girls in entrepreneurial skills, won over 103 sate, national and international competitions and received several awards including the Outstanding teacher of the year 2019, Maltina's That One Teacher award, Lockdown Teacher 2020, Fulbright Teaching Excellence, and Achievement award, 2020 and was announced as the best teacher in Nigeria on the 2022 World teachers' day.
9. FUNMI ILORI
Funmi Ilori acquired a Bachelor of Science in Urban and Regional Planning, a course completely unrelated to education. However, her passion for literary works, books and education in general led her to acquire an M.Sc. in Educational Psychology. Funmi as an educational consultant works with iRise model School as a director of studies. She also is a Children Books Author and was selected by Barack Obama himself as a Young African Leader for the 2016 Mandela Washington Fellowship.
10. KOKO KALANGO
30 years work experience in education. That is what Koko Kalango boasts of as an education reformer. This amazing woman has worked in Nigeria, the United Kingdom and as a volunteer in the United States. Koko started an initiative titled Rainbow Book Club and led the Get Nigeria reading Again campaign. She has also represented Nigeria on various international platforms including Poland World Book Capital, 2016, Incheon World Book Capital and Kirby Smith Youth exchange programme in the U.S.A.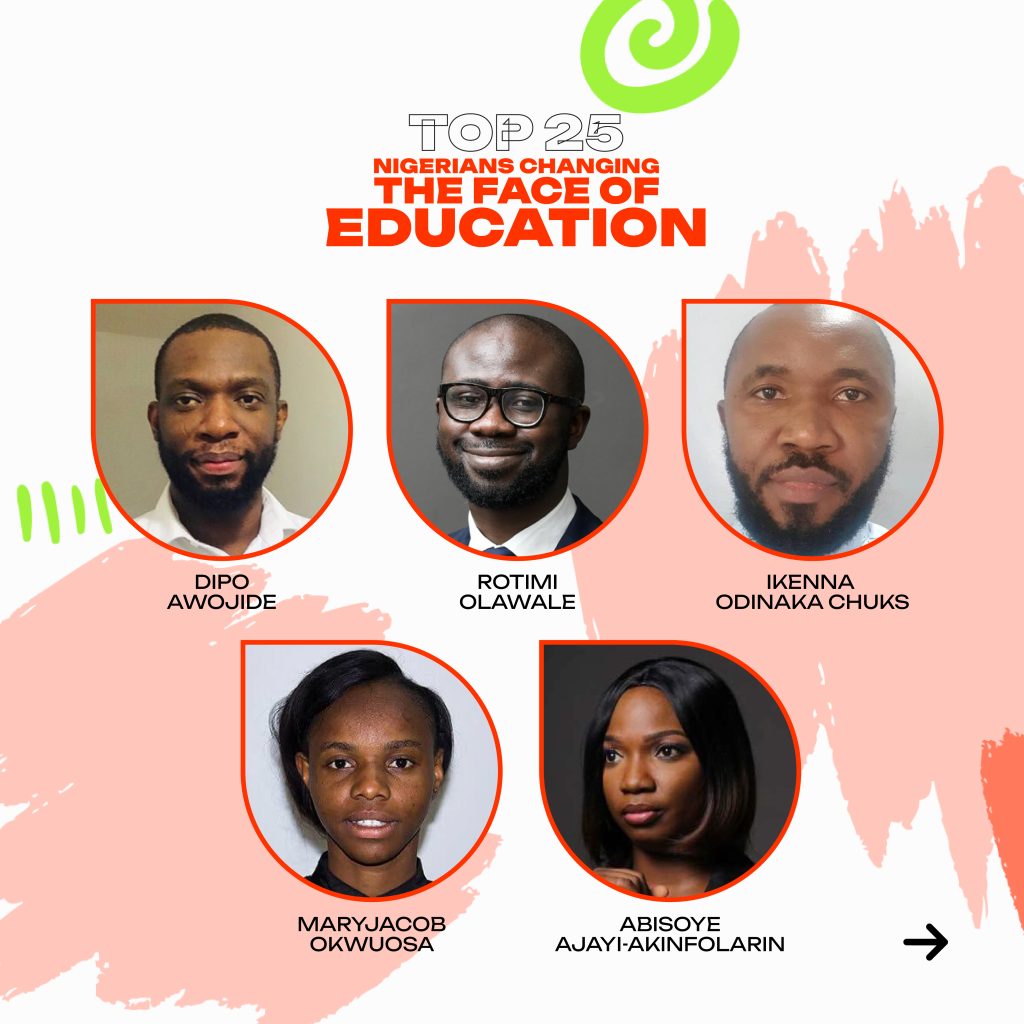 11. DIPO AWOJIDE
Popularly and professionally known as Ogbeni Dipo, Dipo Awojide has these past few years become renowned for his passion for academics and self-development. In his interview with NewsWireNGR Dipo talks about how his passion for wanting to help others coupled with his experience studying in a UK university helped open his eyes to how he can help others.
With a platform that reaches millions of people, Ogbeni Dipo has transformed life through his mentorship, providing education related opportunities on scholarships, interviews, and international education.
Ogbeni Dipo is the founder of BDTD, an educational platform created to help young graduates and professionals. He is currently a Senior Lecturer Nottingham Trent university, U.K. Without a doubt
12. ROTIMI OLAWALE
Rotimi Olawale should be given an honorific title as an 'education champion'. Passion coupled with thought-leadership are attributes that have helped Rotimi Olawale take small but mighty steps in the protection of the right of the girl child to education. He is an advocate for government officials passing laws that improve girls' access to 12 years of education.
For over 10 years, Rotimi has worked as a youth development expert and girls' education advocate. He founded YouthHub Africa in 2012 a social platform to engage youth across Africa in social change.
Remember the #BringBrackOurGirls campaign? Rotimi Olawale served as its spokesperson in 2014. His activism and advocacy resulted in a significant amendment by the Senate to the Universal Basic Education Act to guarantee every child's right to 12 years of education!
13. IKENNA ODINAKA CHUKS
Writer, Career development professional and an educator above all, Odinaka Chuks is the founder of one of the biggest websites that provides information to students after secondary education – Afterschoolafrica.com. He is also the founder of AfterSchoolMedia.com and Edxtra.com. With a passion for the future of young people and enabling them access to opportunities to develop their financial capabilities and access to opportunities, Chuks' website has built a lot of confidence in its audience with the educational information it provides.
14. MARYJACOB OKWUOSA
Another educational advocate is Maryjacob Okwuosa, who has achieved both local and international renown because of her work in the educational sector. As the founder of Whisper to Humanity, a virtual community training teachers and students to create a more conducive learning space for all, especially for the girl-child. Maryjacob sees education as vital to improving the quality of lives of women and the society at large.
With over 10 years working experience in the developmental space, Maryjacob initiated, founded, coordinated, organised, and contributed to major change making programs and policies. Maryjacob is a founding member of Transform Education Network hosted by UN Girls Education Initiative. She has had the opportunity of being a representative on the Global Partnership for Education Youth Leaders Board. She is also the national coordinator for Activista.
15. ABISOYE AJAYI-AKINFOLARIN
We can agree that the most significant divide in education is access - this is what Abisoye is working to change with her foundation, Pearland Africa Youth Foundation. She uses this medium to educate girls and women in maligned communities, strategically providing them with opportunities that they otherwise may never get.
Majorly advocating for women and girls, Abisoye has been able to educate thousands of females in marginalised communities, providing them with access to technology and mentorship to help them become independent.
The empowerment the foundation gave to youth birthed Girls Coding in a bid to give more women opportunities to thrive in her tech career path. She has also founded similar flagship programs such as Girls in STEM, G.C Mentors and Empowered Hands.
Abisoye Ajayi-Akinfolarin was named one of the top ten CNN Heroes and BBC 100 Women in Tech.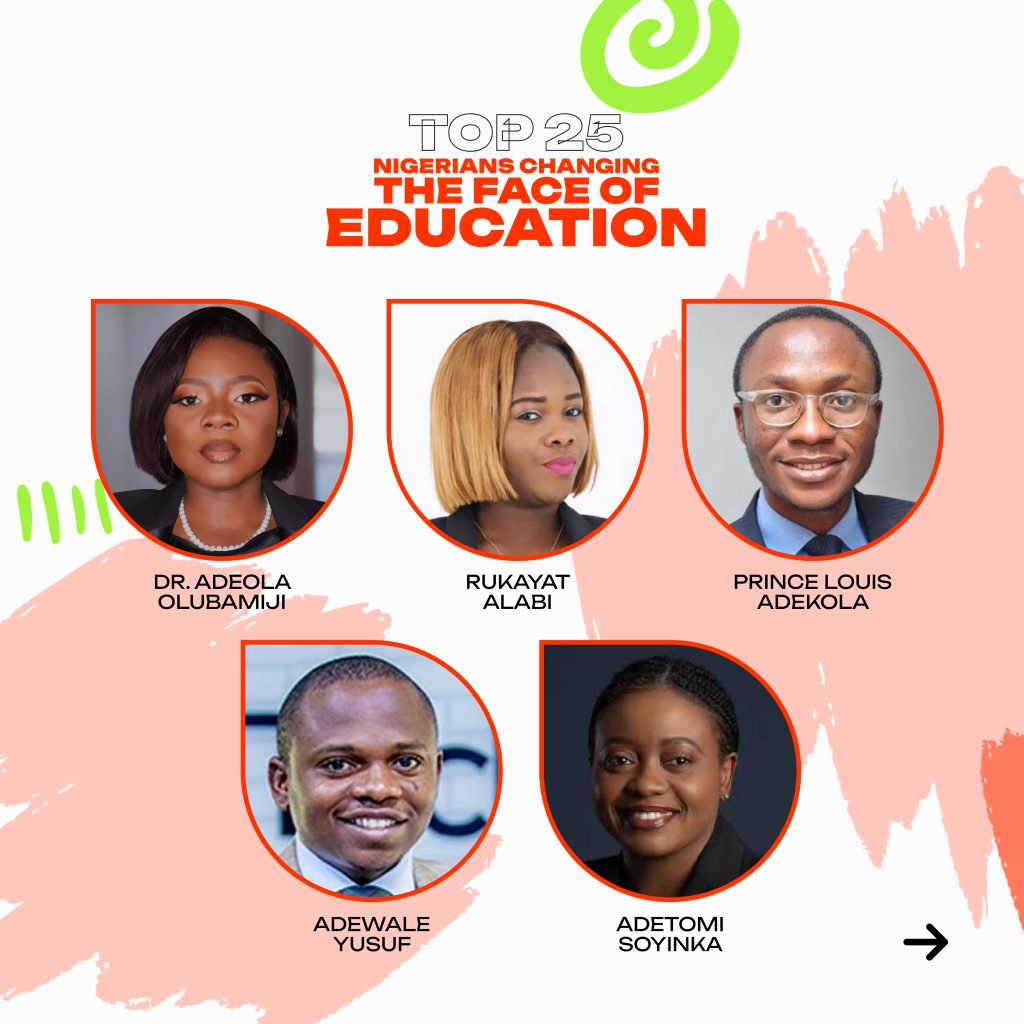 16. DR. ADEOLA OLUBAMIJI
Here's another woman breaking glass ceilings. Growing up poor with parents who had no formal education, Adeola Olubamiji popularly known as Dr. Addy Olubamiji has carved out an exciting success story. With a passion for the Sciences, Adeola Olubamiji was indeed able to demonstrate that education is a pathway to success. She became the first black person to acquire a Phd in biomedical engineering from the prestigious University of Saskatchewan.
Dr. Addy founded the STEMhub Foundation, a charity organisation that provides mentorship, free hands-on experiments, and unique learning opportunities to black youth. The organisation has impacted the lives of thousands of youth and professionals since its inception by bringing career coaching and study abroad opportunities to them.
If there's anything Rukayat, the founder and CEO of RKY Careers is doing well, it is the fulfilment of dreams. Based in London, UK, Rukayat is an educational and professional mentor who takes every individual's need, capacity and challenges and creates irresistible excellence from them.
With over 150 success stories, 50k+ followers, 10+ different career changing services and training, Rukayat has been able to help students and professionals achieve dreams that seem too far off. As a renowned authority in the UK Job market, Career Development and Visa Sponsorship programs, this amazing woman has been invited to speak in several Tech Summits, Career Webinars and Universities.
The tirade of client testimonies that decorate her social media, ranging from multiple job offers to visa acquisitions are testimonies of her brilliant services. The genuineness of these testimonies can be found on the very surface of exalting words used, speaking true to the joy and excitement of the people who have benefited from her CV writing and training recommendations.
With Rukayat's help several people have landed UK jobs from the comfort of their homes. Her CV and Linked In profile transformations have often been referred to as 'the magic touch' as it often results in barrels of interviews, recommendations and job offers. Jovial, warm, and kind-hearted, Rukayat has created beautiful relationships with her clients while being fully professional with her job.
18. PRINCE LOUIS ADEKOLA
International Education Consultancy, that is what Louis Adeola lives for. His passion for the education sector is demonstrated with three different degrees in Education. Could anyone love education even more? As an ambassador of University of Sussex, he provides information to prospective students on admission processes, financial support schemes, course options and flexible payment plans.
Louis, who is the CEO of Edvant Edge Africa, has attended several educational conferences locally and internationally. He recently joined other education change-makers like Mo Adefeso to feature at the Education Innovation Summit in Lagos. According to him, he loves the opportunity to network and share best practices which such conferences provide.
19. ADEWALE YUSUF
Adewale Yusuf is the co-founder of Alt School Africa, Talent QL and Tech Point Africa. This young man prides himself in his ability to recognise talents in young Africans while providing them with opportunities to change their future. He is passionate about helping people, and using innovative means to transform the education sector. The importance of the impact Adewale has achieved and is still achieving through platforms such as Alt School Africa, which trains people on technical skills has been recognised throughout the African continent.
His passion for starting up tech companies and training people, led him to co-found Tech Point Africa, which has been quite instrumental in showing just how important tech is in transforming Nigeria.
For us, we have found most appealing his skill in using Talent QL to create remote employment opportunities for talents across Africa, connecting developers and young talents. We hope to see Adewale attain even greater heights in the industry.
20. ADETOMI SOYINKA
Where would we be without Adetomi Soyinka on our list? With over 12 years working experience as the Director of Education, Enterprise and Skills Program for British Council, Nigeria, Adetomi has been instrumental in equipping young people with employability skills while providing higher education and enterprise innovations.
The British Council is renowned for its culture integration schemes and support of the employment and growth aspirations of young people, and at the helm of affairs, Adetomi has been able to propel the visions of the council with maximum results.
This excellent woman has also had several other experiences working in education, including being the regional director of higher education programmers in Sub Saharan Africa and Project Manager for the British Council Services for International Education Marketing. Adetomi also happens to be an advocate for youth employability and enterprise.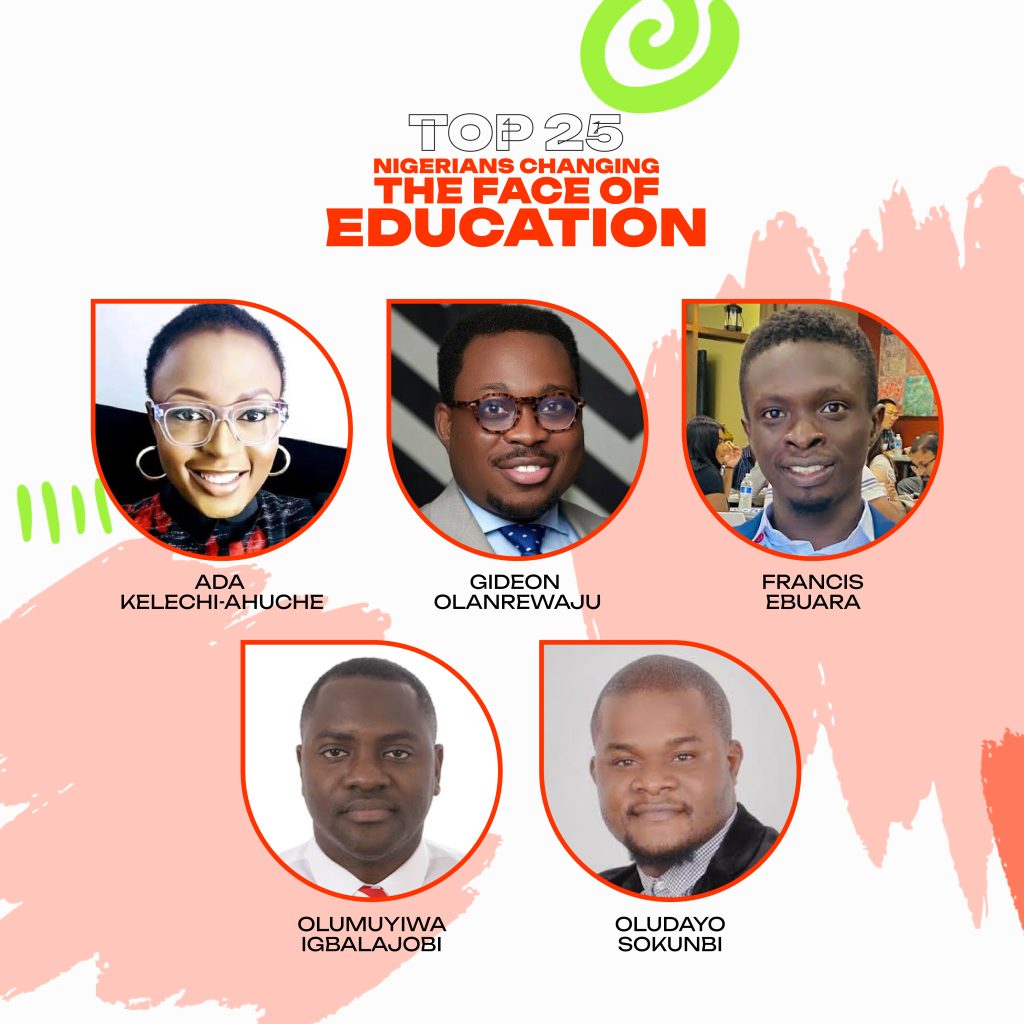 21. ADA KELECHI-AHUCHE
Here's another important personality on our list! With a fascinating devotion to education, Ada is on the path to bagging her PhD in Global Education from the prestigious Coventry University. Ada is the Associate Director of Global Education Services at Oxford International Education Group. She has also worked as the Head of Operations, West & Central Africa in Coventry University for a period a little bit above 10 years.
During her time working for Coventry University and Oxford International Education Group, Ada has been able to strengthen international student's acquisition, acquire new academic partnerships, and promote educational opportunities across various regions.
22. GIDEON OLANREWAJU
There are prodigies in every industry, and we bring one of the very best to you - Gideon Olanrewaju. Change, transformation, reformation can be very individual depending on what notions we have of them. However, when it comes to Gideon, he is a personality we all can agree on to be making change in its purest and simplest form.
Humanitarian and passionate about education, Gideon is the creator of Aid for Rural Education Access Initiative (AREAi), a non-profit organisation devoted to creating quality informal and alternative learning systems in rural communities.
AREAi has successfully been able to reach over 6,000 disadvantaged kids in Nigeria. From the impact of his ideas and implementations, it is obvious that Gideon Olanrewaju is passionate about closing educational divides.
Gideon has been privileged to attend and represent Nigeria at world conferences such as the World Education Forum in Incheon, 66th UN/DPI NGO Conference in Gyeongju, 16th UNESCO Asia Conference on Quality Education in Bangkok and many more.
23. FRANCIS EBUARA
Francis Ebuara, a doctoral researcher based in Florida, USA is yet another significant education influencer in Nigeria. With the aim of solely providing education opportunities to his followers, Francis has helped many Nigerians with international opportunities, providing essay and interview guidelines, basic counselling, scholarship opportunities and application tutorials.
Having successfully gotten into a PhD program with only a B.Sc., Francis is quite eager to help others achieve their international education aspirations.
24. OLUMUYIWA IGBALAJOBI
If you've ever heard of Scholarships Cafe, well here is its founder - Olumuyiwa Igbalajobi. Renowned for providing global Undergraduates, Masters, PhD, and Postdoc opportunities, Olumuyiwa has used his platform to help young Nigerians benefit from various international opportunities. Muyiwa in his words says he pushes out information to assist prospective graduates. Today, he has mentored over 40,000 applicants in Nigeria.
Not limited to providing information on international opportunities, Olumuyiwa is also a passionate activist for equal education in the Nigerian system. His platform is majorly used for inclusive, equitable and quality education. Olumuyiwa hopes to see Scholarships Cafe as one of the biggest educational platforms soon. His Twitter space, Global Opportunities Q&A, Olumuyiwa has charted the course of many academic experiences by providing guidance at different stages in the academic journey.
25. OLUDAYO SOKUNBI
We refer to him as the international help guru. His 200k+ followers may have witnessed Oludayo's partiality to provide fully funded scholarship information. As a recipient of multiple scholarships, Oludayo says he feels indebted to humanity to share scholarship opportunities that can help them live better fulfilled lives.
Oludayo has been able to successfully help over 250 applicants through the information he provides. He has also gone ahead to create Japa Consults, a platform intended to provide consultation services on step-to-step guidelines to international opportunities. Presently Oludayo is a doctoral candidate in Concordia University in Quebec, Canada.