Every university has its defining attribute that makes it attractive to prospective students. From academic ranking to funding and reputation, there are many factors students take into consideration before deciding on a school.
So, here's a list of things that make applying to the University of Dundee worth your naira… or pounds.
Amazing Location
Located on the east coast of Scotland, UK, with its exciting historical sites and fun hang-out spots, University of Dundee has been labeled the 'Most fun city to be a student in Scotland.' The city of Dundee sits on the banks of the River Tay, home to scenic views of a beautiful countryside, elegant bridges and houses hugging the side of the Law, a non-active volcano located right in the centre of the city. What's more? The major cities of Edinburgh and Glasgow are just a short trip away.
The city has an amazing student-friendly community and is ranked the 2nd safest city in Scotland by the Complete University Guide.
Like the university itself, the city is multicultural. The compact town is a hive for students, has little to no need for transportation (saving you good money on bus fares—except of course, you're leaving the campus), is full of life, excitement. Did we mention it has an abundance of perfect hang-out spots?
Complete Student Support
Starting out with enrollment processes and settling down can be daunting especially if you do not know anyone. That's why Dundee provides you with help from start to finish. From your first enquiry until you are fully settled, University of Dundee's friendly and efficient team will be there for you every step of the way. The support doesn't end; even after settling down, there's a designated support team you can always reach out to concerning your student life. Isn't that amazing!
Research Excellence
Research doesn't have to be difficult—this is the approach the University of Dundee has adopted in ensuring that students experience ease in their educational journey.
Joining its research community gives you an amazing opportunity to contribute your original knowledge, while having supervisory mentorship from experts in the field. Dundee's research programs are structured to provide support to research students through every stage by ever-attentive staff who are ready to listen and hold your hands through the process, offering you the requisite skills, training, mentorship, and career support.
Renowned for its ability to bring leading researchers together, to develop ideas that positively impact the world, the university enjoys a reputation of having about 84% of its research characterized as world leading and internationally excellent in the Research Excellence Framework, the major assessor of research excellence in the UK.
The university also provides research services in its Library and Learning Centre, helping with the management of publication data within discovery, ensuring accuracy of research content and its completeness.
Inclusive Financial Support
Here is yet another reason the University of Dundee stands out. Available to all students is a wide range of scholarships and funding programs set in place to make studying easier for you. The Global Excellence scholarship for instance is an academic scholarship worth £6,000 per year of study. There are also the Global Citizenship Scholarships with a value of £5,000 per year of study, the Vice Chancellor's Africa scholarship, VC's South Asia scholarship, and about 26 other postgraduate scholarships specially created for its students. These scholarships are available to everyone who qualifies for the set criteria, without discrimination as to race or ethnicity.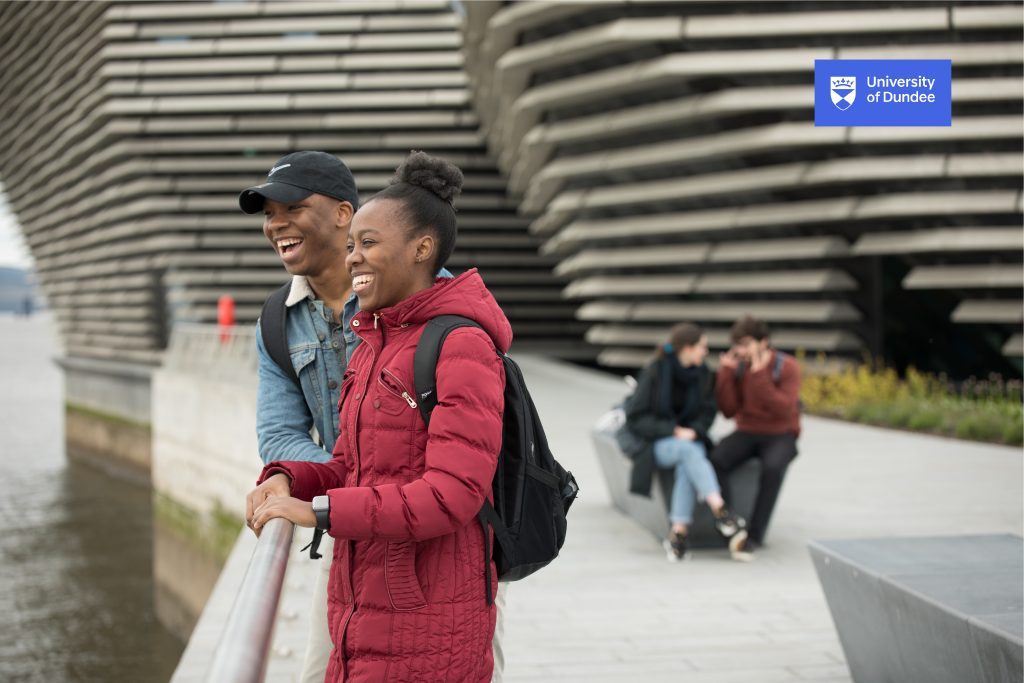 Great Career and Employability Record
If there's anything the university is super proud of, it is its employability record. Ranked as one of the top 200 universities in the world when it comes to Graduate Employability, University of Dundee is the place to be for great career prospects. According to the Graduate Outcomes survey, 90% of respondents have either been employed or are pursuing further studies. Graduates of this prestigious university also have a full, lifetime access to the university's career services.
Affordability and Flexibility of Tuition
As a public, non-profit university, the university happens to have one of the lowest costs of studying in the UK. From accommodation to student life, cost of living, as well as tuition, University of Dundee is relatively cheap. With an average fee of about £9,000, the university provides multiple funding opportunities for its students. The university proudly labels itself as having one of the cheapest Master's Degree courses in the UK. Fee payments can be made using card or bank transfer as well as an ability to accept payment in over 140 currencies.
Outstanding Alumni and Academic Record
Dundee has produced several leading men and women across sectors including Sir Robert Alexander Watson-Watt, the pioneer of Radar; Gary Lightbody of Snow Patrol; Sir James W. Black, a pharmacologist and Nobel Laureate, as well as Alan Johnston, a renowned BBC journalist. The university has pioneered several innovations, from keyhole surgery to flat screen technology. They have also produced an astounding number of scholars and leaders in their fields, including but not limited to Turner Prize winners, political leaders and Nobel Laureates.
World-Class Facilities
The University of Dundee boasts of several world class facilities that have been made easily accessible to both students and staff of the university. Fully equipped with modern facilities, the university maintains amidst others, an ultra-modern Applied Laser Technology Laboratory, modern lecture theatres, Cell and Tissue Culture laboratory, a Children's Research Facility, a Clinical Research Centre, Geotechnical laboratory and a high-performance Computing Facility and Computational Modelling.
Diverse Number of Postgraduate Courses to Pick from
With over a hundred taught postgraduate courses, you can be certain that there's an abundance to choose from. The university offers help, providing information for any choice course. Their website provides detailed information about course work and content as well as class schedules and entry requirements, while also proffering further help with the chat feature. With this feature, you get to chat with students like you, who are always ready to assist you with your needs.
Equality, Diversity, and Inclusion
At the University of Dundee, there is zero tolerance for discrimination, harassment and bullying. They are committed to supporting every individual in the university community, irrespective of race or ethnicity.
With the aim to promote a fair and equitable working environment and society for all, the university has taken active steps and plans towards achieving this for years now and have received several awards in recognition of this movement.
It has been awarded the Bronze Mark of the Race Equality Charter for a consistent period of 5 years, as well as Bronze Awards in the Athena Equality Charter Mark programme.
The university has demonstrated resilience and activism in respect of the Black Lives Matter protest, leading to the creation of an action plan which primarily involves working with various race related activities. This has been achieved with diverse help, including that of their black staff and students, BME Staff Network, Dundee University Students Association, EDI Office, and the University Executive Group EDI Champion.
Without a doubt, the University of Dundee prides itself in building a vibrant global student community that has been sustained for generations.
If you're looking for a postgraduate program in a small and affordable city with a vibrant African society, then fill this short form now to chat with a University of Dundee representative.