President Buhari has failed and we must not reinforce failure
Former president Olusegun Obasanjo is clearly invested in ensuring President Muhammadu Buhari doesn't get another chance at leading Nigeria, hence his consistent attempts at pointing out the latter's very many faults.
Months after penning a letter to the president calling on him to forget reelection in 2019, Obasanjo has now outrightly described the president as a failure that needs not be reinforced with a reelection. He said, "The first lesson I learnt in my military training is never reinforce failure. What we have now is failure. Never you reinforce failure. Let failure be failure".
He also condemned the Buhari administration's habit of blaming past governments for its own shortcomings, "As I said, stop giving excuses; we met challenges. If there are no challenges, then we wouldn't need you to come. You come in because you know there are challenges and then giving us an excuse that you have many challenges; that is why you haven't achieved results", Obasanjo said.
Do Nigerians agree with the former president?
I don't usually agree with Obasanjo, but he is 100% correct in saying this administration has failed.

— Onye Nkuzi (@cchukudebelu) April 3, 2018
Was Obasanjo not one of the key reasons why Buhari came to power? They are all the same. Do not be deceived. They seek out their own personal interests and not that of the people.

— Jesus_is_Lord (@Cogb123) April 3, 2018
With this 👇below, it is only Nigerians who don't remember history that would pay attention to Obasanjo's antics. For the records, d 2007 elections over which he presided was adjudged one of the worst the world has ever seen, prompting President Yar'Adua to apologise to Nigerians pic.twitter.com/tHFytBOoz3

— Festus Keyamo, SAN (@fkeyamo) April 2, 2018
Obasanjo's letter not working against Buhari the way he wanted it. He has issued another statement against this government again. Shamelessly accusing an incorruptible God's chosen PMB.

— Jubril of Sudan till 2023 (@Gen_Buhar) April 3, 2018
We don't need Obasanjo to tell us Buhari is a failure, its a fact that we already know. Buhari was a failure in 1984, he has always been a failure and will continue to be a failure. Any country governed by a Buhari is a FAILED STATE

— Emeka Nnadozie (@ChNnadozie) April 3, 2018
Nigeria loses another healthcare worker to Lassa fever
The Lassa fever epidemic in parts of Nigeria has been largely treated with a laissez-faire attitude by the Nigerian government and health care workers are losing their lives in the process of tending to infected patients.
In January, a medical doctor, Idowu Ahmed Victor contacted the disease after treating a 7-month-old baby in Kogi state. He died days later and rather than fix the root cause of the issue, other doctors were advised by government health agencies to take safety precautions.
Now in Abia, a female paediatrician has died in a similar condition.
https://twitter.com/0gbeni/status/980880000374247425
It's true when they say everything in Nigeria will kill you.
Chimamanda Ngozi Adichie becomes first woman to feature in a magazine for men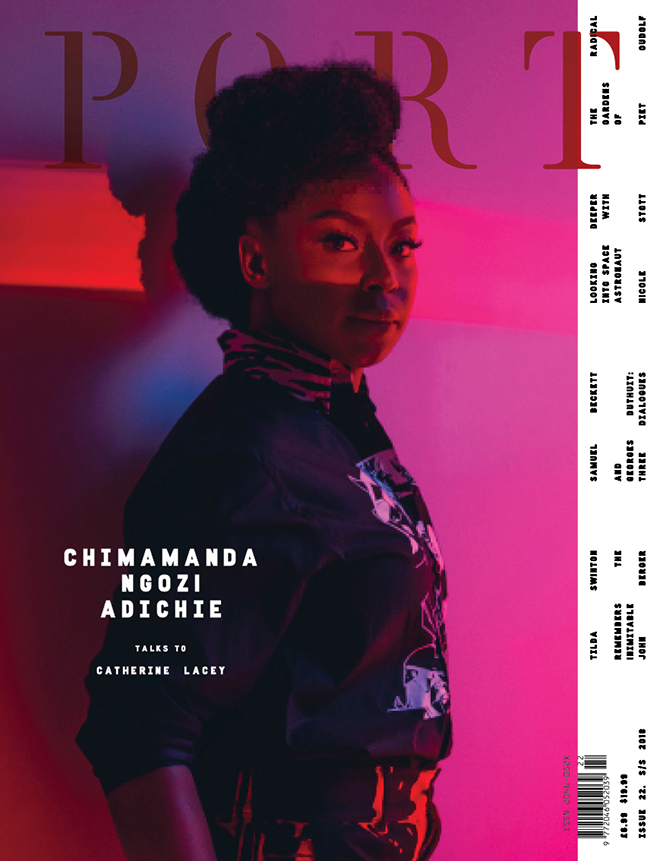 Celebrated novelist, Chimamanda Ngozi Adichie is breaking barriers and smashing glass ceilings across the globe and there's really no stopping her.
The award-winning author is on the cover of PORT Magazine, a male-centric style magazine, and is the first woman to make it there.
Described by PORT as "one of the foremost intellectual voices in the United States today", Adichie talks to the magazine about her books and hints at an upcoming project.
Channing Tatum and Jenna Dewan Tatum have separated
…and our hearts are bleeding!
One of Hollywood's favourite couple, Channing Tatum and Jenna Dewan Tatum have announced that they are ending their 9-year marriage as they "realise it's time to take some space".
The couple who met on the set of 2006 dance movie, Step Up shared a joint statement via their social media accounts where they made it clear that "there are no secrets or salacious events at the root of their decision" rather they "have lovingly chosen to separate as a couple".
Although sources say the separation has been a long time coming, it is still tough to swallow as Channing and Jenna were one of Hollywood's cutest and most talented couple.
Twitter is going wild over the new punishment meted out to Covenant University students
Covenant University is a problem 😂😂😂😂

So some students didn't take their bibles to church ( Living faith church HQ) and the management of CU decided to do something funny cause they felt the students embarrassed them. pic.twitter.com/u0xP4BSJ2A

— Mün The Shinobi | BlaqBoi's Therapist (@MunTheShinobi) April 3, 2018
See the reactions:
https://twitter.com/OgbeniDipo/status/981185569001803777
You knew what u were signing up for when you decided to go to CU.

So pls let us hear word

— OSI. (@Osi_Suave) April 3, 2018
I don't know why people are bashing CU for cutting their student's hair by force, like other top 10 universities in the world don't do the same.

— Jack Saishi (@StigEzeh) April 3, 2018
Being in CU can negatively affect mental health. I am not trying to be funny, it is a fact.

— Yinka (@YJTheRuler) April 3, 2018