President Buhari is trying to jail Obasanjo?
Former president Olusegun Obasanjo has accused President Muhammadu Buhari of plotting to arrest and detain him.
In a statement by his media aide, Kehinde Akinyemi, Obasanjo claims there is a plan by the current government to "frustrate, intimidate and blackmail him into abandoning his divine mandate to protect the rights of the people to better life".
The statement claims that the former president is now on the security watchlist of the government and there is an attempt to "hang a crime" on him. It further reads, "The content of the alleged beastly designs, it was learnt are two-fold for now. One, to seize his International Passport and clamp him into detention indefinitely, in order to prevent him from further expressing angst on the pervasive mediocrity in the quality of governance, economic management and in the protection of lives and property by the government."
CNN's Anthony Bourdain dies at 61
Chef, writer and host of CNN's Parts Unknown, Anthony Bourdain has died after committing suicide in his hotel room in France.
He was found unresponsive by a French chef, Eric Ripert in the early hours of today. According to CNN, Bourdain was in France working on the latest episode of his show.
The news of Bourdain's death comes only days after the death of handbag designer, Kate Spade who also died in a case of suicide.
There has been an outpouring of tributes on social media since the news of Bourdain's death broke, with many emphasising on the need to reach out to friends and family in distress.
Stunned and saddened by the loss of Anthony Bourdain. He brought the world into our homes and inspired so many people to explore cultures and cities through their food. Remember that help is a phone call away US:1-800-273-TALK UK: 116 123

— Gordon Ramsay (@GordonRamsay) June 8, 2018
The suicides of Anthony Bourdain and Kate Spade this week are a reminder: No matter how successful, wealthy or seemingly happy you are, we all battle our own demons.

Reach out to one another. Destigmatize depression, addiction and anxiety.

We are all in this together.

— Chris Cillizza (@CillizzaCNN) June 8, 2018
RIP Anthony Bourdain.. I always wanted to meet you and talk jiu jitsu with you. May you sleep with the angels now. 🙏🏼

— Demi Lovato (@ddlovato) June 8, 2018
It's gonna be hard to get through today I'm not gonna lie…. RIP Anthony Bourdain. pic.twitter.com/l3uFJ3VzYC

— Zoe Saldana (@zoesaldana) June 8, 2018
TwitterNG is still upset about Chimamanda Adichie's opinion on holding doors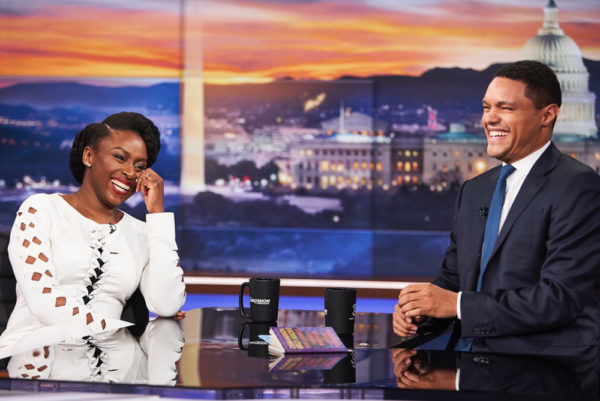 Remember Chimamanda Ngozi Adichie appeared on The Daily Show with Trevor Noah recently and shared her opinion on people holding the door for women?
She said, "I think it's a lovely thing to hold the door but we should hold the door for everyone. Like, I hold the door for men and for women. And so I think the idea of someone holding the door for a woman because she's a woman… I have trouble with it."
It appears a lot of TwitterNG users are not quite pleased with Adichie's stance and the others? They just don't get the fuss:
The day I will respect and take Chimamanda's opinions seriously is when she opens her mouth to say "I find it offensive when a man pays a woman's bride price. Women are invaluable and no man should ever try such again."

— Wale Adetona (@iSlimfit) June 8, 2018
Do y'all want Buhari out? Seriously? Let's get Chimamanda to endorse him. That's all. Even the staunchest Burahist will dump his ass just to "spite" her. This is a valid plan, trust me. 😁😁😁😁

— Ada Akunne (@SheisBoki) June 8, 2018
Chimamanda needs to go to a corner and be quiet. Very soon she'll have a problem with the "man" part of her name.

— Ego Oyibo 💷💷 💵💵 (@So_phynee) June 7, 2018
I suspect what's upsetting people about Chimamanda, is that no one can tell her to "go & marry". She's already married. No one can say what she's doing will lead to a bitter future. Her future keeps getting sweeter. No one can say she won't make heaven. They can't make that call.

— Subomi (@subomiplumptre) June 8, 2018
Chimamanda said. Chimamanda did. Folks, she's one person. You don't have to agree with her all the time (she's not asking you to); she's not asking you to like her. She's shining a (beautiful) light on NIgeria, at least acknowledge that. And I , I am very proud of her

— chika unigwe (@chikaunigwe) June 8, 2018
So I watched the Chimamanda interview with Trevor yesterday

And I must have missed what's upsetting everyone

Actually her main point was on the burden of misogyny on the world

And how it's skewed our response/approach to everything

This can't be what's upsetting you, is it?

— Tunji Andrews (@TunjiAndrews) June 8, 2018
June 12 is NOT a public holiday – Federal Government 
It is with pain that we bring you this heartbreaking piece of news from the Federal Government of Nigeria.
Days ago, when President Muhammadu Buhari announced that June 12 would now replace May 29 as Democracy Day, a group of Nigerians rejoiced only for the hope of another public holiday next week.
But those hopes have now been dashed as the Federal Government has clarified that June 12 will not be a national public holiday for now but may be considered in "future years".
NOTICE:

There have been questions regarding whether or not there will be a FEDERAL public holiday on June 12, 2018.

The answer is NO.

Presidential Order says June 12 "in FUTURE YEARS will replace May 29th as a National Public Holiday in celebration of Nigeria Democracy Day." pic.twitter.com/UsxrPRx28X

— Government of Nigeria (@AsoRock) June 8, 2018
Whew! A lot of us needed that extra break, to be honest.