An early morning attack on a church claims 15 lives in Benue
Violence struck again in Benue on Tuesday morning when gunmen attacked a catholic church in Ayar-Mbalom, a community in Gwer East Local Government Area, leaving 15 people dead.
Two of the slain worshippers are reverend fathers, Joseph Gor and Felix Tyolaha.
In his reaction to the senseless act, President Muhammadu Buhari said, "This latest assault on innocent persons is particularly despicable. Violating a place of worship, killing priests and worshippers is not only vile, evil and satanic, it is clearly calculated to stoke up religious conflict and plunge our communities into endless bloodletting".
But Nigerians are done with these pointless statements, see how they react:
https://twitter.com/elnathan_john/status/988681980698128386
Pleas pay attention to the killings in Benue. This is more important than anything happening to Dino right now.

The senseless killings haven't stopped. The Federal Government has failed.

— Dr Dípò Awójídé (@OgbeniDipo) April 24, 2018
Nigerians are getting slaughtered from Benue to Zamfara, Taraba to Kaduna. Boko Haram have so settled into their wanton acts of terror and 'fundraising' we're not even surprised anymore. Yet the matter that requires a forceful reaction is #BBOG? We're sliding into anarchy guys.

— Chioma Agwuegbo (@ChiomaChuka) April 24, 2018
BREAKING: Herdsmen strike in Benue, kill Rev Fathers, 17 others.

Thousands of Nigerians are killed all over the country unchallenged but they use Buhariana Police to attack us daily in Abuja.

— Comrade Deji Adeyanju (@adeyanjudeji) April 24, 2018
Please help repost😢😢they are killing my people in benue and no body is saying anything 😢😢something needs to be done before they wipe us all out

These priests were killed along others today in benue😢😢by fulani heardsmen. . pic.twitter.com/mhCfeZOOEw

— Oyi idoma👩‍💻 (@maquinbeaury) April 24, 2018
Dino Melaye jumps out of moving police vehicle in escape attempt
Nigeria's "music video" senator, Dino Melaye has ended up in a hospital in Abuja after attempting to escape the police by jumping off a moving vehicle earlier today.
Reports say the senator, who was first apprehended on Monday, released then gave himself for a rearrest, jumped off the police van that was taking him to his state, Kogi where he was to be paraded for a number of criminal activities.
Images of Senator Melaye sitting on the floor and later been wheeled into an ambulance have flooded the internet and as serious as this case may be, one cannot help but see it as another theatric by the senator who is famous for pulling off ridiculous drama.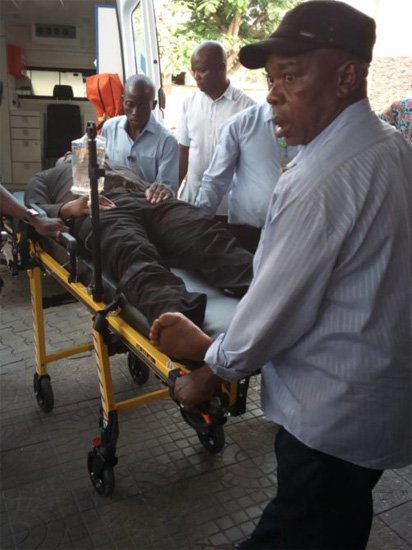 Do Nigerians feel sorry for Senator Melaye considering he actively campaigned for this administration? Is he even worthy of our collective pity?
See reactions:
https://twitter.com/realFFK/status/988837289525686272
https://twitter.com/OgbeniDipo/status/988834606836342784
https://twitter.com/friendlysars/status/988821020239949826
Not starting anything. Just a few observation that if it was an ordinary citizen was resisting arrest like Dino, he'd be shot in the foot.

— Daddy D.O🇳🇬 (@DOlusegun) April 24, 2018
Watching Dino is like watching a television show where one actor plays all d characters: leading man, villain, clown, dance troupe, getaway driver, stunt man… https://t.co/MTPblNQTPJ

— Matthew T. Page (@MatthewTPage) April 24, 2018
OAP Freeze has something to say to Chimamanda Ngozi Adichie
Following the controversy that emanated on Monday from author, Chimamanda Ngozi Adichie's conversation with Hillary Clinton, reactions have not quite stopped coming in from all quarters.
A number of people have used the opportunity to tutor others on the concept of feminism while others have expressed stern disapproval for Adichie and her ways.
Cool FM OAP, Daddy Freeze is not quite the type to shy away from public discourse so he weighed in on this one with a note to Adichie.
Read what he shared on Instagram today:
Dear Chimamanda, I used to be a huge fan until I read your interview with Hillary Clinton.
–
Now I'm somewhere in the vesica pisces, torn between the enormous respect I had for the quality of your work and anger for what you are beginning to brandish.
–
Let me set the record straight, I am not a fan of Hillary Clinton, so I'm not jumping in as her guardian angel. As a matter of fact, I completely disagree with most of the decisions she took while in office.
–
Besides this however, woman to woman, what Hillary has achieved, in my opinion, you NEVER CAN, 'no be beans', so you suggesting how she should be addressed is what we Yorubas call 'Iwosi'.
–
Even Obama refers to himself as a dad first, husband second, so what's your point exactly? Why can't Hillary be addressed as wife first, if she so chooses?
–
Could your utterances be stemming from inadequacies you need to attend to? You might consider investigating this.
–
Now, let me warn you, there are no dividing forces greater than color, race, gender and tribe. These factors continue to ensure humanity remains segregated. This table you are shaking has vast consequences even you didn't bargain for.
–
People have been over the last two years, urging me to preach about Jesus being black and I never have, do you know why? Because I DONT CARE ABOUT HIS COLOR, it's irrelevant, I care about HIS MESSAGE!
–
In the same vein, I follow you simply because of your message, NOT BECAUSE OF YOUR GENDER OR COLOR OR TRIBE. So kindly keep the focus on the message, which in my opinion is excellent.
–
Don't mar it by demarcating yourself into a 'gender', unless of course you are employing this as a marketing tool, which, please be warned, has its own repercussions! ~FRZ
–
#FreeTheSheeple
Now, who will tell this fellow what it means to be anonymous
Someone calls a radio show and says "hello my name is emeka, i want to remain anonymous".

I tire for Nigerians. 😥

— FOLA FOLAYAN (@TheFavoredWoman) April 23, 2018