Nigeria had a good share of political drama today! Here's a summary
Grab your popcorn…
Nigerians woke up on Tuesday morning to news of a police siege on Senate President, Bukola Saraki's official residence hours after he was invited by the Nigerian Police Force for questioning over the Offa robbery.
Photos and videos of police cars and officials filtered across social media.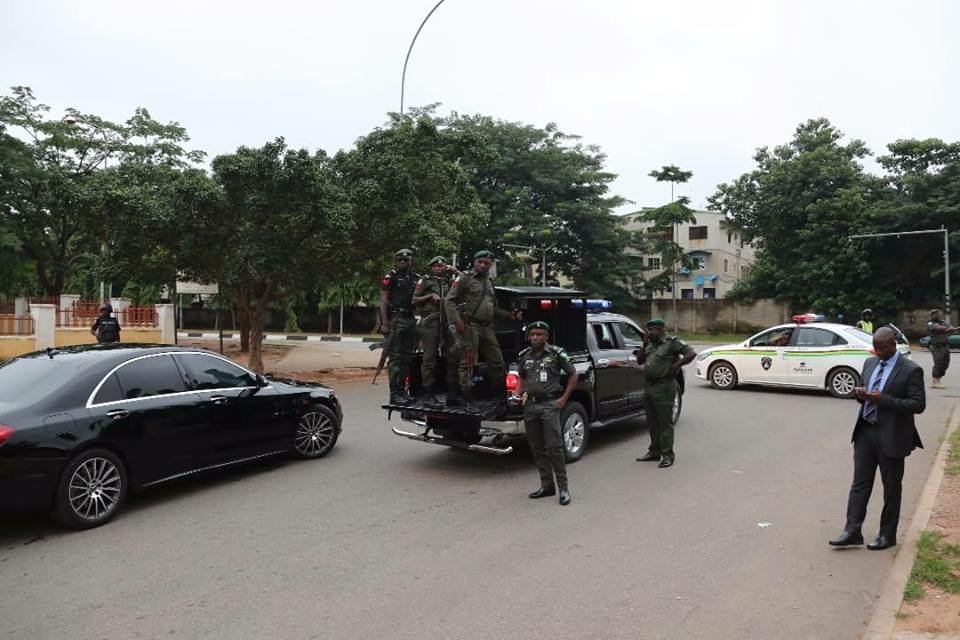 Hours after, a similar situation was reported at Deputy Senate President, Ike Ekweremadu's home.
The move was an alleged ploy to prevent the Senate leaders from making to plenary today but Senator Bukola Saraki somehow showed up at the National Assembly. According to unconfirmed reports, here's how he made it there:
So Saraki's convoy was a dummy as he was not in it . He probably didn't even spend the night at his house .

He drove himself in a rickety car to the National Assembly complex .

James Bond!!!!!

— 🇳🇬🎵 (@GbemiEreku) July 24, 2018
It was a heated session at the upper house as 15 lawmakers from the ruling All Progressive Congress (APC) defected to the opposition party, People's Democratic Party (PDP) leaving APC in the minority. Dino Melaye, Rabiu Kwankwaso, Barnabas Gemade are some of the s1enators who officially joined the PDP. Nigerians were waiting for the Senate President to announce his own defection but he did not.
Here are some of their reactions:
Even if you don't like Bukola Saraki, respect his political skills.

— Onye Nkuzi (@cchukudebelu) July 24, 2018
Saraki isn't suppposed to be our friend but the enemy of our enemy is our friend

— Obi of Funaland (@Monsiuer_T) July 24, 2018
APC Senators are now being mobilized to the senate to kickstart the removal of Saraki and Ekweremadu as alleged. We won't allow this madness to materialize. If there is ever a time to fight for Democracy it is now. If they can risk a revolution just to stay in power then be ready

— SEGA L'éveilleur®🚨 (@segalink) July 24, 2018
15 senators defected

Adjourned plenary for 2 months so the effects of the defection can simmer properly.

Master stroke.

You have to admire Saraki

— Cinderella Man (@Osi_Suave) July 24, 2018
Now that Saraki is the winner in all of this, the honourables in the House of Representatives followed suit with a similar move.
32 reps members defected to the PDP, 4 to the African Democratic Congress (ADC) while one other is yet to decide his new direction.
It has been celebration in the PDP camp while leaders of the APC have received the news differently. National Chairman, Adams Oshiomole has stated that he is unperturbed by the happenings.
Meanwhile, President Buhari has released a statement wishing the defected lawmakers "the best in the future"
I wish all of our party members who today defected, the very best in their future undertakings. The APC has done its best to stop the defections, and I must commend the party leadership for working tirelessly to unite the party and position it for future victory.

— Muhammadu Buhari (@MBuhari) July 24, 2018
I am confident that no harm or injury will be done by these defections, to the APC and its aspirations. I urge party faithful to not despair, but to instead see this as something that happens in seasons like this, on the eve of elections.

— Muhammadu Buhari (@MBuhari) July 24, 2018
Let me also note that none of the defecting federal lawmakers has any specific grievances against me or the government I lead; neither do I harbour any ill-feeling towards any of them. I fully respect their freedom to choose what party to associate with.

— Muhammadu Buhari (@MBuhari) July 24, 2018
Later in the day, he held a meeting with the Inspector General of Police, Ibrahim Idris in Aso Rock. Both parties have been mute on their discussion but it's clear it has a thing to do the siege laid on the Senate leaders' home earlier.
In his own reaction though, Senior Special Assistant to the President, Garba Shehu, has said "the law of the land is intended for all, not for the poor or those at the lowest rungs of the social ladder.''
We believe you are sufficiently caught up!
Bishop Oyedepo calls on President Buhari to resign
The presiding Bishop and founder of Living Faith Church aka Winners Chapel, Bishop David Oyedepo has called on President Muhammadu Buhari to resign office.
He made the call at a church service where he decried the spate of killings by Fulani herdsmen and how President Buhari's administration has handled it.
According to him, "Nigeria will never become a Fulani republic. Fulani is one of the 256 tribes in Nigeria,…We must wake up and push this evil back. Not one of those so-called herdsmen (they are jihadists) has been brought to book till date. They wake up in the night and slice innocent children to pieces. Look I don't want to bother you with the pictures… Gruesome pictures… And you have a government in place. What! The most honorable thing for any none performing leader is to resign… That's my word for Mr President resign… Get out of the place."
Watch him here:
https://www.youtube.com/watch?time_continue=419&v=9zsKyDt6A7Q
At the time of his presidential campaign in 2015, President Muhammadu Buhari was asking questions and "dropping gems" on the state of the nation:
We must ask ourselves these questions – how did we become like this? How did we get to this point? What kind of country have we become?

— Muhammadu Buhari (@MBuhari) January 13, 2015
Three years after he assumed office, those questions have become even more relevant and someone has answers:
1. How did we become like this? U're the reason behind it

2. How did we get to this point? we got to this point since 29th May 2015

3. What kind of country have we become?
– 10 million job losses
– 1st in extreme poverty
– 20k killed

EXTRA SHEET SIR! 🙋‍♀️ https://t.co/CPKwSnT11s

— Adetutu Balogun (@Tutsy22) July 24, 2018
Is it safe to say Nigerians made a huge mistake voting President Buhari?