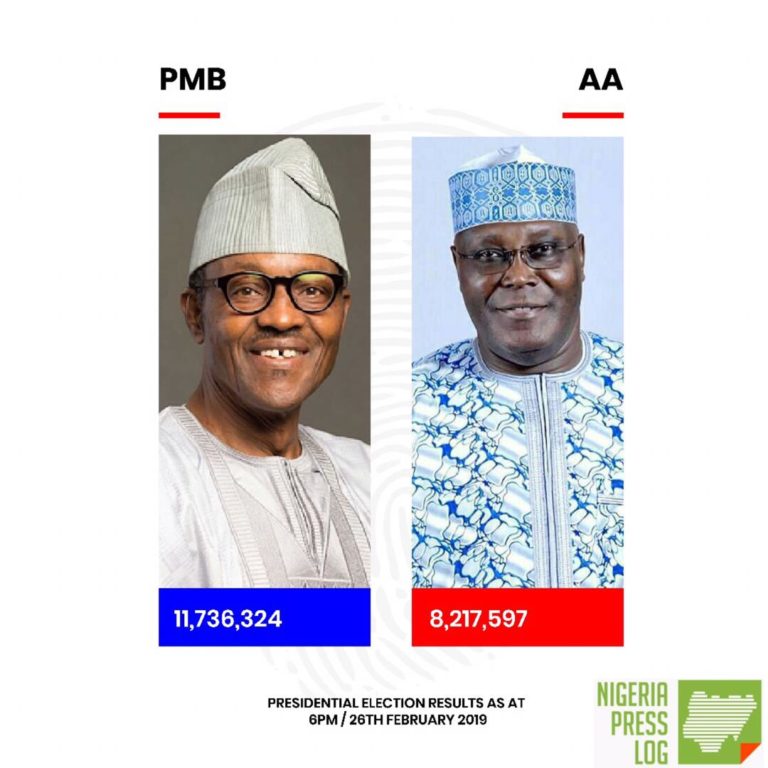 Will PDP presidential candidate, Atiku Abubakar gain 2 million votes needed to beat President Buhari in this election?
The election results are still being announced at the National Collation Centre, Abuja but from the figures released so far from 27 states of the federation, President Buhari may be making his way back to Aso Villa to resume for a second term.
With 11,736,324 votes, President Buhari has won Kano, Kaduna, Katsina, Gombe, Kwara and ten other states including Lagos.
Atiku, on the other hand, has garnered 8,217,597 votes with leads in FCT, Imo, Edo, Benue and others.
The PDP has, however, rejected the results alleging that officials of President Buhari's government and the All Progressives Congress (APC), have teamed up with INEC officers, to alter the figures.
Godswill Akpabio loses senatorial seat
As results of the Presidential and National Assembly elections held on Saturday, February 23, trickle into the news cycle, the country remains heated up in post-election fever.
For politicians who ran for offices, it has been a fine blend of losses and wins, and a spectacular addition to the losing team is Senator Godswill Akpabio, representing Akwa Ibom North-West in the upper legislative house.
Akpabio, who was a two-term governor of Akwa Ibom, lost to Chris Ekpenyong, a former deputy governor of the state and a member of the opposition party, PDP.
Meanwhile, Senator Bukola Saraki concedes defeat
Perhaps the most shocking loss so far in the elections, Senate President Bukola Saraki lost his senatorial seat to Ibrahim Oloriegbe, the APC candidate and former majority leader in Kwara House of Assembly.
But no bad blood! Saraki released a statement on Tuesday where he wrote that "the people who have emerged from last Saturday's election are not my enemies. They are fellow Kwarans."
He also went ahead to pray that "the wishes of the people (of Kwara) will always prevail in the choice of their leaders and the electorate will always enjoy the benefits of good governance.