Loose Talk gone wrong! Osagie Alonge under fire for derogatory remarks about Teni and Wizkid
Pulse Nigeria journalist, Osagie Alonge is the victim of a barrage of social media vitriol following comments made about Wizkid and upcoming singer, Teni in the latest edition of his Loose Talk Podcast.
The podcast has consistently caught flak over misguided comments made by its hosts but reducing a talented artiste's success to her looks may have been the heights.
https://www.instagram.com/p/BoJl3fxhkt9/?taken-by=the_commentsection
About Wizkid, the Loose Talk hosts reeled off comments on the singer's alleged drug abuse and went to accuse him of swindling managers among other unfounded claims.
https://www.instagram.com/p/BoIzaKlBBho/?taken-by=the_commentsection
Osagie later shared a brief note announcing that he and his family had received threats to their lives. He also went on to apologise for the comments, adding that the episode had been edited to taste.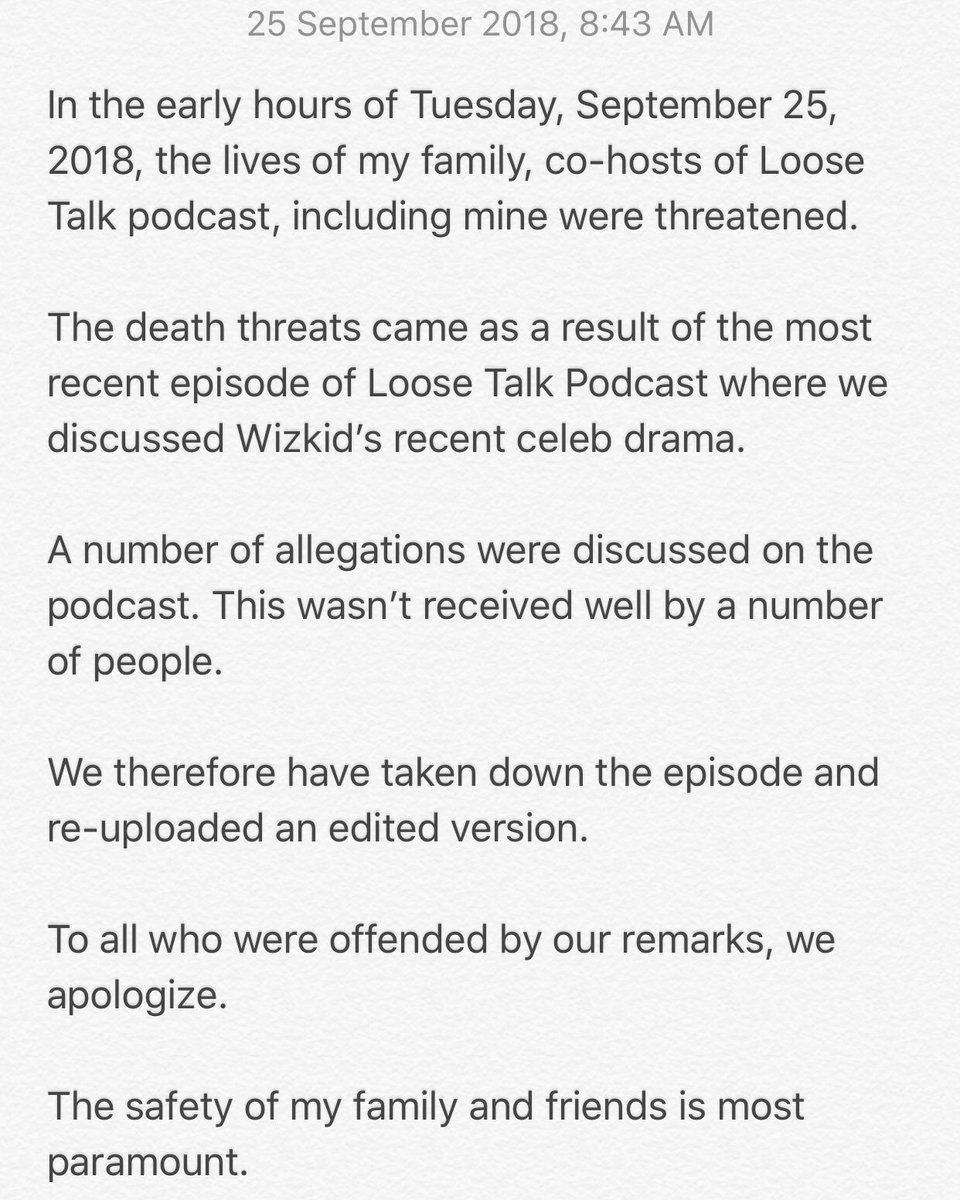 Twitter users did not spare Osagie and his work ethics, and deservedly so:
Osagz and his unprofessional overzealous peeps accused Wizkid of being a drug addict, diverting label funds, said Wizkid is curse, Teni shouldn't be singing because "she doesn't have the looks". How can you say all these about a person you don't even know? This is madness.

— World Publicist (@IsimaOdeh) September 25, 2018
Osagz saying Teni doesn't have the "looks" is the worst thing to say.

You hardly see SIA In music Videos, there is Queen Latifah, missy elliott, Adele, we are yet to see Lagbaja's face yet they're all successful.

Abeg forget looks, Teni is talented. #LooseTalkPodcast

— Osas Cruz (@OsasCruz) September 25, 2018
Osagz actually said Teni should stick to writing songs cause she doesn't have the looks?? LMFAO, the nerve 😂😂 pic.twitter.com/pnUrq7u06p

— Elvis Tunde ⚓ (@Tunnyking) September 25, 2018
Listening to this Osagz "hate talks" about Wizkid on the Loose talk podcast and all I can say is "He who builds his brand on controversy will have to do more controversy to stay relevant".

— Kay Baba (@datGuyKOFO) September 25, 2018
"Teni would do better as a songwriter than a singer, she doesn't have the looks" -Osagie
With this kind comment, we still have to explain to Osagz & ppl like him that Teni does give good music with her mouth not her body.
You don't need to reveal your body before u can entertain

— Damola 👑 (@theDamorela) September 25, 2018
A slander and defamatory lawsuit is all that's needed from Wizkid's team to Osagz. Just hear all the rubbish man was saying in the podcast. Man was just swearing without being sensible.

— Iseunife The First (@Shawnife_) September 25, 2018
Wait fess.

Is it the same Teni I have been mumbling her song since 2days ago that they said somebody is abusing? Teni that sang with my Ondo song?

Abi which Teni?

*breaks bottle*

Where is the unfortunate guy abeg! Nobody should hold me o!

— Ayò Bánkólé (@AyoBankole) September 25, 2018
Not bothered about whatever he had to say about Wiz but those things they said about Teni were hurtful…even to me.

She's trying to break into an industry & you tell her she has the talent but not the look? Yikes.

A truly happy soul who needs all the self-confidence to thrive.

— Sam Hart (@hartng) September 25, 2018
You have disrespected M.I, Wizkid & Teni.

You know you can't invite Davido & disrespect him.

DMW will burn your studio

— 🤴🏾 (@ODVN11BO) September 25, 2018
Well, that's all about that!