There will be no political leaders at Prince Harry and Meghan Markle's wedding
And sadly, even the Obamas are affected…
Kensington Palace has announed that the royal wedding between Prince Harry and his American fiancée, Meghan Markle will be devoid of political guests, including even UK Prime Minister, Theresa May and President Donald Trump.
Its statement read in part, "it has been decided that an official list of political leaders — both U.K. and international — is not required" for the wedding."
The 600 guests at the wedding set to hold in May will instead be ordinary people including friends and family of the couple, military veterans and some of the survivors of last year's Manchester bombing.
This decision was reached because Prince Harry is unlikely to ascend the throne as he is fifth in line, hence making his wedding less of a state affair.
Sources say former US President, Barack Obama and his wife, Michelle were not invited just so Trump would not feel hurt.
We totally understand…
Despacito's YouTube video hacked alongside Vevo's account
Barely two weeks after YouTube's California headquarters was attacked by a shooter, the video-sharing app has fallen victim of a cyber attack today.
The most viewed video on YouTube, Luis Fonsi and Daddy Yankee's Despacito was temporarily pulled off the app by hackers who replaced the cover image with a photo of five masked people carrying guns.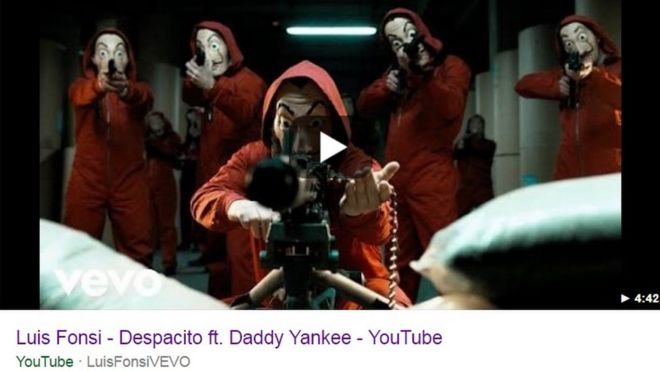 Other popular music videos by top profile artistes, Chris Brown, Shakira, Drake and Selena Gomez all uploaded on Vevo, were also affected in the attack.
A spokesperson at Vevo said, "Vevo can confirm that a number of videos in its catalogue were subject to a security breach today, which has now been contained…"
This New York Times' tweet about President Buhari proves how confused Nigerians are
Following President Muhammadu Buhari's reelection bid announcement on Monday, American newspaper, New York Times ran the story in what we would have imagined the perspective of the typical Nigerian.
Muhammadu Bahari, Nigerian president beset by health problems, Boko Haram and calls for him to step aside, says he will run again in 2019 https://t.co/Mh3i4ERZZN

— New York Times World (@nytimesworld) April 9, 2018
The tweet shared in introducing the article reminds of all the issues that face the administration but rather than admit this, some Nigerians attacked the newspaper accusing it of biased reportage.
Many could hardly even look past the typographical error in the headline.
See the reactions:
D fact dat you misspelled his name just says all. U r anxious to report the problems d administration is failing without putting into account d problems with trump. Our president is sane and honest. I am not saying he is the perfect president but at least he is trying.

— грей гост (@ayunus_muhammad) April 10, 2018
Is this your best shot? C'mon try harder.
And he's Buhari not Bahari. Uncle Bubu

— Samin, The 8th (@em_ess_ess) April 10, 2018
Its "buhari",get the freaking name right atleast.

— H4K33M (@Abdul_jayb) April 9, 2018
https://twitter.com/MOHD_Ks/status/983742151690465282
This @nytimes are not serious, you want to tell a story about a man who you can't even spell his name correctly and still present it to us as a fact?

— MAliyu (@Yar_Aliyu) April 10, 2018
We hate that we have to agree with Reno but sadly, this is true
Buhari declared for a 2nd term. The stock market crashed. Investors are taking their money and leaving Nigeria. Would you blame them? Even Buhari left Nigeria after declaring. No one wants to hang around when the air is polluted. And what Buhari did today is pollute Nigeria!

— Reno Omokri (@renoomokri) April 9, 2018
Which way Nigeria?