President Buhari is off to London on vacation
President Muhammadu Buhari will be jetting out to London for a 10-day vacation.
Presidential spokesperson, Bashir Ahmad made this known on Wednesday via Twitter when he wrote, "President @MBuhari begins a 10 working days holiday from August 3, 2018."
According to Ahmed, "…a letter has been transmitted to the President of the Senate, and the Speaker, House of Representatives, to that effect".
The news of the president's proposed journey to London has been met with negative reactions from Nigerians on social media. It is the 543rd time (we exaggerate) the president is visiting for either an undisclosed reason or a holiday.
Mainstream media in Nigeria are useless. This is 150848075th time Buhari is going to London to treat a mysterious ailment and the media can't investigate and tell us what exactly he is going to London to treat?

— OLU LOCO (@tope414) August 1, 2018
Nigeria has become so hot for President Buhari that he has decided to DEFECT to London for 10 days. Buhari has written a letter to the Senate President @BukolaSaraki saying he is going on holiday to London on Friday. We hope that the President will agree to return after 10 days!

— Reno Omokri (@renoomokri) August 1, 2018
President Buhari begins a 10 working days holiday from August 3, 2018. London for what?, London for medicine, medicine for what?, Medicine for re-election.

— AJALA (@UNCLE_AJALA) August 1, 2018
President Buhari is not going to London for vacation. He's going for another medical check up.

This man must be stopped in 2019, it makes no sense for Nigeria to have a sickler as the president.

— PEREZ (@__perez94) August 1, 2018
Seems like the defection news hit Buhari really hard ooo….I hear he's running to London to recover for 10 days on Friday…Imagine a man who has achieved nothing announcing yet another vacation. We are here waiting for him…what a useless president.

— Babasola Kuti (@SKSolaKuti) August 1, 2018
Later in the day, President Buhari visited his presidential campaign office in Abuja where he expressed satisfaction with the renovation that had been carried out there. He later received Gambian president, Adama Barrow at the Villa in Abuja.
See all the photos: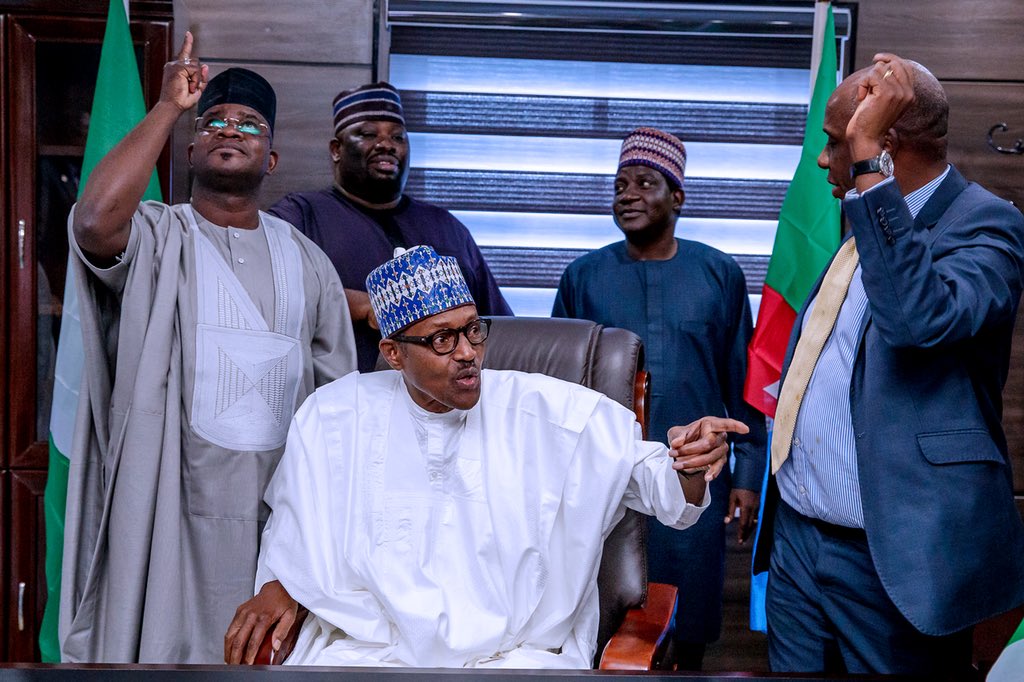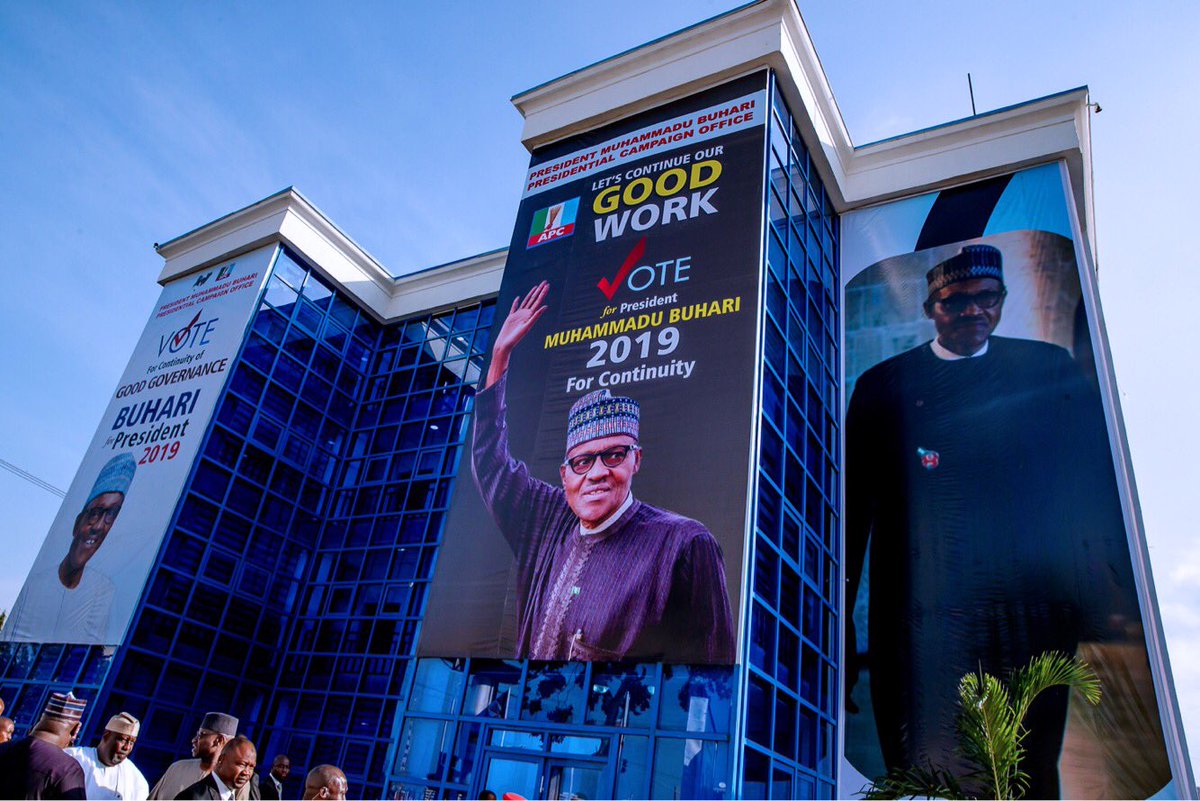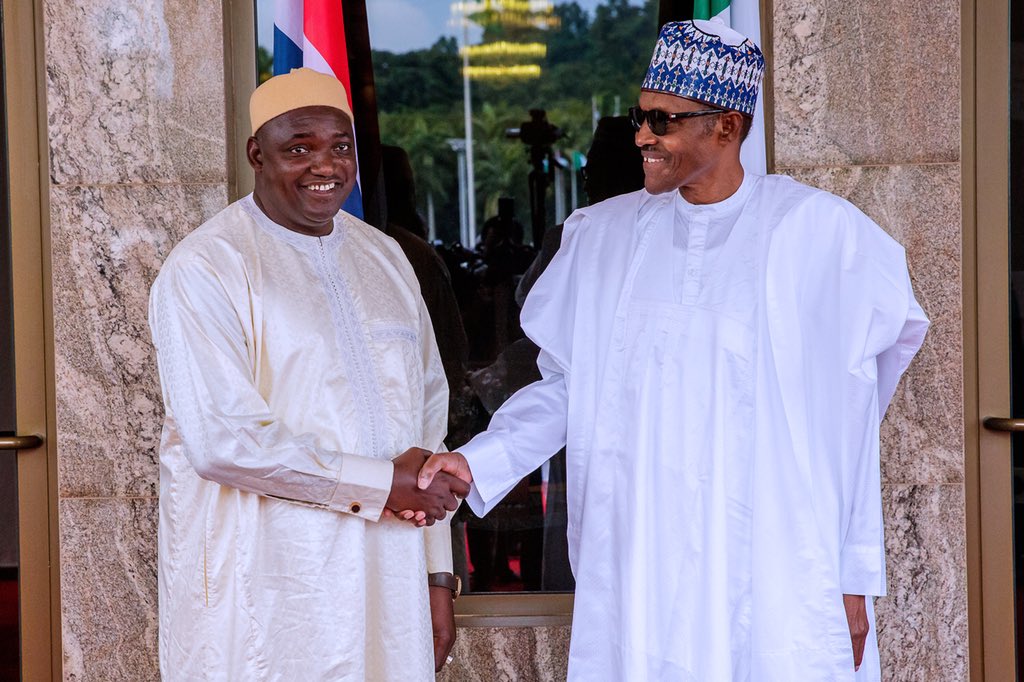 Eunice is not a feminist and it is not by force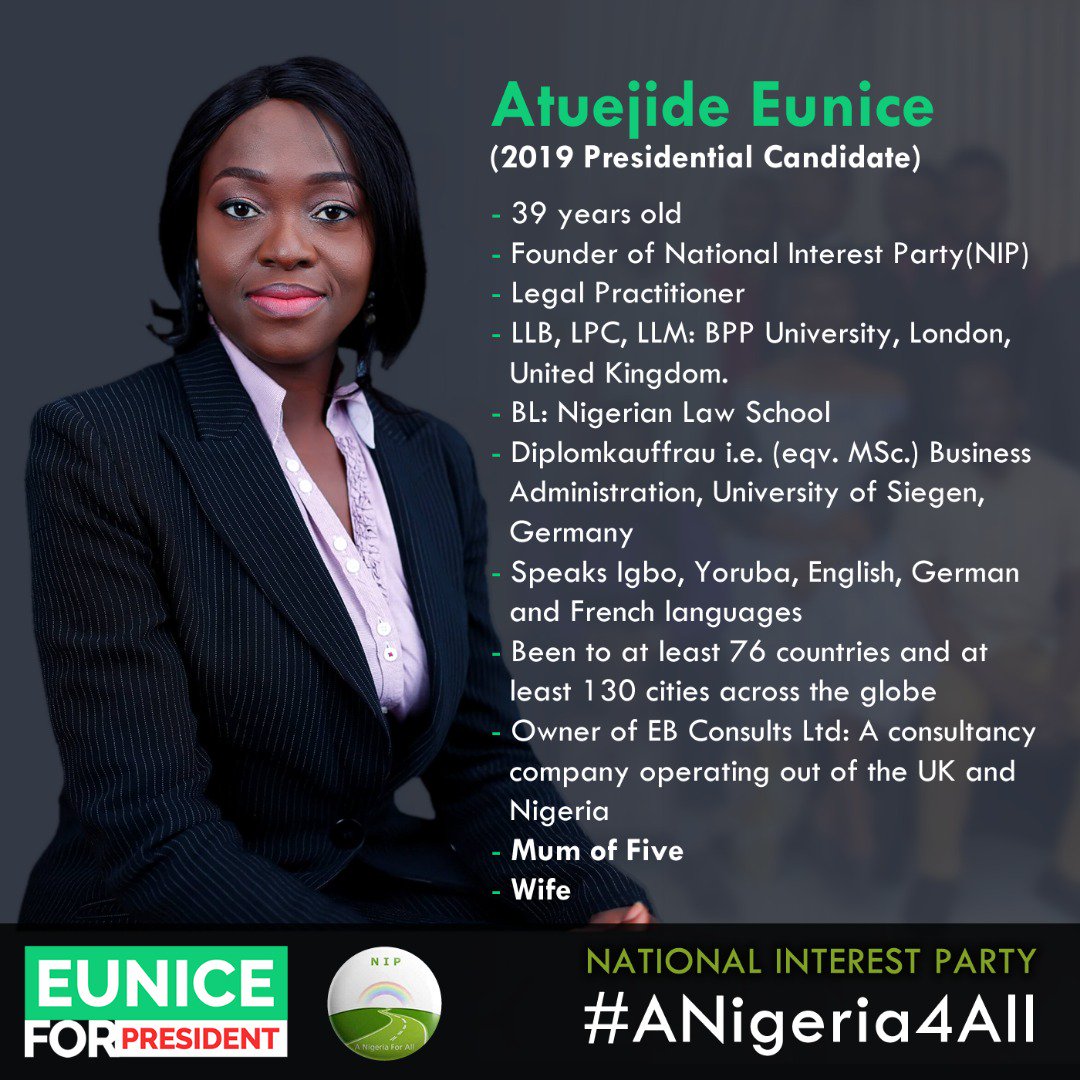 Female presidential hopeful, Eunice Atuejide has drawn the ire of Twitter users following an opinion she shared on feminism.
The 39-year-old lawyer who is running under the National Interest Party (NIP) shared a photo from a meeting of other presidential aspirants, Kingsley Moghalu, Omoyele Sowore, and Fela Durotoye, all whom have announced a coalition for the 2019 elections.
Atuejide captioned the group photo which had about 16 men in it, "Again, I'm not a feminist! I actually hate it when people call me feminist because that word means too many things, many of which I DON'T LIKE! EVERYONE should have a fair chance. Be yourself and be treated right being yourself So guys, lets caption this picture!"
She hates being called a feminist?
Well, let's see how Twitter users set her straight:
Your tweet is representative of uniformed beliefs about feminism that have failed women in the past and continues to fail us today. Use your platform wisely to educate, and avoid contributing to the very harmful rhetoric that can further marginalize women.

— Akuabata Chizoba Onoh (@chii_onoh) August 1, 2018
Please let all these "potential candidates" come and be disgracing themselves one after the other before February. So we know who we are crossing off the list.

BYE EUNICE!!!!!

— Makida Moka (@TheMakidaMoka) August 1, 2018
1. The central tenet of feminism is gender equality

2. Shows that you have no grasp of basic ideology

3. In a single tweet, you isolated many of the people that would have supported you

4. Reveals poor communication skills and low EQ pic.twitter.com/psjyw9rfuT

— Dr Ola Brown (@NaijaFlyingDr) August 1, 2018
This post shows you don't know jack about feminism, to speak for or against it.

— Farida Adamu (@thefaridaadamu) August 1, 2018
Not one to bow to pressure, Atuejide returned with another tweet to reinforce her opinion:
I'M NOT A FEMINIST!
Na by force?
And who is a feminist?
My friend who won't cook for her husband & kids cos of equality?
The one who always insults men bcos she can? Ladies who won't let men hold doors for them cos it diminishes their value? What does feminism mean?#ANigeria4All

— Eunice Atuejide (@eunice_atuejide) August 1, 2018
But this user had to educate her:
No one cares that you are not a feminist Eunice.
What we do care about, is an educated presidential aspirant, knowing how to use google to define basic searchable concepts.
You alienated & insulted a group of potential voters, with your ignorance, and that is not smart Eunice. https://t.co/KLnK2UidDq

— TheGirlsLikeMe (@DoreenGLM) August 1, 2018
Play smart next time, Eunice!