Afenifere declares support for Obasanjo's move to unseat APC in 2019
It is no longer news that former President Olusegun Obasanjo is working to see to President Muhammadu Buhari exit from Aso Rock come 2019.
The former president paid a visit to pan-Yoruba group, Afenifere in Akure today and after the 30-minutes long closed-door meeting, the group's leader, Pa Reuben Fasoranti declared support for OBJ stating, "We are in full support. We are dissatisfied with the mode of governance, we are dissatisfied,"
On OBJ's intentions to create a mega party that will stand as a formidable opposition against the current government, Pa Fasoranti said, "It will be the joy of everybody to present a formidable team to confront the evil government that is there now".
Olisa Metuh faints in court and Nigerians are tired of his theatrics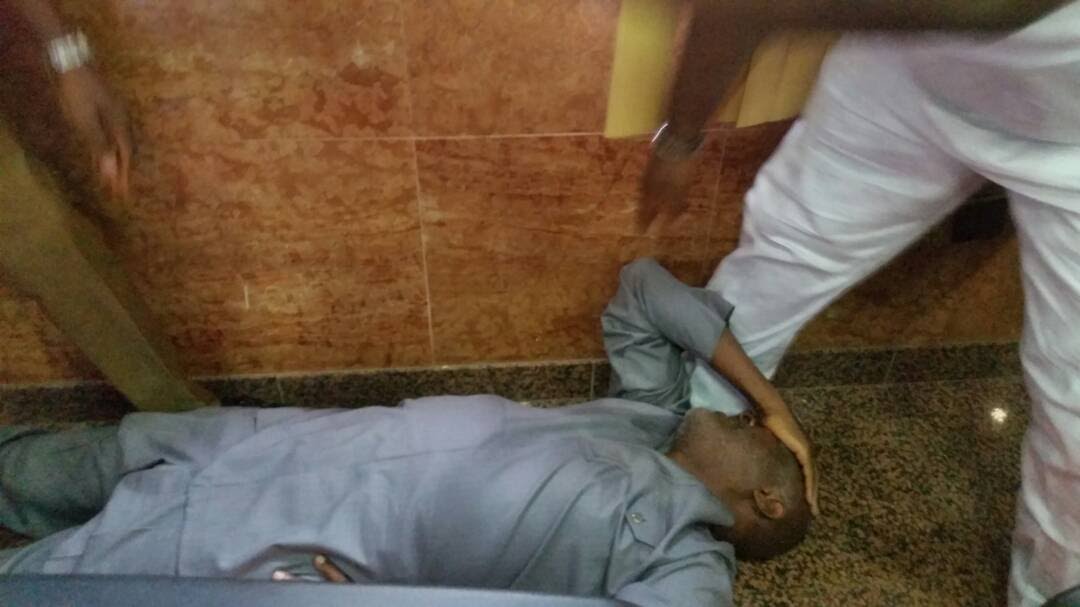 If he's not being wheeled into court on a stretcher, he's passing out in front of the judge.
Former national publicity secretary of the People's Democratic Party (PDP) was the source of yet another drama episode early Monday as he arrived the courtroom of the Federal High Court, Abuja.
Metuh, who is being tried for allegedly laundering N400m from the office of the National Security Adviser in 2014, collapsed as he approached the dock to stand before the judge.
According to Premium Times, the dock was "quite close" to Metuh's seat and in fact, the judge had allowed him to remain in his seat but he insisted on standing in the dock.
See how Nigerians react to Metuh's fall:
Metuh attended the burial of Ekwueme on Friday and on monday he was to appear in court he came on wheel chair. Metuh was fully involved and participated in PDP convention on Saturday then on Tuesday he was to appear in court again he came with stretcher. Olisa metuh

— DOG 🐶 master (@kflexoki) May 21, 2018
Whenever I see the theatrics put up by Olisa Metuh and how this is being condoned, I am forced to ask if the Judicairy truly want justice to be served or prefers this Nollywood movie to continue. At some point the people will ask the right questions.

— Adebayo Bankole Akintunde (@AdeBanqie) May 21, 2018
So Chief Olisa Metuh collapses on his way to the dock? Prosecuting corruption cases and related offences in Nigeria is one hell of ??** Practically all cases involving high profile individuals are caught in this web of ill health. Terrible!

— Gloria Adagbon (@gloria_adagbon) May 21, 2018
LMAO!!!
Olisa Metuh fainted in Court Again!!!!!
There is no Peace For The Wicked!!!
Nigeria is full of drama!!!

— Village Headmaster™® (@josh_cr7) May 21, 2018
We see through the sham.
Twitter user shares gripping rape story
Rape stories are generally emotionally draining but this one takes things to another level.
My friend was raped.

By a stranger. On the road. In a car– his car. At night. They were coming from hospital where they volunteered to take another stranger who had fainted.

He stopped the car. Locked the door and beat her to pulp. He then stripped her and began pounding her

— Naija Class Captain (@NaijaClassCapt) May 21, 2018
At some point he asked if she was enjoying it. When she hesitated to reply, the beating resumed. She had to begin telling her that she's enjoying it–amidst the kind of tears that no words can explain

When he climaxed, he started the car again, drove off and pushed her out

— Naija Class Captain (@NaijaClassCapt) May 21, 2018
It was lucky she didn't get run over by oncoming cars. Strangers rescued her– but in more ways than one, it was too late.

She got pregnant for him. He gave her STD too. It was her first time being intimate with anyone.

From there, so many things went downhill

— Naija Class Captain (@NaijaClassCapt) May 21, 2018
Depression slipped in. PTSD too. She would jerk awake in the middle of many a night from the incessant nightmares. It isn't any nightmare– it is the scene from the rape replaying itself again and again.

She can now hardly sleep without sleeping pills

— Naija Class Captain (@NaijaClassCapt) May 21, 2018
Two days ago, she reached out to me, at around two in the night. The nightmare had truck again.

I tried to pet her. To let her know I feel for her. But she asked me a question.
'The guy that raped me, so he'd be asleep with his family and kids somewhere…'

— Naija Class Captain (@NaijaClassCapt) May 21, 2018
'…I wish I can find him…'

The truth is, the guy ruined her life.
She miscarried the baby, but her life has not been the same ever since.

— Naija Class Captain (@NaijaClassCapt) May 21, 2018
We hope this victim finds peace…
The official portraits from the Royal Wedding are out and we can't stop loving the Duke and Duchess of Sussex
Barely 48 hours after the wedding that stopped the world, official photos have now been released and the three images are the dream.