Chimamanda Adichie receives honorary degree at Duke University
Nigerian novelist, Chimamanda Ngozi Adichie has been conferred with an honorary degree byDuke University
Back in March, President Vincent E. Price of Duke University confirmed that the author of bestseller, Americanah is on the list of recipients.
Adichie today received the award alongside Mary Barra, Chairman of General Motors; Phil Freelon, lead architect for the Smithsonian National Museum of African American History and Culture; former Durham Mayor William Bell; Dr. William Kaelin, professor of medicine at Dana-Farber Cancer Institute; and Russell M. Robinson II, attorney, community leader and philanthropist.
Ngozi Okonjo-Iweala joins Twitter board 
Former Minister of Finance, Ngozi Okonjo-Iweala has been appointed on the board of social network, Twitter.
Her appointment was made public by Twitter co-founder and CEO, Jack Dorsey who tweeted "We're adding Ngozi (@NOIweala) and Bob (@authorzoellick) to the Twitter board."
We're adding Ngozi (@NOIweala) and Bob (@authorzoellick) to the Twitter board. Welcome! Sadly we're also saying farewell to our friend Marjorie (@marjscar). She's been an amazing advocate for journalists everywhere, and pushed us constantly to better inform people. Thank you M.

— jack (@jack) July 19, 2018
Iweala, who is also a former Managing Director at World Bank, responded "As we strive to build a better world for tomorrow, Twitter can amplify messages and drive critical conversations around today 's most important issues. I look forward to partnering with Twitter' s talented directors and leadership team as we work to leverage the power of Twitter for good."
In a season such as this where most of Nigeria's leaders have failed to impress us, this news was welcomed by many Nigerians. See the reactions:
TRANSFER UPDATE

Twitter signs Ngozi Okonjo Iweala on a World Transfer Record deal

Buhari sold her off like Mo Salah.

And bought Aunty Bakayoko with Certificate Injuries to Relegate us to Recession. #NFFCShow #TributeNOI

— Ebube D Statesman (@akaebube) July 20, 2018
I wish Ngozi Okonjo Iweala becomes the president of Nigeria someday….Brilliant woman who understands the problems and hasbthe spine to try to solve it

— Imoh Umoren (@ImohUmoren) July 20, 2018
Those who dragged Okonjo-Iweala and tried to tarnish her image on this same Twitter are now congratulating her on her new global recognition.

May your enemies be put to shame and forced to celebrate your success.

— Oluyemi Fasipe 🇳🇬 (@YemieFASH) July 20, 2018
Big congratulations to Ngozi Okonjo Iweala for being appointed to board of @Twitter.

The first Nigerian woman on a #bigtech board I believe? 🙏🍸

— Dr Ola Brown (@NaijaFlyingDr) July 20, 2018
This would not have gone by without a few bitter people expressing themselves:
Twitter announced Okonjo Iweala as a Board member.

How is that my business? That won't put food on my table. Not even a fan of NOI. She is doing well for herself and her family not Me!

— OLU LOCO (@tope414) July 20, 2018
Two die as train collides with bus in Lagos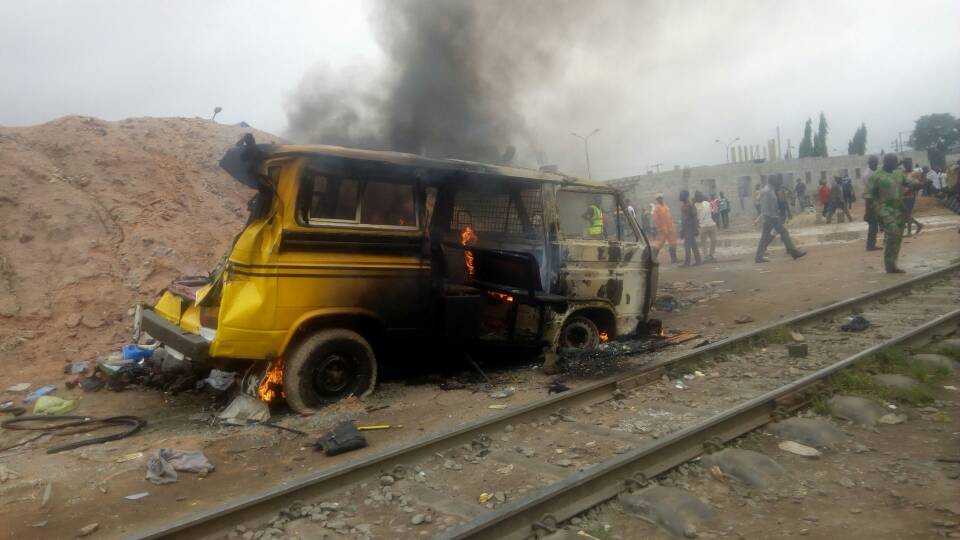 Another road tragedy occurred in Lagos today after a passenger train collided with a stationary bus in Pen Cinema, Iju area.
Reports have it that three passengers who hung on to the train fell off and two lost their lives.
According to the Lagos State Emergency Management Agency (LASEMA), the other victim sustained injuries and was transferred to Lagos State University Teaching Hospital (LASUTH).