It's going to be a bleak Christmas
We do not bring evil tidings. We only speak what we see.
It's 3 days to Christmas and Nigerians are groaning from the pains that the President Buhari-led administration has caused.
Nigeria is currently facing fuel scarcity and filling station queues are growing by the second. Guess what? The Minister of Petroleum who doubles as the President has yet to find a solution to this seasonal menace.
Nigerians are resolute. They will be making better decisions come 2019, this Daura farmer has failed us all. See the reactions:
To those who have access to the Presidency…

We showed understanding when they increased pump price to N145.

Any attempt to increase it again would be rejected outrightly with massive protest..

This is not the change we want.

Pure Nonsense… #fuelscarcity

— Tosin Olugbenga (@TosinOlugbenga) December 22, 2017
https://twitter.com/timiakegbejo/status/943571296675422209
It's been bleak Christmas every year since Buhari took over in May 2015.

Nigerians slept in fuel stations across the country yesterday.

Sai Buhari
Sai suffering#FuelScarcity

— IKECHUKWU (@iykimo) December 22, 2017
Meanwhile, here's what someone's daddy thinks about the situation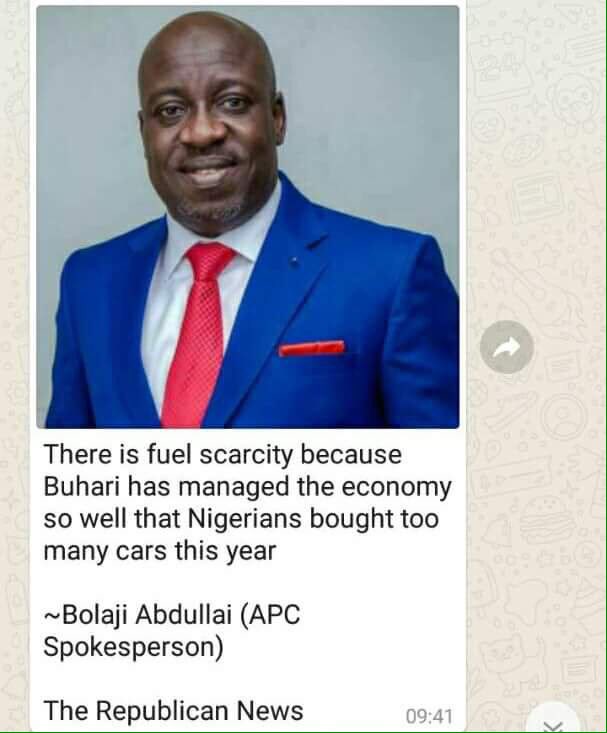 APC Spokesperson, Bolaji Abdullahi reportedly uttered this statement when reacting to the fuel scarcity in the country.
We choose to believe someone made this up. We choose to allow the man the benefit of doubt. We hope, for his own sake, he did not say this.
Going by this thread, the Fuel Scarcity has its own benefits
Nigerian satirist, El Nathan John wants us to see the good side to the current fuel situation.
See:
https://twitter.com/elnathan_john/status/944259632981315584
https://twitter.com/elnathan_john/status/944260550099456000
https://twitter.com/elnathan_john/status/944261749037043712
https://twitter.com/elnathan_john/status/944263889537073153
We agree with him, the harder it is to buy fuel, the less likely it is to gallivant across the city. You people should sit at home and enjoy some family time. Thanks.
Finally, this is the most hilarious yet smartest thing we found on the internet today:
Guess what?
January 2018 could have more than eight weeks depending on your financial status.
The more broke you are, the longer the month. It's just life. Stay woke!