Joshua Dariye bags 14 years sentence after a decade-long trial
Former governor of Plateau state, Joshua Dariye was today handed a 14-year sentence by the Federal High Court, Abuja for criminal breach of trust and diversion of funds during his tenure as governor. He also got a two-year sentence for criminal misappropriation.
Dariye, who is a sitting Senator representing Plateau West, was found guilty of six out of the 23 counts of corruption filed against him by the Economic and Financial Crimes Commission (EFCC).
This decision by the court comes 11 years after Dariye was first arraigned for allegedly diverting the state's N1.126 billion ecological funds. This judgement comes barely two weeks after former Taraba state governor, Jolly Nyame was sentenced to 14 years in prison based on corruption charges.
Reactions to Dariye's sentence on social media have been mixed. Here are some of them:
Former Plateau Governor Joshua Dariye sentenced to 14 years in prison. 👏🏾👏🏾👏🏾👏🏾👏🏾

Again I ask….When will Babachir Lawal be charged to court?

— Babasola Kuti (@SKSolaKuti) June 12, 2018
So, it took 11 years to convict Joshua Dariye

Like Rev Jolly Nyame .

Nigeria is over ripe for judicial reforms

— IKECHUKWU (@iykimo) June 12, 2018
Dear @MBuhari,

Congratulations on your recent mesmerizing moves. Keep it up.

However, we observed that Justice Adebukola Banjoko is a BIG threat to THIEVES and LOOTERS.

She has downed Jolly Nyame & Joshua Dariye. Kindly provide her MAXIMUM security.

Regards
Concerned Citizen

— Adebayo Bankole Akintunde (@AdeBanqie) June 12, 2018
First it was Rev. Jolly Nyame of Taraba State today we have Former Governor of Plateau State Sen. Joshua Dariye. Both of them are ranking members of the ruling party @OfficialAPCNg

It is clear @MBuhari sense of Justice is right and not selective

I hope @OfficialPDPNig get this

— Abiola The Patriot (@Busaayo) June 12, 2018
Governor Ambode honours MKO Abiola's legacy with a statue
A 46-feet statue was today unveiled in the Alapere, Ketu area of Lagos by state governor, Akinwunmi Ambode in honour of late Chief MKO Abiola.
This was done as part of efforts to mark the 25th anniversary of the annulment of the June 12 elections that the late Abiola won.
Speaking at the unveiling, Governor Ambode said, "…just as if God has a way of crowning all efforts to mark the 25th Anniversary of June 12, our President, Muhammadu Buhari has deemed it fit to give our own MKO Abiola the highest honour in the land, GCFR; and that is why we believe strongly that your presence here is not just for this statue but it is also historic, which we would always remember in the annals of the history and politics of this country."
In other June 12 news:
President Muhammadu Buhari today apologised for the annulment of the June 12 elections.
He made this known at the Special National Honour Investitures held in honour of the late Abiola days after he announced that June 12 will now be recognised as Democracy Day in Nigeria.
President Buhari said, "On behalf of the federal government, I tender the nation's apology to the family of late MKO Abiola, who got the highest vote [in the election], and to those that lost their loved ones in the course of the June 12 struggle. This event is not to open old wounds, but to put light on the nation".
Also at the event, late SAN, Gani Fawehinmi and Babagana Kingibe were honoured.
Interestingly, President Buhari bending to pick up an item that dropped off Mrs Ganiyat Fawehinmi is a sight to behold: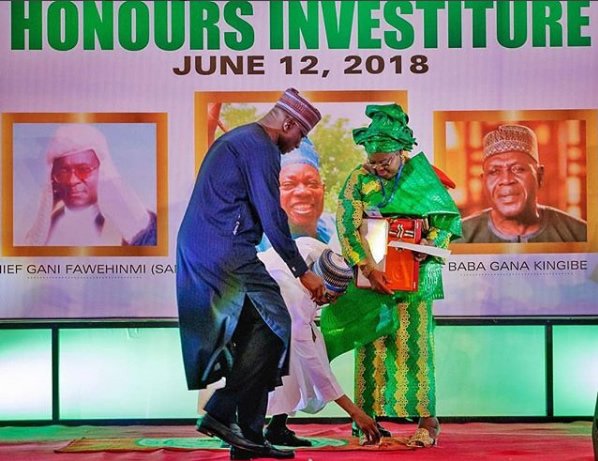 Chimamanda Ngozi-Adichie wins this year's PEN Pinter Prize
Chimamanda Ngozi-Adichie may be misunderstood by a lot of folks in this part but her brilliant works keep earning her global recognition.
Today, Adichie was announced as this year's winner of the PEN Pinter Prize in honour of late Nobel Laureate, Harold Pinter. The prize celebrates writers from Britain, Ireland and the Commonwealth who have an "unflinching and unswerving" look of the world.
Speaking on the honour, Adichie said, "I admired Harold Pinter's talent, his courage, his lucid dedication to telling his truth".
Late Pinter's wife, Lady Antonia Pinter spoke highly of the Purple Hibiscus writer, ""Not only is Chimamanda Ngozi Adichie a brilliant, compelling writer but she embodies in herself those qualities of courage and outspokenness which Harold much admired".
Adichie will receive this award sometime in October at an event where she will deliver an address.