Federal Government declares June 12 as Democracy Day
In an unanticipated move, the Federal Government of Nigeria has declared that June 12 will now replace May 29 as a public holiday.
In a press statement released today, FG declared that June 12 – the day late presidential hopeful, MKO Abiola won the later-annulled elections – is "far more symbolic of Democracy in the Nigerian context than May 29".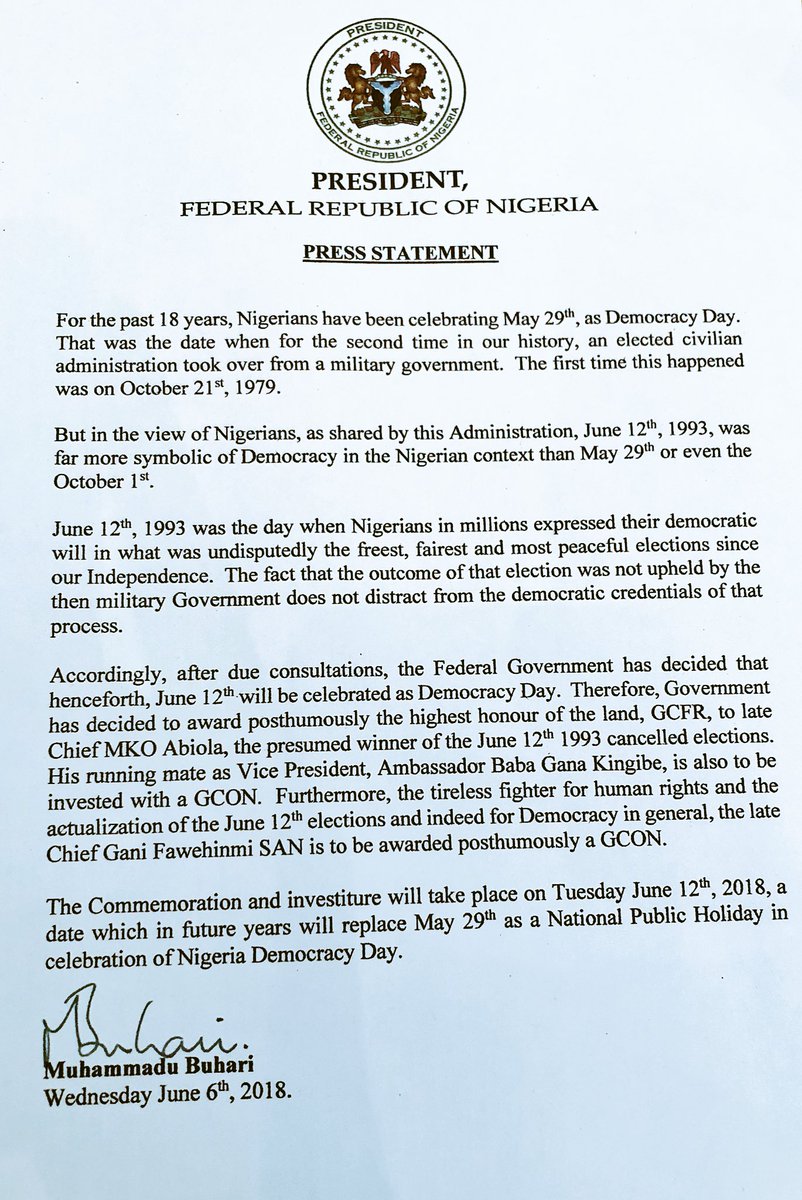 Additionally, late MKO Abiola has been announced as the winner of the annulled elections and will be posthumously awarded the highest honour in the land, GCFR.
Ambassador Babagana Kingibe and late SAN, Gani Fahewinmi will also be awarded GCONs.
Dear Nigerians, I am delighted to announce that, after due consultations, the Federal Govt has decided that henceforth, June 12 will be celebrated as Democracy Day.
We have also decided to award posthumously the highest Honour in the land, GCFR, to the late Chief MKO Abiola. pic.twitter.com/VyYftmvWKA

— Muhammadu Buhari (@MBuhari) June 6, 2018
Nigerians have begun to react to what seems the biggest and most thoughtful by President Muhammadu Buhari's administration so far:
Lol. Let him keep thinking that these shenanigans can change our minds.

— Nosakhare Aguebor (@NosaAguebor) June 6, 2018
Kudos! Buhari by restoring #June12DemocracyDay in Nigeria has given Nigeria's democracy a huge boost. This is more than good, it fulfiils the line of our national anthem:
"the labors of our heroes past shall never be in vain". #GodBlessNigeria #MKOLives

— Bukola Michael Nelson, MBA (@michaelrythms) June 6, 2018
Your desperation for second term very https://t.co/Gh0zj6qJfm

— Jude (@dsamejude) June 6, 2018
Desperation! Desperation!! Desperation time!!!

— NAPAZUKEN (@Napalivia) June 6, 2018
The #ENDSARS campaign returns after months and nothing has changed
Nearly six months after social media users in Nigeria turned up en masse to share stories of the horrific treatment they face in the hands of the Special Anti-Robbery Squad (SARS), it is clear that the government and police authorities have made no move to clip the wings of this terrifying unit.
Young Nigerians are now sharing new experiences and the conversation is heating up again, although there is still no hope of government intervention.
Dear Nigerian Youths,
This is not funny anymore,never has been.
SARS officials are after us, our freedom, peace of mind and the little income we make.
You can't drive freely in Lagos without being scared and dreading these people.
It's unbelievable. We can't keep shut.#ENDSARS

— | Salt💧 (@tunnie__) June 6, 2018
Dear @BBCAfrica please do a story on Nigerian SARS before they kill us all in this country.

— 🎀 (@ChinnyPillz) June 6, 2018
😭Had my first SARS experience. Niggas pulled my friend and I in an UBER searched us and found nothing.

Next thing they go you are indecently dressed and it's against the law. 😂🤣😂🤣 Bruhhhh I'm wearing a fucking T-shirt and shorts and how is that against what smelling law.

— Dec25💃🏿#IRIS (@Tamaradenyefar) June 6, 2018
Bundle people into one-chance buses, beat them up, point guns at them, and rob them of their valuables and money.

SARS have now become a legal robbery unit. Stay safe guys.

— No Ketchup Podcast (@joeyakan) June 6, 2018
This one found himself a way out:
I just returned from Ijebu last night and I am looking for the first SARS officer to test the potency of this stuff I have with me. Pls I am going out today, pls and pls stop me and harass me. I'd like to see you walk from Lagos to Ghana, to and fro for the next 40yrs.#EndSARS

— Prince Adewunmi 👑🤴🏾 (@Omobaadewunmi) June 6, 2018