Festus Keyamo is President Buhari's official spokesperson for 2019
Human rights activist and Senior Advocate of Nigeria, Festus Keyamo has been announced as the official spokesperson for President Muhammadu Buhari's 2019 campaign.
The news comes days after President Muhammadu Buhari declared his intention to run for a second term in office and hours after he told British Prime Minister, Theresa May that he was more concerned about security and the economy than reelection.
Keyamo's appointment is hardly a surprise considering he had spent the last two years actively cheering Buhari's administration and spewing vitriol at anyone who dared oppose its policies.
See how Twitter users received the news:
Still can't make up how Festus Keyamo went from Social Crusader, fiery Critic and Human Rights Activist to Buhari's defender and APC mouthpiece. Still can't make it up.

— Chidi Okereke (@Chydee) April 17, 2018
I have nothing against Festus Keyamo, SAN. I am happy his hustle has paid off. But if you hold yourself out as a human rights lawyer, you can't accept the position of Spokesman for the campaign of a Govt famed for rights abuses. Light & darkness have nothing in common. Simple.

— MistUka (@OrjiUka) April 17, 2018
https://twitter.com/KelvinOdanz/status/986291420339343361
As a Human Rights Lawyer, he lost most of his major Court cases. As EFCC Prosecutor, he fumbled ALL Corruption cases at his disposal. Failed to Secure Delta state Gubernatorial ticket.

Festus Keyamo and Buhari have a lot in common, both are Serial Failures. #Okpos

— Prof Stanley Nwabia (@MrStanleyNwabia) April 17, 2018
https://twitter.com/UNCLE_AJALA/status/986218698531799041
Vice President Yemi Osinbajo was in Lagos taking selfies and playing basketball today
Osinbajo is like a child who runs freely to play outside every time his father travels out of town.

— _Ozoemena (@CloydNdu) April 17, 2018
The Twitter user above describes Osinbajo's visit in the meanest words possible but the Vice President was in Lagos today visiting the tech community and interacting with the players there.
VP Osinbajo was seen at Andela, Paystack, Cc-Hub and other technology companies in the state. According to his spokesperson, Laolu Akande, "it's about spurring innovation & boosting the technology drive".
Here's how the visit went: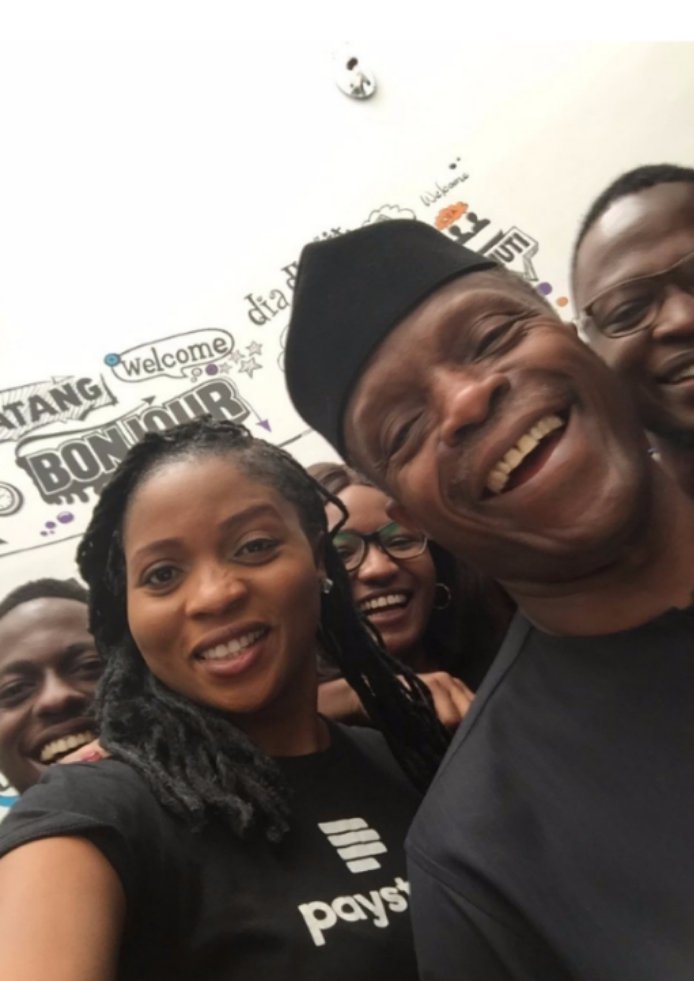 The VP, @ProfOsinbajo shooting his shot at the Paystack HQ.#ShootYourShot#VPTourOfTech pic.twitter.com/ukar4eeaRr

— Paystack (@paystack) April 17, 2018
https://twitter.com/Andela_Nigeria/status/986273420710174720
Kendrick Lamar won the Pulitzer Prize for Music and this reaction is the best thing we've read so far:
Beyoncé had Coachella renamed after her, Kendrick Lamar won a Pulitzer Prize, & Black Panther has made more money than Titanic.

Black history month is every month, every day, every year, all the time.

— Clint Smith (@ClintSmithIII) April 16, 2018
Enough said!
A typical example of how Nigerians design and execute their own misfortune:
Somewhere in Lagos, a man built a hotel on a street and brought a new transformer to help the street and his hotel business.
Youths in the area then demanded he must pay N100,000 before it will be installed. That was how the transformer got connected to just his hotel.

— Gbenga Samuel-Wemimo (@GbengaWemimo) April 16, 2018