Everyone is talking about Childish Gambino's new video and you should too
American actor, Donald  Glover otherwise known as Childish Gambino (when he's doing music) has just released a culturally relevant piece of work that has critics; lovers of music, art and politics; and social media in a frenzy.
The video for his single 'This is America' is by far the most thoughtful and biting thing you'll find on the internet, what with the way it uses strong imagery and lyrics to describe present America.
General chaos, the Charleston shooting and how entertainment serves as a distraction… you will have to watch about three times before you pick all the key messages in this one.
The one-day-old video has 20 million views, as at time of writing. That says everything!
See how Twitter users are reacting to the video:
https://twitter.com/ChampVX/status/993452752129978368
Gratuitous and senseless RT @JamesMelville: Childish Gambino – #ThisIsAmerica

A provocative, disturbing, violent, beautiful, sinister and wildly creative hip-hop depiction of Trump's America.

Extraordinary video.https://t.co/vugOlIXjbC

— james wilding 🦩 (@james_wilding) May 7, 2018
Donald Glover (Childish Gambino) may be the most talented person alive…. artistically… I can't really see anyone who comes close.

— Michael Parr (@MikeParrActor) May 7, 2018
https://twitter.com/fuckwillie/status/993475204830629889
Remember Evans the kidnapper? He's back with a cry for help
Billionaire kidnapper, Evans made headlines in 2017 when he was arrested and accused of serial kidnapping, extortion and robbery. Since that time, he has been held in the confines of the prison while he awaits trial.
The alleged kidnapper who was arraigned at the Igbosere High Court had some drama up his sleeves upon arrival at the court premises.
First, he refused to leave the van he was transported in. Upon the instructions of the sitting judge,  Justice Adedayo Akintoye who demanded that the accused be "bundled" into the courtroom, Evans showed up in torn clothes and no shoes.
Sighting the judge, Evans immediately cried for help, " have an explanation to make. Since I have been in the maximum prison, they have been maltreating me; no visit, they don't feed me well, I have an eye problem and I can not see afar".
He was however countered by a prison warden who said he was well fed, tended to and had even recently received medical attention.
Evans continued later after the judge stood his case down, "What have I done to you people? They have been beating me; no good food; I have been locked up in one place since August 30 last year; why are they taking my case personally? Let me face my trial alive, why do you people want to kill me".
Dogara and Saraki discuss Melaye with President Buhari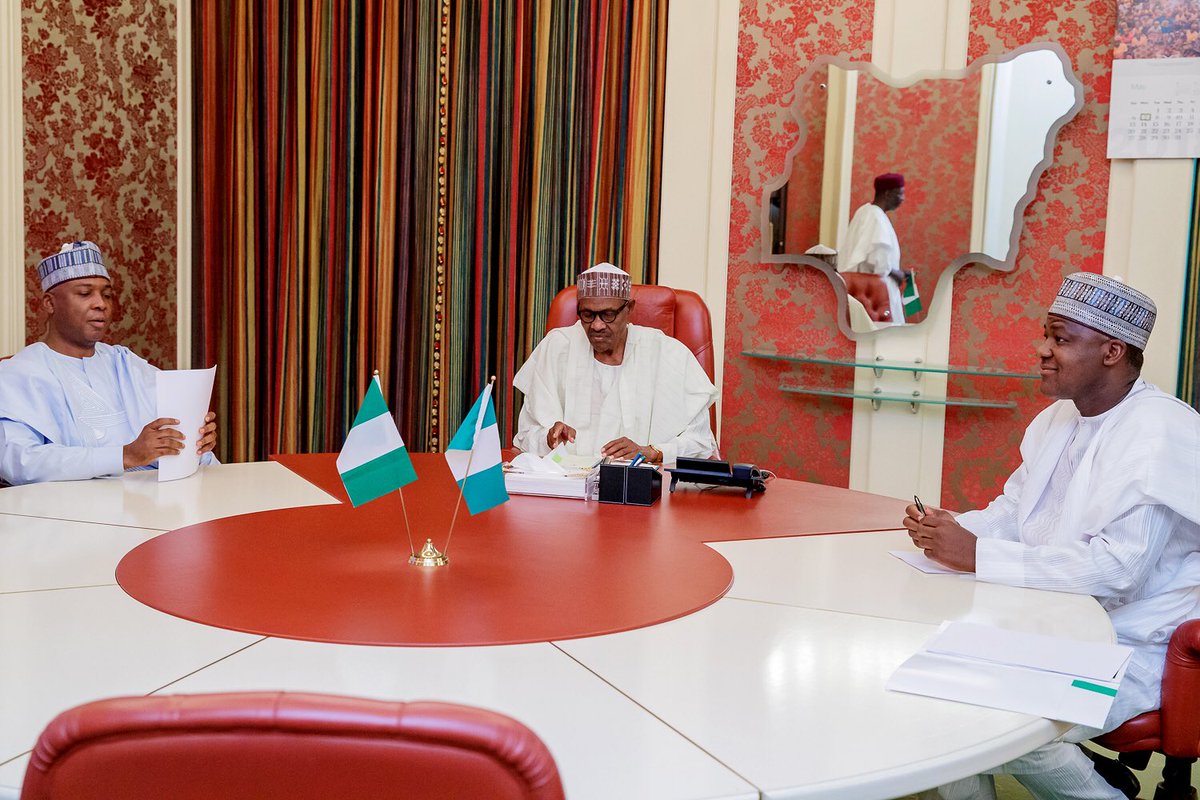 Earlier today, Senate President, Bukola Saraki and House of Representatives speaker, Hon. Yakubu Dogara were in a meeting with President Muhammadu Buhari at the presidential villa.
Part of the important issues raised at the meeting is the treatment of Senator Dino Melaye in the hands of policemen. According to the lawmakers, there was no way they'd hold that kind of meeting without mentioning the mistreatment of their fellow lawmaker.
Dogara said, "There is nowhere, I have said it before, that police will behave in a democracy like a clan of tribesmen, like upgraded barbarians sort of. So, there is a need for us to act with civility."
He added, "Whatever it is, even if Dino is pretending as some have said in some sections of the media, he cannot pretend forever. He is there; he will not run away; he is a senator and he can be tried any time he is in a proper frame of mind."
Shame! We wonder who is stating the case of the thousands that have been maimed in Benue before the president.
This Twitter user shared a quick advice and a lot of other users agree with him…
Wash your armpit and brush your tongue. Stop suffocating people.

— Dr Dípò Awójídé (@OgbeniDipo) May 7, 2018
Nothing is as apt!