Fox News backs CNN in lawsuit against Trump administration
US television news channel, Fox News has declared its support for the CNN in its lawsuit against President Donald Trump and the White House over the suspension of its White House reporter, Jim Acosta's press credentials.
Fox News president, Jay Wallace released a statement today:
"FOX News supports CNN in its legal effort to regain its White House reporter's press credential. We intend to file an amicus brief with the U.S. District Court. Secret Service passes for working White House journalists should never be weaponized. While we don't condone the growing antagonistic tone by both the President and the press at recent media avails, we do support a free press, access and open exchanges for the American people."
We told you yesterday that the White House's action is as a result of a confrontation between the President and Acosta over immigrants.
Davido calls out Eko Atlantic for denying him their venue 
Superstar artiste, Davido has called the management of Eko Atlantic for refusing him approval to use the venue for his end of year concert. According to Davido, that treatment of him is politically-motivated as he is a vocal and proud member of opposition party, PDP.
So my show this December at eko Atlantic Was not approved … I wonder why ? Hmmm ANYWAYS ANNOUNCING A NEW VENUE SOON!! ITS A DIRTY GAME BUT I CANT BE STOPPED!! 🔥🌍🌍🔊🔊🚀

— Davido (@iam_Davido) November 13, 2018
Nah the highest dem fit do be that ! I I WILL SUPPORT WHO I WANT TO SUPPORT AND WILL NOT SWITCH SIDES OVER A FUCKING VENUE !! ITS FUCK EM! DEC 27TH CITY OF DAVID CONCERT STILL ON! ANNOUNCING VENUE SOON! LOVE YALL ❤️❤️🔊🔊🌍🌍😈😈

— Davido (@iam_Davido) November 13, 2018
A random Twitter user confirms there may be an attack on Davido:
Booked the venue last week and they specifically asked "hope Davido is not performing", I thought it was bizzare 🤷🏾‍♀️, that's how i heard about the drama.

— EVA (@sosobelle) November 14, 2018
 But Eko Atlantic responded: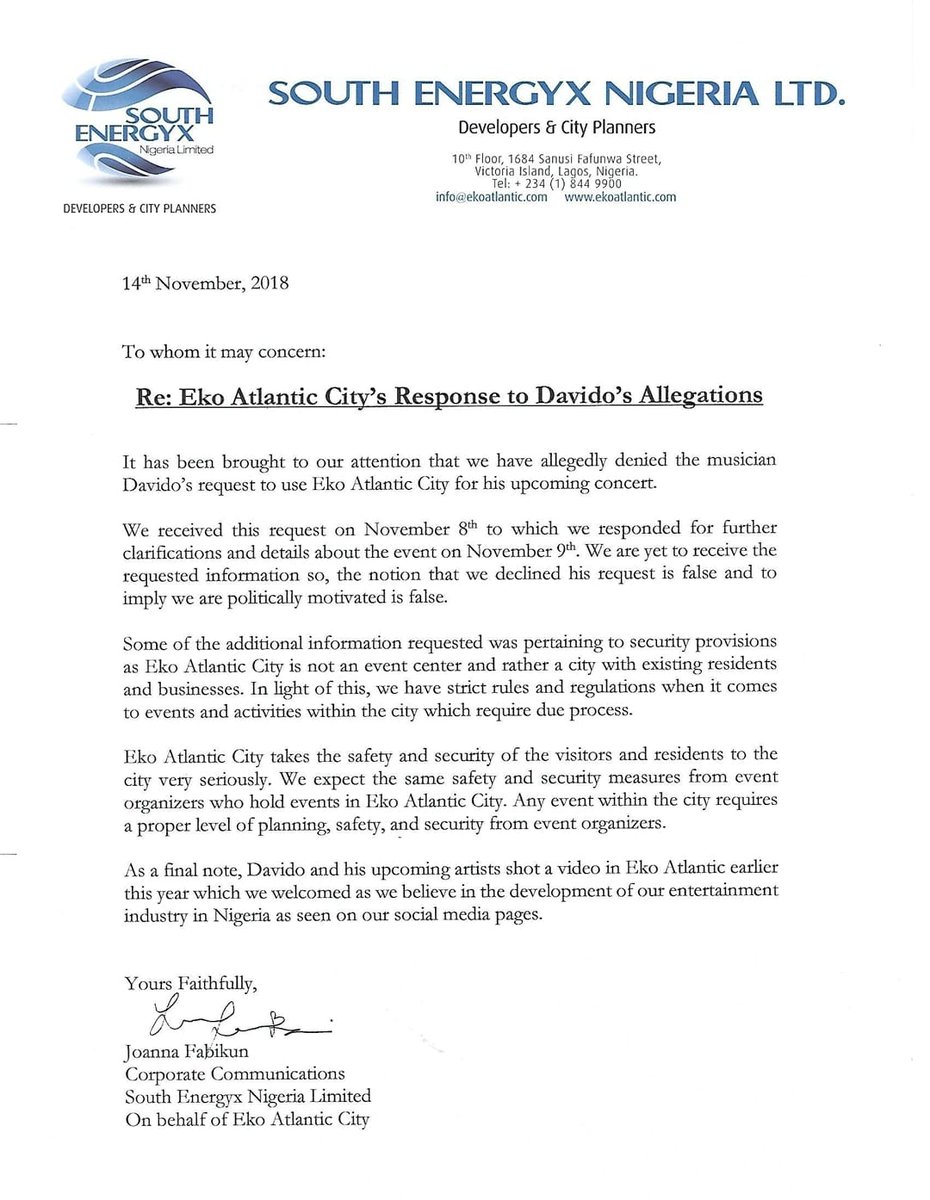 Whose report shall we believe?
Kemi Adetiba's Lagos airport experience is proof that we need to do better as a country:
A few things to get off my chest this morning.
This will be a thread…

— Kemi Adetiba (@kemiadetiba) November 14, 2018

This is officially the most hilarious video on the internet today:
He fully violated him 😂 pic.twitter.com/QHKnSW9BIR

— BMAX (@OfficialBmax) November 13, 2018