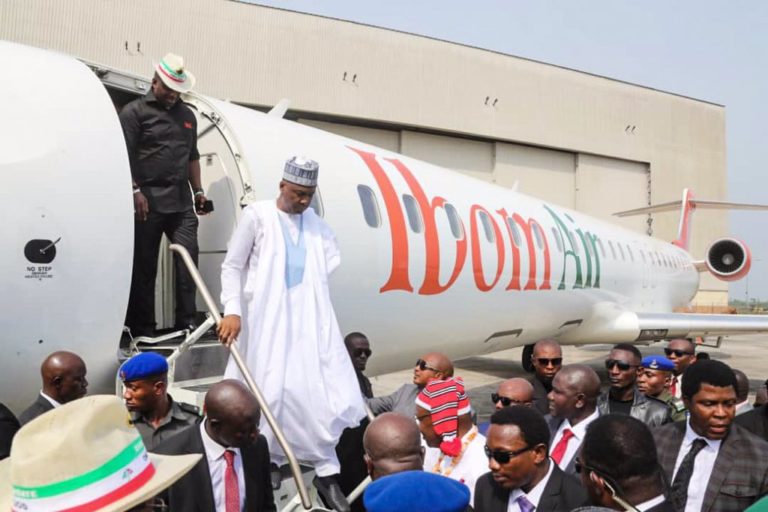 Akwa Ibom launches state-owned airline
Governor Udom Emmanuel of Akwa Ibom on Wednesday launched the state-owned airline, Ibom Air that is set to commence flight operations after regulatory authorities have certified it safe.
The state government took delivery of two CFWNL Canadian aircraft making Akwa Ibom the only state in Nigeria that currently runs airline operations.
Governor Emmanuel said at the launch, "The launching of Ibom Air is a monumental achievement in Akwa Ibom state and indeed Africa. The journey to achieve Ibom Airline started in 2016 and today, it is a reality…
We are running Ibom Air as a business, paying particular attention to Akwa Ibom people".
The achievement has been received by Nigerians on Twitter with open arms and here are their reactions:
Festus Keyamo agrees with President Buhari on ballot box snatching
When President Muhammadu Buhari declared on Monday that ballot box snatchers at the coming elections will pay with their lives, his comments were met with major backlash from Nigerians.
But members of his government and campaign team are sticking with the narrative. Spokesman of the Buhari Campaign Organisation, Festus Keyamo says ballot box snatching is treason and therefore, punishable by death.
"I have listened to so many uninformed comments since yesterday, and comments that are laced with heavy politics, but let me tell you straight away that there is no spin to put to the statement of the president, there is no need to repackage it,"
"What the president said is 100 percent correct, 100 percent defensible, and I will urge him to repeat it over and over again."
"The president said whoever leads a band of thugs to go and snatch ballot boxes will pay dearly for it with his life. That is a correct statement of the law, because if you look at the definition of thugs; a thug is a murderer, a thug is a robber, a thug is a vicious person."
"The law is that when you are found at the scene of a crime, committing violence that will put the life of people in danger, you can be shot dead on the spot."
They call him the 'father of bees'
We are not sure how we feel about this!