Nigerians are questioning the #DapchiGirls return
On Wednesday, terrorist group, Boko Haram returned 104 out of the 110 school girls that were kidnapped in Dapchi, Yobe on February 19 and as much as it is great news, Nigerians are in doubt of the approach.
According to a video making rounds, the insurgents (unarmed, according to eye witnesses) drove into Dapchi in trucks, dropped off the girls with their bags and preached to the locals, as this Twitter user claims:
Dapchi resident told me Boko Haram preached to them this morning, saying three things – that the girls are not to go back to school, that they didnt receive money from Gov and that the did not sexually assault the children.

— Stephanie Hegarty (@stephhegarty) March 21, 2018
Now, a good percentage of Nigerians on social media are of the opinion that the entire abduction and release story was staged by President Buhari's administration to score political points ahead of 2019, because according to them:
https://twitter.com/realFFK/status/976455426488389633
Dapchi girls who were kidnapped while in school, with no bags and clean dresses, suddenly returned with bags filled with clothes and goodies, neatly dressed and then Buhari claims he has rescued them from Boko Haram? Won't this pass for an excursion to Sambisa Forest? pic.twitter.com/Tzzk36KrIp

— Jackson Ude (@jacksonpbn) March 21, 2018
So, Boko Haram just casually drove into town, dropped off the 101 girls, shook hands with their parents, changed a bad tire, then casually drove back to wherever they were coming from.

— Investor OG Waheedi. (@gboukzi) March 21, 2018
https://twitter.com/SKSolaKuti/status/976564767488921600
This is becoming interesting.

Boko Haram terrorists returned these girls even with their luggages.

Meaning they had time to pack their belongings before the journey commenced and yet no one could stop them.

This is well planned script being played out. pic.twitter.com/KqNBOYE3h9

— Mister Jonah (@MisterJonahh) March 21, 2018
Who are you inclined to believe?
Who's interested in watching Donald Trump beat Joe Biden?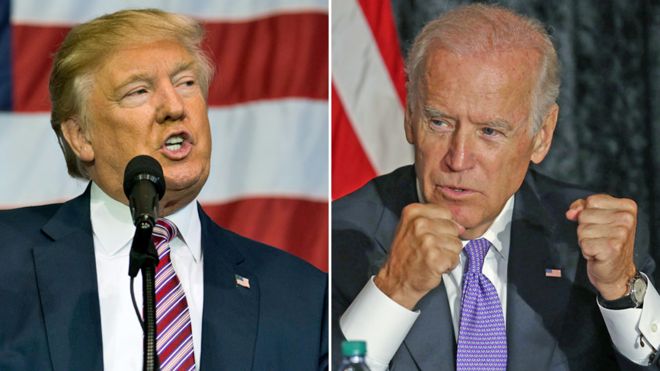 Or the other way around…
And it's not in an election or a competition, it's physical combat between the US President and the former Vice President.
President Donald Trump today reacted to comments Biden made on Wednesday in Florida about "beating the hell out of him (the president) if they were in high school". Biden expressed in a speech at the University of Miami, "They asked me would I like to debate this gentleman, and I said no. I said, 'If we were in high school, I'd take him behind the gym and beat the hell out of him".
Not one to ignore threats or pretend to be presidential, Trump tweeted at 6am:
https://twitter.com/realDonaldTrump/status/976765417908776963
How old are these two again?
Nigerian senators are in forever in the business of humiliating us
Just heard that Sen. Victor Umeh woke up and discovered that everyone has gone from the Senate Chamber, they purposely refused to wake him up since he had made it a duty to be sleeping in every sitting without contribution. pic.twitter.com/zKlmqUQQm6

— 20-10-2020 (@DirectorSolomon) March 22, 2018
Senator Victor Umeh represents Anambra Central senatorial district in the upper chamber and was sworn in barely three months ago but it looks like he has already chosen a path.
Let's not forget he also gets N13 million for his apparent zero contribution.
Communication hit or miss?
Online fashion retailer, ASOS is owning up to a printing error that affected 17,000 plastic bags and we think it's a smart way to save money and gain fan love.
Rather than trash all 17,000 bags, ASOS shared a photo pointing out the error and describing it as "limited edition".
Definitely a hit!
Ok, so we *may* have printed 17,000 bags with a typo. We're calling it a limited edition. pic.twitter.com/wTpKNid4V5

— ASOS (@ASOS) March 21, 2018
See how Twitter reacted:
I love everything about this. If you make a mistake, own it.

— Melissa Rieger (@MelissaRieger) March 21, 2018
Better a limited edition than throwing it away!

— The Killerqueen 🌈 (@fresheima) March 21, 2018
😂😜👏 to whoever is doing your social. THIS is how you deal with a faux pas with grace and humour!

— Briony Whitehouse (@AGirlAStyle) March 21, 2018